Jean Vanier wins Templeton Prize
The Canadian philosopher received the prize for his work at L'Arche, a network of communities where people with and without intellectual disabilities live and work together
Templeton Foundation , Christianity Today · PHILADELPHIA · 12 MARCH 2015 · 19:15 CET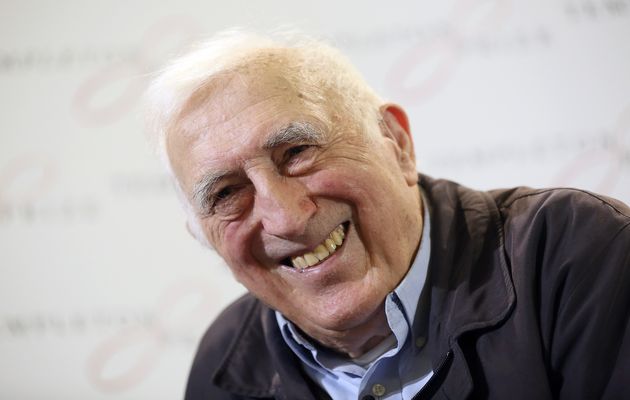 Jean Vanier at the Templeton Prize press conference / Paul Hackett
Jean Vanier, founder of L'Arche community for people with and without intellectual disabilities, with branches in 35 countries, has been awarded the Templeton Prize, valued at $1.7 million.
The prize, one of the world's largest, is given annually to a living individual who "has made exceptional contributions to affirming life's spiritual dimension, whether through insight, discovery, or practical works", the Templeton Foundation said.
Mother Teresa, Billy Graham, and Chuck Colson are some of those who have received the prize in the past. The foundation, based in Pennsylvania, was created by the late Sir John Templeton, the mutual fund pioneer who died at age 95. The first winner of the award was Mother Teresa in 1973.
L'ARCHE: TRANSFORMING HEARTS TOGETHER
What began quietly in northern France in 1964, when Vanier, with backing from his spiritual mentor, invited two intellectually disabled men to come and live with him as friends, has now grown into 147 L'Arche residential communities operating in 35 countries, and more than 1,500 Faith and Light support groups in 82 countries that similarly urge solidarity among people with and without disabilities.
The community-based L'Arche model grew quickly and has proven to be so successful that there are now 147 L'Arche communities in 35 nations. The organisation also supports 1,500 Faith and Light support groups in 82 nations. It celebrated its 50th anniversary last year.
During the press conference today, Vanier, 86, emphasized that "Our society will really become human as we discover that the strong need the weak, just as the weak need the strong.
He also expressed why this prize was so important for him: "My dream for this magnificent prize you have given me, and through me to L'Arche and Faith & Light, is for us to create spaces and opportunities for meetings, which transform hearts. Places where they can share together, eat together, laugh and celebrate together, weep and pray together; where the hearts of those who carry power in our society can be melted and rest."
Jennifer Simpson, daughter of Foundation president and Chairman Dr. John M. Templeton, Jr. and granddaughter of Sir John Templeton, noted that Vanier brought a much-needed perspective to how the power of love can advance spiritual progress in the world: "By recognizing the importance of every individual, regardless of their station in life, Jean Vanier underscores how each of us has the ability not only to lift up others, but also ourselves," she stated.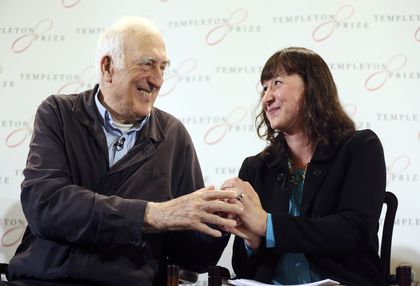 Amy Julia Becker, a Christianity Today blogger, and author of "A Good and Perfect Gift," the story of her daughter Penny, a child with Down syndrome, explained that "L'Arche is premised upon the idea that we are all gifted and we are all needy, that we all need one another. It is based upon mutual giving and receiving, mutual vulnerability and strength, and upon the common humanity we all share through the Imago Dei".
"As the mother of a child with Down syndrome, I am increasingly aware of the way our culture puts people with disabilities in a separate category from the population without visible disabilities. I am also increasingly aware of how much we have in common and can learn from one another when we look past the visible differences and learn to love one another the way Jesus loved", she added.
As L'Arche movement grew, Vanier decided that his ministry model should reach beyond the borders of culture, nationality, and religion. Though faith-based and Catholic in origin, L'Arche communities include Jews, Muslims, and Hindus. The group homes are funded largely through local resources and many have an independent governing structure. The organization now has an international federation and board of directors.
Vanier, who continues to live on the grounds of the original L'Arche community in Trosly-Breuil, north of Paris, will be formally awarded the Templeton Prize at a public ceremony at the church of St Martin-in-the-Fields in London on Monday, May 18.
Published in: Evangelical Focus - life & tech - Jean Vanier wins Templeton Prize