Whale 'swallows' submariner for a few seconds
The rare Jonah-like incident was captured on camera. "I held my breath because I thought the whale was going to dive down and release me much deeper in the ocean".
Barcroft TV · JOHANNESBURG · 11 MARCH 2019 · 15:00 CET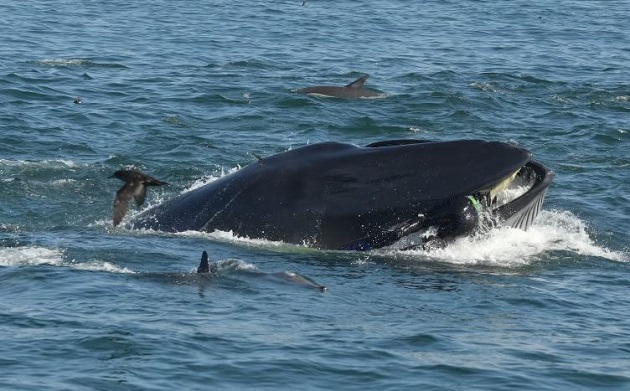 VIdeo capture of the whale snapping the submariner. / Barcroft TV
A dive tour operator in South Africa experienced a very uncommon situation as a whale briefly swallowed him - to spat him out again after a few seconds.
Rainer Schimpf and other people "set off to document a sardine run – a natural event where gannets, penguins, seals, dolphins, whales and sharks work together to gather the fish into bait balls", reports the website Barcroft TV.
He and others in a team of expert environmentalists were in the water. "I was trying to get a shot of a shark going through the bait ball", he says.
"Then, the next moment it got dark and I felt some pressure when I instantly knew, a whale had grabbed me", Schimpf recalls.
Bryde's Whales can reach up to 15 metres of length and 30 tonnes. They hunt for large swarms of potential prey, engulfing whatever is possible. The animal probably was not aware that he was swallowing the submariner.
"I held my breath because I thought he is going to dive down and release me much deeper in the ocean", explained Schimpf, adding: "It was pitch black inside".
The 51-year-old submariner adds: "Nothing can actually prepare you for the event when you end up inside the whale – it's pure instinct".
The whale soon realised something was wrong, and spat the man out again, unharmed.
A colleague of the film crew was able to take several pictures of what happened, from a boat.
"I've never experienced any situation like that", Schimpf told Barcroft TV.
Published in: Evangelical Focus - life & tech - Whale 'swallows' submariner for a few seconds