Nigerian army frees 241 women and children from Boko Haram
The military also captures 43 suspected fighters, including one of the leaders. 2,000 women and children have been seized by Boko Haram since January 2014
Punch, Agencies · ABUJA · 25 SEPTEMBER 2015 · 18:00 CET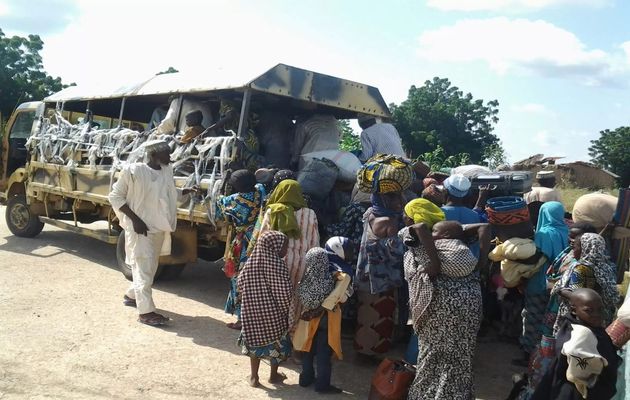 Some of the rescued women and children are taken to safety
The Nigerian military has freed 241 women and children in raids on Boko Haram camps and captured 43 suspected fighters, including a man it described as a "kingpin" of the terror group.
The raids in the villages of Jangurori and Bulatori, were part of Operation Lafiya Dole, a bid to clear out the area surrounding Banki in Borno state which is close to the border with Cameroon.
Boko Haram has used Banki to launch cross-border attacks, including in and around the Cameroon town of Amchide, where the Islamists clashed with security forces on Tuesday.
LOCAL LEADER ARRESTED
Among the 43 militants belonging to the Islamist group, was the local leader, Bulama Modu, who the Nigerian military says was acting as the "emir" of the village of Bulakuri.
The raids destroyed both camps, army spokesman Col. Sani Usman told Punch, a Nigerian newspaper. The military also confiscated weapons, some of which were buried by militants who appeared to be abandoning their posts during the raid, he told the paper.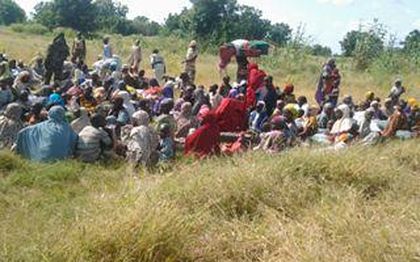 "Apart from arms and ammunitions, bows and arrows recovered from Bulama Modu, the kingpin, he confirmed that the terrorists also gave him a horse to enhance his deadly pursuits," Usman told Punch.
Troops also arrested a suspected militant in Wudla village who provided the names of terrorists who helped stage an attack in northern Cameroon this month, Usman said. They hailed from Dara Jamel, where the insurgents operate a bomb factory, he told Punch.
THE BIGGEST RELEASE
The release is the biggest since the Nigerian army raid on the Boko Haram stronghold, the Sambisa Forest, in May in which 700 captives were released.
They told how Boko Haram had stoned their captives as the Nigerian military approached, and how some who hid in undergrowth during the battle had been run over by armoured vehicles and blown up by landmines.
An estimated 2,000 women and children have been seized by Boko Haram since January 2014, according to Amnesty International, as part of the group's bid to establish a hardline Islamic state in the region.
The best-known group of captives globally are the 276 female students kidnapped from a school in the village of Chibok in Borno State in April last year.
It is not known if any of the Chibok girls are among those released this week. On Monday, Lt Gen Tukur Buratai said there were "strong indications" that they were still held within the fringes of the Sambisa forest and plans were being made to recover them.
He said the safe return of the girls, whose capture spawned a Twitter campaign #BringBackOurGirls, was "very crucial" for the military.
Published in: Evangelical Focus - world - Nigerian army frees 241 women and children from Boko Haram