Indonesian Christians fear rise of violence after Islamists call to punish 'blasphemy'
"Pray that God will protect the churches in the country", say believers after 50,000 Muslims rallied against alleged "blasphemy" of Christian Governor of Jakarta Basuki Ahok Thahaja Purnama.
Jakarta Post, Evangelical Focus, BBC, CNN · JAKARTA · 04 NOVEMBER 2016 · 17:01 CET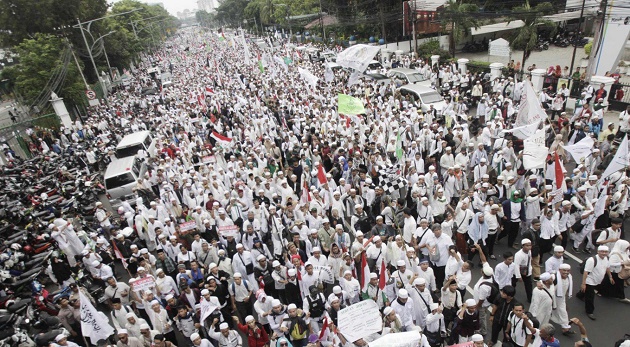 Protesters take a thoroughfare in Central Jakarta on Friday during the rally. / Jakarta Post
The hard-line Islamist group "Islamic Defenders Front" (FPI) organised on Friday a massive protest in the Indonesian capital city to demand the criminal prosecution of Jakarta Governor Basuki "Ahok" Thahaja Purnama, on allegations of "blasphemy" against the Quran.
Since Thursday evening, the The Jakarta Post reported, tens of thousands of people from Greater Jakarta and other cities gathered at the Central Jakarta's Istiqlal Mosque to prepare for the rally.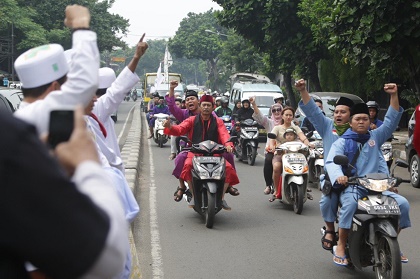 21,000 police officers were deployed to protect the centre of the city. Hundreds of female officers wearing hijabs standed in front of the Presidential palace in hopes of calming protesters.
The police said an estimated 50,000 people took part in the demonstration.
Many shouted inflammatory slogans, such as "Kill Ahok for insulting Islam" and "Only Allah could forgive Ahok! Not we!"
The demonstration effectively shut down central Jakarta.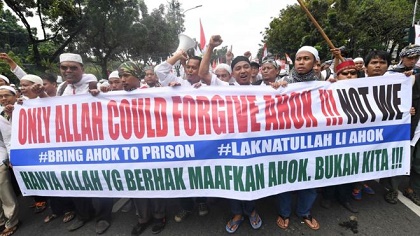 WHO IS THE CHRISTIAN GOVERNOR?
Governor of Jakarta Ahok is a Christian, and Indonesian of Chinese descent in the country in the world with the biggest Muslim population.
Ethnic Chinese make up about 1% of Indonesia's population of 250 million people.
Ahok is a key ally of President Joko Widodo and was his deputy when Widodo was governor of Jakarta. Ahok is now the frontrunner in the 2017 gubernatorial race.
Islamists say that Ahok, who is a Christian of Chinese descent, should not administer a Muslim-majority city. According to the CNN, these radical groups had previously quoted a verse from the Quran at a rally, which warns against Muslims allying themselves with non-believers.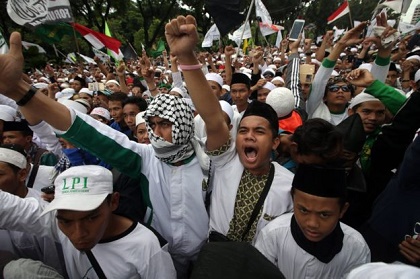 Muslims in Indonesia are believed to be largely moderate and the country's largest Islamic organisation, Nahdlatul Ulama, has advised its 40 million members not to take part in the protest.
"AHOK STUDIES HIS BIBLE EVERY DAY"
A Christian in Indonesia said the Ahok is a strong Christian: "He believes in Jesus Christ, reads and studies his Bible every day and finds it to be his source of strength."
"He is very direct, extremely brave, looks after the poor, intelligent and above all he is a child of God. He fought against corruption, raised the standard of living and did many many other initiatives. The people love him. But in doing so, he attracted many enemies. His enemies have tried anything from death threats, put him on trial of all kinds of accusations and even openly cast black magic spells on him."
The Christian source said believers fear intolerance against Christians would escalate in the country. "The social media has photos of Muslims working house to house in the past few days trying to pinpoint where the Christian homes are in order to prepare themselves with a list of targets."
"PRAY THAT GOD PROTECTS CHURCHES"
Christians ask to pray that "God protects His churches and believers throughout Jakarta and Indonesia as the threat has extended to cover the entire nation."
"Pray that God protect the Chinese minority that in the past has been target of violence" and that "President Jokowi, who is trying to maintain order, may be given power to calm the Muslim leaders and to maintain peace and order."
Published in: Evangelical Focus - world - Indonesian Christians fear rise of violence after Islamists call to punish 'blasphemy'