ISIS kills hostage and uses Christian journalist Goto to ask for new conditions
"This act of terrorism is outrageous and unforgivable violence. I feel strong anger and firmly condemn it," Japanese prime minister Abe told reporters Saturday, he also demands the immediate release of Goto.
CNN · TOKYO · 24 JANUARY 2015 · 20:51 CET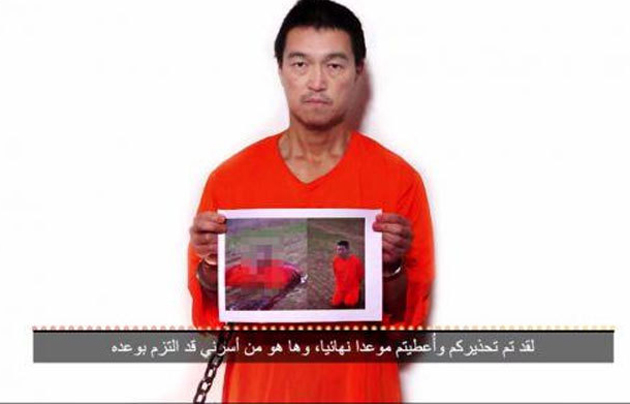 Image of Kenji Goto used by ISIS to announce Yukawa's death.
A picture and audio posted online Saturday purport to show that one of ISIS's two Japanese hostages has been killed after a deadline for ransom passed, and appears to relay ISIS's new demand for the other's freedom -- a prisoner exchange
The static image, shown in a video file posted a known ISIS supporter, apparently shows surviving Japanese hostage Kenji Goto, alone, in handcuffs and dressed in orange, holding a photo of what appears to be beheaded compatriot Haruna Yukawa.
Goto is a free lance journalist who is a Christian.
JAPAN: "THIS IS UNFORGIVABLE VIOLENCE"
Japanese Defense Minister Gen Nakatani said Saturday that the government is checking the authenticity of the claim. Japanese Prime Minister Shinzo Abe acknowledged the post.
"This act of terrorism is outrageous and unforgivable violence. I feel strong anger and firmly condemn it," Abe said told reporters Saturday, adding that he demands Goto be released immediately.
TERRORISTS USE GOTO TO ASK NEW CONDITIONS
Played over Saturday's picture, the voice of a person claiming to be Goto says in English that Abe is to blame for Yukawa's death. "You were given a deadline, and so my captives acted upon their words," he says.
The voice then relays ISIS's alleged new demand -- the release of Sajida al-Rishawi, a woman arrested in Jordan in 2005 on suspicion of trying to take part in an attack in which others killed dozens at Jordanian hotels.
YUKAWA AND GOTO
Goto, 47, and Yukawa, 42, had gone to the Middle East for different reasons, the former an experienced freelance journalist covering the conflict in Iraq and Syria, and the latter an aspiring security contractor who felt at home in the war-torn region. They ended up in the hands of ISIS in recent months.
On Tuesday, ISIS released a photo showing a black-clad masked man standing over Goto and Yukawa. The man made a demand: Either Japan pay $200 million -- the same amount that Abe has proposed to help those affected by the ISIS campaign, money his government says is for humanitarian rather than military purposes -- within 72 hours, or both men die.
Published in: Evangelical Focus - world - ISIS kills hostage and uses Christian journalist Goto to ask for new conditions