Daesh claims Turkey nightclub attack against 'protectors of the Cross'
Nationals of Germany, Belgium and France among victims of New Year's Day attack. In Turkey, 300 people were killed in terrorist attacks in 2016.
Agencies, BBC, CNN · ISTANBUL · 02 JANUARY 2017 · 13:46 CET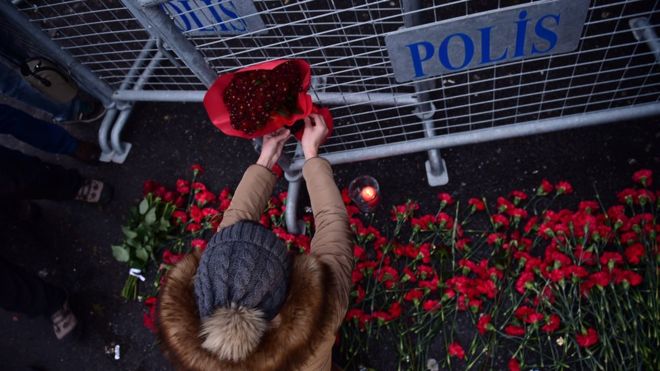 Flowers are laid outside the nightclub, a glitzy venue in the cosmopolitan Ortakoy district. / AFP
At least 69 people are being treated in hospital after the terrorist attack against a New Year celebration at a nightclub in Istanbul (Turkey).
A gunman entered the building and fired up to 180 bullets and killed 39 people. The unidentified attacker fired randomly at people in an assault lasting seven minutes.
DAESH: OPERATIONS AGAINST 'PROTECTOR OF THE CROSS'
Daesh (the so-called Islamic State) said they were responsible for the attack, in a statement in which the group mentioned its war against Christianity.
The attack is defined as one of the "blessed operations that the Islamic State is conducting againt Turkey, the protector of the Cross".
The "heroic soldier of the caliphate attacked the most famous nightclub where Christians were celebrating their pagan feast", the Islamist terrorist group added.
Turkey's President, Recep Tayyip Erdogan said groups like Daesh "are trying to... demoralise our people and destabilise our country".
An operation to capture the author of the attack is still under way. Eight other people have been detained so far.
THE 'REINA' NIGHTCLUB
At least 600 people were celebrating what Islamists describe as a Christian festivity in the early hours of Sunday at Istanbul's 'Reina' nightclub.
"Nestled on the European side of Istanbul, Turkey's cosmopolitan city, the glitzy venue is known for attracting famous singers, actors and sports stars", a BBC analyst wrote. "It sits within Ortakoy, a lively neighbourhood triangulated by a Muslim mosque, Christian church and Jewish synagogue that is said to reflect 'the religious freedom and mosaic in Turkey as a secular state'".
MANY FOREIGNERS AMONG VICTIMS
Among the victims are at least 25 people from other nationalities, including: Belgium, France, India, Russia, Israel, Morocco, Canada, Libya, Saudi Arabia, Jordan, Lebannon, Tunisia and Iraq.
11 victims are Turkish.
Only in 2016, more than 300 people have been killed in terrorist attacks in Turkey.
Published in: Evangelical Focus - world - Daesh claims Turkey nightclub attack against 'protectors of the Cross'