Bomb attacks against Coptic Christians on Palm Sunday
At least 45 people killed and more than 100 injured in two attacks. The Egyptian President decrees three months of state of emergency.
CAIRO · 10 APRIL 2017 · 08:11 CET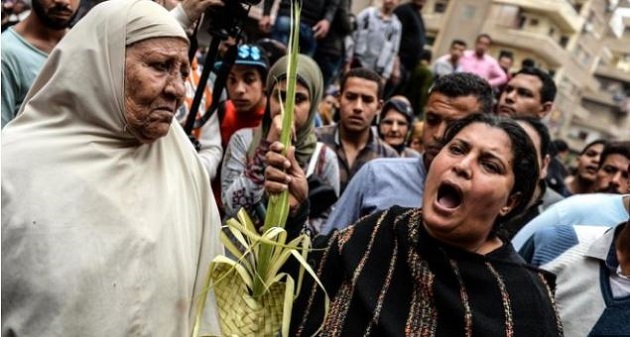 Relatives of the victims of the Palm Sunday attack against a Coptic church in Tanta, on Sunday 9 April. / EPA / BBC
Daesh (Islamic State) said it was behind the attacks against two Coptic Christian churches in Egypt on Palm Sunday (April 9) which killed and injured dozens.
The first attack was against the people attending the service at St George's Coptic church in the northern city of Tanta. A bomb killed 26. At least other 70 people were injured.
Three hours later, a second attack happened outside of St Mark's Coptic church, in Alexandria. Security forces had prevented the suicide bomber from entering the building. 17 were killed and more than 35 were injured.
Hundreds gathered in the streets to express their grief and anger after the attacks. Christians are being violently persecuted in several regions of Egypt. Copts have asked the government to better protect them, in the midst of the rise of violent Islamic extremism.
President Abdul Fattah al-Sisi reacted to the terrorist attacks. He said the war against the jihadists would be "long and painful", the BBC reported. He also said that the thre-month-long state of emergency would come into force after all "legal and constitution steps" were taken.
The President of the Protestant Churches of Egypt, Andrea Zaki, condemned the attack speaking to Christianity Today. "This black terrorism aims to create fear among Christians and stop them from going to church" he said. "But we will work together in solidarity with the state, Muslims, Pope Tawadros, and all Christians to fight terrorism and bring Egypt to stability."
In December, a terrorist attack targeting worshippers in the Copt Cathedral in Cairo killed 25 people. Christians then expressed an "increased determination to love and to forgive."
The Secretary General of the Egyptian Bible Society, Ramez Attallah, then told Evangelical Focus the attack had united the majority – including most Muslims - in their clear condemnation of violence.
Copts are the biggest Christian faith group in Egypt, and represent about 10% of population.
Published in: Evangelical Focus - world - Bomb attacks against Coptic Christians on Palm Sunday