Hurricane Irma devastates the Caribbean and threatens Cuba and Florida
At leas 14 people have died and many areas are left "barely habitable." Irma has been downgraded to a category four, but officials warn that it remains "extremely dangerous".
BBC, Agencies · ORLANDO · 08 SEPTEMBER 2017 · 18:19 CET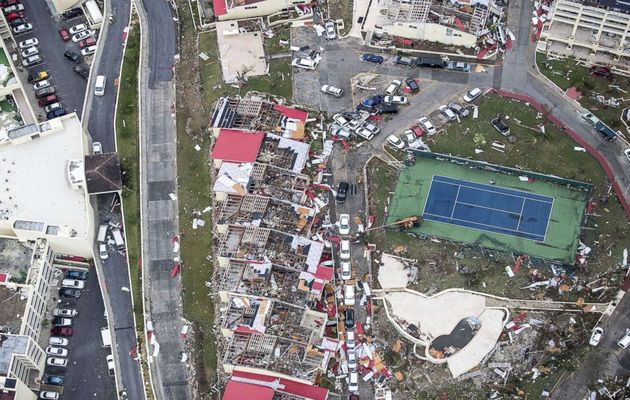 Saint Martin is almost destroyed. /Dutch ministry of defence
The most powerful Atlantic storm in a decade has caused widespread destruction across the Caribbean and left at least 14 people dead. Irma, a category five hurricane, has been packing winds of up to 295km/h (185mph).
Irma grew stronger quickly because of a combination of very warm water, high levels of mid-level relative humidity, and vertical wind conditions, meteorologists say.
The hurricane has been downgraded to a category four, but officials warn that it remains "extremely dangerous".
KATIA AND JOSE
Irma is accompanied by two more storms that have strengthened to become hurricanes: "Katia" ahead of it and "Jose" behind.
Jose, further out in the Atlantic behind Irma, is a category three hurricane, with winds of up to 195km/h (120mph). Some slight strengthening is possible in the next day or so, according to the NHC.
Hurricane Katia, in the Gulf of Mexico, has strengthened a little but still is a category one storm, with winds of up to 140km/h (85mph). A warning is in effect for the coast of the Mexican state of Veracruz and the storm is expected to make landfall on Saturday.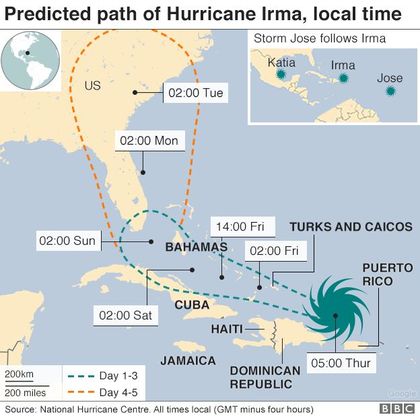 MILLIONS OF PEOPLE AFFECTED
An estimated 1.2 million people have been affected by Irma and that could rise sharply to 26 million, the Red Cross says.
There are concerns that disease could spread rapidly in areas where drinking water and sanitation services have broken down, and officials have warned that the death toll is likely to rise.
Britain, France, and the Netherlands have already sent ships, rescue teams and emergency supplies to their territories that have been hit by Hurricane Irma. Aid efforts are being hampered by damage to local airports and harbours.
"BARELY HABITABLE"
Irma has already left the small island of Barbuda "barely habitable", with 95% of the buildings damaged. One death has been confirmed.
St Martin is also almost destroyed. Five people have been killed there.
The last area pummelled by Irma are the Turks and Caicos Islands. Howling winds and rough seas battered the British overseas territory, experiencing a top-rated category five hurricane for the first time.
"We are expecting inundation from both rainfall as well as storm surge. And we may not be able to come rescue [residents] in a timely manner", Virginia Clerveaux, director of the Turks and Caicos Department of Disaster Management and Emergencies, said.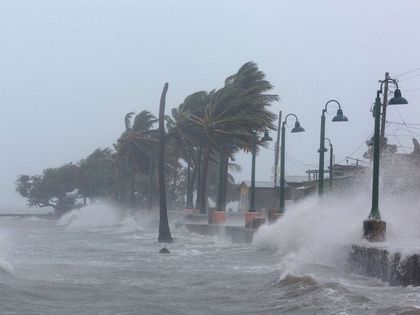 DEVASTATION THROUGHOUT THE CARIBBEAN
Early in the week, Irma has left a trail of destruction all across the Caribbean.
In Puerto Rico, more than 6,000 residents of the US territory are in shelters and many more without power. At least three people have died.
Additionally, damage to infrastructure was said to be widespread in the US Virgin Islands, with four deaths confirmed.
One person has also died Anguilla. A resident said the island, a British overseas territory, looked as if it had been struck by a nuclear bomb..
The state of emergency has been declared in British Virgin Islands and fatalities are expected.
There has been some damage to roofs, flooding and power outages to the northern parts of the Dominican Republic and Haiti, which is still recovering from the devastating 2010 earthquake.
BAHAMAS AND CUBA ARE NEXT
The worst of the storm is expected to hit east and central Cuba, with the eye of the storm predicted to pass between the north coast of Cuba and the Bahamas, the National Hurricane Center (NHC) said.
In Cuba, thousands of tourists from coastal resorts in the exposed part of the island have been evacuated.
IRMA WILL HIT FLORIDA ON SUNDAY
Irma is due to hit Florida as a category four hurricane on Sunday, bringing storm surges and flooding. "If you look at the size of this storm, it's huge" Florida Governor Rick Scott said on Thursday.
South Florida "may be uninhabitable for weeks or months" because of the storm, the National Weather Service said.
Roads and airports have been jammed as thousands of people tried to evacuate areas at risk, but many tourists are stranded with no seats left on flights back to their countries as flights to and from airports in Florida are being suspended.
Published in: Evangelical Focus - world - Hurricane Irma devastates the Caribbean and threatens Cuba and Florida