Islamic countries say East Jerusalem should be capital of a Palestinian state
Fifty-seven countries respond to Trump's recognition of Jerusalem as Israel's capital city.
Agencies · ISTANBUL · 14 DECEMBER 2017 · 15:41 CET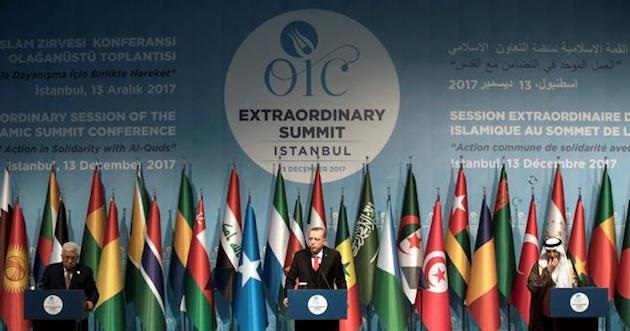 Turkish President Erdogan speaks at the OIC summit in Istanbul. / OIC
Turkey hosted a meeting of the Organisation of Islamic Cooperation's Extraordinary Summit in Istanbul on December 13 to show their support for the Palestinian government.
A total number of 57 Muslim nations expressed their opposition to the policies of Israel and the US.
These countries rejected President Donald Trump's declaration last week that Jerusalem is the capital of Israel.
Turkish President Erdogan went further to say that "Israel is an occupying state, Israel is a terror state". Muslims, he added, will not accept any aggression on its Islamic sanctuaries.
Speaking at the summit, Palestinian President Mahmoud Abbas said: "Jerusalem is and always will be the capital of Palestine", adding the US's decision was "the greatest crime" and a violation of international law.
Turkish Foreign Minister Mevlut Cavusoglu has said Muslim nations should urge the world to recognise East Jerusalem as the capital of a Palestinian state within its pre-1967 borders.
The new diplomatic disputes around Jerusalem are another barrier in the long social and religious conflict between Israel and Palestine. Both Jews and Muslims see the biblical city as a holy site.
Published in: Evangelical Focus - world - Islamic countries say East Jerusalem should be capital of a Palestinian state