Charities react as Oxfam prostitution scandal reveals abusive practices
Christian Aid took action after two sexual misconduct cases were reported in 2017. Organisations under suspicion could lose European Union funds.
Christian Aid, Euronews, The Guardian · LONDON · 13 FEBRUARY 2018 · 12:56 CET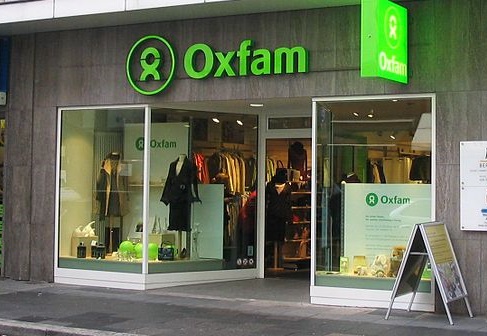 A Oxfam shop. / Wikimedia Commons (CC0)
The crisis around NGO Oxfam, after it was known that nine senior staff working in Haiti paid earthquake survivors for sex, has raised doubts about some practices in other relief organisations.
The "culture of impunity" among aid workers in Haiti, as it was referred to in a confidential report of Oxfam published by British newspaper The Times, reveals the extent to which abuse of power and sexual exploitation have been practised in some countries.
The Oxfam scandal, which uncovered similar practices in Chad, could cost the NGO the public funds from the UK government. "We want to see Oxfam provide all the evidence they hold of the events to the Charity Commission for a full and urgent investigation of these very serious allegations", said a spokesperson of Prime Minister Theresa May said.
HAITI AND EU CONDEMN THE PRACTICES
The European Union announced on February 12 that Oxfam risked losing another 32 million Euro of European funding: "We take a zero tolerance approach to any allegations of misconduct by organisations that receive our funding. We expect Oxfam to fully clarify the allegations with maximum transparency as a matter of urgency", said the NGOs' spokesperson at the European Commission, Maja Kocijancic.
Later, Haiti's President Jovenel Moise reacted to the crisis by saying: "There is nothing more outrageous and dishonest than a sexual predator who uses his position as part of the humanitarian response to a natural disaster to exploit needy people in their moment of greatest vulnerability".
'WE'RE DESPERATELY SORRY'
Oxfam's chair of trustees, Caroline Thompson spoke of the "anger and shame that behaviour like that ... happened in our organisation".
The organisation apologised to the victims, volunteers and donors, and explained the work done in the last years to investigate abuse reports. Four members of staff were dismissed and three resigned before the end of the 2011 investigation, Oxfam said.
After the case was made public, Oxfam's deputy chief executive stepped down. Penny Lawrence said she was "desperately sorry for the harm and distress" caused by the controversy. "I am ashamed that this happened on my watch and I take full responsibility".
CHRISTIAN AID DEALED WITH TWO CASES IN 2017
Meanwhile, Christian Aid revealed on February 12 that it has investigated two incidents of sexual misconduct in 2017.
"In the past 12 months, Christian Aid has investigated two incidences of sexual misconduct – both of which occurred overseas. One investigation led to the dismissal of a staff member, while the other case resulted in disciplinary action (not dismissal). (…) In both cases, no laws were broken, and neither involved incidents against minors", the organisations said in a statement.
The organisation said it is "committed to ensuring that such behaviour is not tolerated either within our organisation or across the aid sector. We agree that further investigations are needed within the sector".
Other organisations such as Save The Children also said they had to deal with several cases of sexual misconduct in the past years.
Published in: Evangelical Focus - world - Charities react as Oxfam prostitution scandal reveals abusive practices