Kidnapped Nigerian girls freed by Boko Haram
The Nigerian Information Minister says that 101 of the 110 girls abducted have been freed. Reports say that a Christian girl is still in captivity because she refused to convert to Islam.
BBC, Reuters · DAPCHI (NIGERIA) · 21 MARCH 2018 · 18:28 CET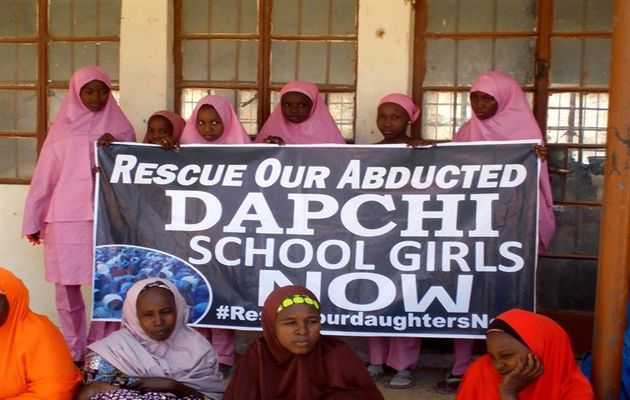 School mates of the abducted girls have been asking for their reease since the kinapping. / Reuters.la
The majority of the 110 Nigerian girls from the town of Dapchi who were kidnapped by Boko Haram last February, 19, has been released, the government says.
The militants of Boko Haram drove the girls back into Dapchi in a line of trucks in the morning, dropped them off then left, witnesses told news agency Reuters.
The secretary of the missing girls' parent's association, Kachalla Bukar, told CNN the girls were seen walking into Dapchi at about 7:30 a.m. local time Wednesday.
101 FREED
Nigeria's Ministry of Information said 101 of the 110 girls are confirmed freed, and it indicated that the number will rise "after the remaining ones have been documented".
However, reports suggest at least five girls died during their kidnapping, and that a Christian girl was still in captivity because she had refused to convert to Islam.
NO RANSOM
Nigeria's information minister, Lai Mohammed explained that the army allowed the militants through, so "lives were not lost", but denied paying a ransom.
"No ransom was paid to them to effect this release. The only condition they gave us is not to release (the girls) to the military but release them in the town of Dapchi without the military presence".
The Nigerian government had secured the release "through back-channel efforts and with the help of some friends of the country", Mohammed pointed out in a separate statement.
"The government had a clear understanding that violence and confrontation would not be the way out as it could endanger the lives of the girls, hence a non-violent approach was the preferred option", Mohammed added.
NIGERIA'S PRESIDENT QUESTIONED
Right after the kidnapping, it was claimed that many of the girls had just escaped their homes. But a week later, authorities admitted they were taken by the Islamist militants.
Nigeria's President Muhammadu Buhari, called the kidnappings a "national disaster" and apologised to the girls' families.
The abduction piled pressure on Buhari, who came to power in 2015 promising to crack down on the insurgency. He is expected to seek re-election next year.
THE CHIBOK GIRLS
The kidnapping raised uncomfortable parallels with the abduction of the Chibok girls, who were taken from their school in neighbouring Borno state in April 2014.
More than 100 of the 276 kidnapped schoolgirls remain in captivity.
Published in: Evangelical Focus - world - Kidnapped Nigerian girls freed by Boko Haram