Jerusalem US embassy opens amid violent clashes
At least 55 Palestinian protesters die in clashes with Israeli troops in Gaza. The "alliance between the US and Israel is stronger than ever", Prime Minister Benjamin Netanyahu says at the opening ceremony.
JERUSALEM · 14 MAY 2018 · 13:37 CET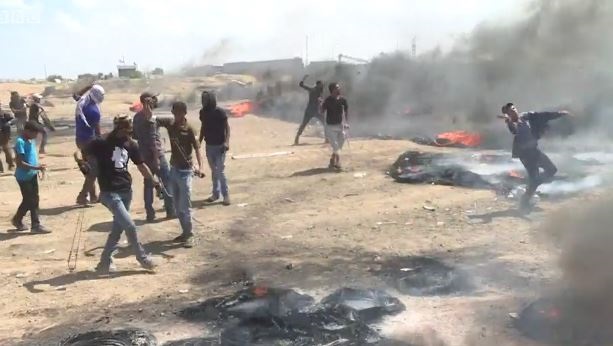 Palestinian protesters throw stones and burn tyres in Gaza, protesting against the opening of the US embassy in Jerusalem, May 14. / BBC
Donald Trump's controversial plan of moving the United States embassy in Israel from Tel Aviv to Jerusalem was made effective today.
Hours before the official opening, violent clashes between Palestinian protesters and Israel armed forces in Gaza caused the death of at least 55 people, Palestinian officials said. Hundreds more were injured.
Palestinian groups tried to breach the border fence and threw stones, and Israeli troops responded with fire.
Islamist rulers Hamas have organised the "March of Return" mass protests in the last six weeks. Today's clashes are the worst incident since the marches started.
NETANYAHU: JERUSALEM IS CAPITAL OF ISRAEL
US President Donald Trump did not attend the opening, but his daughter Ivanka Trump and husband Jared Kushner represented the White House, alongside a broader US delegation. Baptist pastor John Hague lead a closing prayer of the ceremony.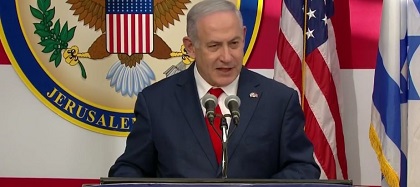 Speaking at the inauguration, Israel Prime Minister Benjamin Netanyahu referred to how Jerusalem is presented in the Jewish and Christian Scriptures. "In Jerusalem, King David established the capital of our nation", he said.
"Thank you President Trump for having the courage to keep your promises", Netanyahu added. The "alliance between the US and Israel is stronger than ever".
Since it was announced in Demceber, the Israeli Prime Minister clearly supported the plans of the United States to move its embassy to Jerusalem.
Palestinians opposed the move as they considered it to be a clear US backing for Israeli rule over the whole city of Jerusalem, which is also considered a Muslim holy site.
According to the BBC, a small interim embassy will start operating today, inside of the existing consulate building in Jerusalem. Later, a larger site should be found to move the rest of the embassy from Tel Aviv.
The European Union and other allies of the United States reject the move of the US embassy as they consider it will only fuel the Israeli-Palestinian conflict.
Published in: Evangelical Focus - world - Jerusalem US embassy opens amid violent clashes