In Brazil, two evangelical candidates on opposite ends
Catholic Jair Bolsonaro leads the polls, as he recovers in hospital from a stabbing: "It's a miracle".
Evangélico Digital · 20 SEPTEMBER 2018 · 18:01 CET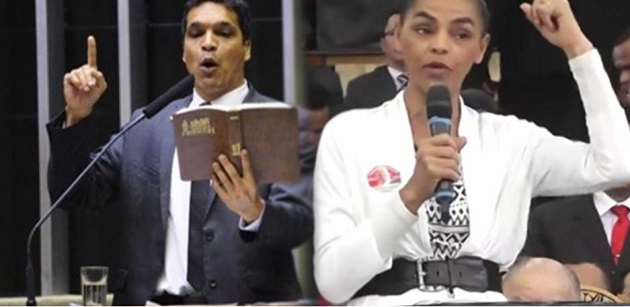 The two evangelical candidates in Brazil, Cabo Daciolo and Marina Silva. / Evangélico Digital
For the first time, two candidates of evangelical faith aspire to become Brazil's next president: Marina Silva and 'Cabo' Daciolo.
Nevertheless, surveys show that none of them are the main option for evangelical Christians, a growing faith group that already represents 30% of the population in the country.
Leading the race is the right-wing candidate Jair Bolsonaro (63), who is expected to get one third of the votes in the presidential election of October 7. Analysts expect him to be one of the two finalists in the second round.
CANDIDATE STABBED
Bolsonaro is still recovering in hospital of Sao Paulo after a man stabbed him as he campaigned on the street in early September. After hours in surgery and a colostomy, the Roman Catholic said "it was a miracle" to be alive. Several evangelical pastors who support Bolsonaro visited him and earlier pictures emerged of the candidate being prayed for in evangelical churches.
The Ibope Research Institute confirms this evangelical support for Bolsonaro. More than half support the Roman Catholic, whereas Marina Silva gets 10% of the support and Daciolo less than 3%.
MARINA SILVA: THE SOCIALIST EX MINISTER OF LULA
Several reasons explain the lack of popularity of the evangelical candidates among their own people.
Marina Silva (60) runs for president for the third time. Her political background has to do with the Worker's Party (PT), for which she served as a Senator representing the Amazonic state of Acre. Her programme remains rooted in socialist principles.
The former minister in Lula's government founded the environmental platform Sustainable Network and has been very much engaged in creation care, as this speech at a Lausanne Movement congress in Jakarta (2016) shows.
Commissioned in the past as a missionary of Assemblies of God, when Silva was recently asked about her faith, she said she refused to use "the pulpit for political leverages".
The candidate has not given clear answers on moral issues, and suggested a "national plebiscite" to decide about abortion and the legalisation of certain drugs – although she clarified she was against both.
Meanwhile, Silva's electoral programme includes LGBT guidances, which has created a strong rejection of the conservative electorate, a majority of Brazilians.
DACIOLO: THE BIBLE IN HANDS OF A RADICAL CONSERVATIVE
On the other side is Benevenuto 'Cabo' Daciolo (42), a corporal of the Firefighters Body of Rio de Janeiro.
Daciolo is a Pentecostal Christian who often used his Bible to speak at the National Congress, Brazil's Parliament. He has also been the first candidate to show a Bible in political debate on television.
His electoral strategy started by going up a hill and stay there in fasting and prayer.
Daciolo has not organised public events because he says he is following a divine strategy. "I'm not a politician, I'm someone sent by God", the candidate says on Instagram, where he is very active.
The videos streamed on Facebook show the leader of the Patriot Party quoting the Bible and he denouncing the actions of 'dark forces' in Brazil's politics, such as masonry.
Daciolo is against abortion, LGBT policies and the legalisation of drugs. He announced that if he is elected president, he will declare the first week of his mandate as a time to "worship and seek God as a nation".
NO EVANGELICALS EXPECTED IN THE SECOND ROUND
Projections say that neither Marina Silva nor 'Cabo' Daciolo have chances to fight for the victory in the October election.
Furthermore, the presence of two evangelical candidates and a Catholic with a high popularity in evangelical churches, has helped to fragment the vote of Brazilian Christians.
Many pastors have publicly asked their congregations to vote for their favourite candidate.
The numeric growth of evangelicalism in Latin America has not led to a bigger socio-political influence in their countries. The main reason has been the lack of unity and of common projects.
Published in: Evangelical Focus - world - In Brazil, two evangelical candidates on opposite ends