"High threat of terrorism, kidnap and sectarian violence" following Asia Bibi's acquittal
Islamists blocked roads. Security has been stepped up for churches. Bibi is expected to leave the country soon.
ISLAMABAD · 02 NOVEMBER 2018 · 10:27 CET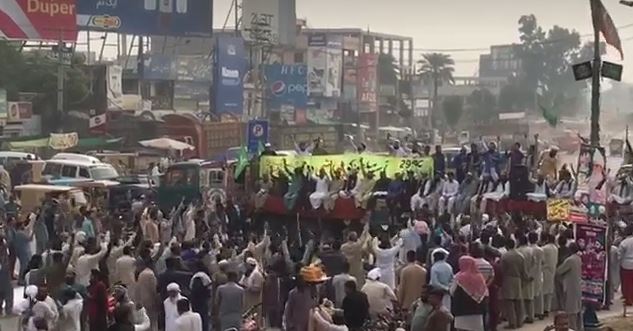 One of the protests in Pakistani cities after the acquittal of Asia Bibi. / Facebook video caption
Thousands of Islamists protested in Pakistan's largest cities after the acquittal of Asia Bibi was announced on Wednesday October 31.
Some of the main roads have been blocked, and Islamist leaders have demanded the Christian woman to be hanged.
Hours after the news about the sentence, a Christian source in Pakistan told Evangelical Focus. "Some Muslim groups will try to lock down cities (…) The situation is critical. Please pray for Pakistan". After the ruling, the situation is especially "dangerous" for Christians around the country.
The government imposed blocks on social media to stop the riots, and the police and paramilitary forces called to stop the mobilisations, which tried to reach the Supreme Court in Islamabad.
Authorities have stepped up security at churches across the country.
Internationl organisations have called to pray for Christians in the country. Another issue is that the blasphemy laws will continue to be in force, and other Christians could be brought to the courts at any time.
The British government advised not to travel to several areas in Pakistan.
"Terrorists are very likely to try to carry out attacks in Pakistan. There's a high threat of terrorism, kidnap and sectarian violence throughout the country, including the cities of Islamabad, Rawalpindi, Lahore and Karachi", the British Foreign Office said on its website.
"Protests can occur with little warning and can turn violent quickly. You should avoid demonstrations, large crowds of people and public events", it added.
Published in: Evangelical Focus - world - "High threat of terrorism, kidnap and sectarian violence" following Asia Bibi's acquittal