Evangelicals in Colombia condemn "vile terrrorist attack" that killed 21
"We unite and share the pain of the families", says the biggest evangelical confederation in the country. It is the worst attack since the Peace Agreement of 2016.
Evangélico Digital · BOGOTÁ · 18 JANUARY 2019 · 12:36 CET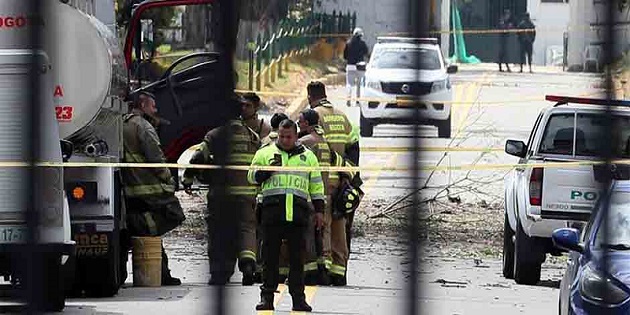 The site after the terrorist attack in Bogotá, Colombia. / ED
A terrorist attack against the Police School 'General Santander' in Bogotá (Colombia) killed at least 21 people and has injured more than 60.
It is the worst attack in Colombia since the peace agreement in 2016.
"Today the terrorists try to intimidate us as a society. But Colombia will show them that this nation is strong, united and that it does not break in the face of the insanity of these aggressions", President Iván Duque said in an institutional message. "Colombia is saddened by the violence, but will not be overcome by it".
The head of state also called Colombians to show their "resilience, faith and solidarity".
Authorities suspect a terrorist is behind the attack, but have not yet confirmed who the intellectual authors are.
Colombia has experienced a long and painful peace process and such terrorist attacks could reopen old wounds.
CEDECOL: BLUNT REJECTION OF VIOLENCE
Among the many reactions of solidarity and condemnation of the attacks were those of evangelical Christians.
The Evangelical Confederation of Colombia (CEDECOL) said in a statement: "We bluntly reject this mortal act in the Colombian capital city. We unite and share the pain of the families, those who have suffered the consequences of these terrorist acts".
The body representing evangelicals in the country called to prayer asking that "the all-powerful God brings serenity and peace to all relatives, friends and victims in these difficult moments".
Pastor Eduardo Gómez told Latin American news website Evangélico Digital that the "vile attack" should receive the answer of Christians in prayer. He also thanked believers in other countries that "pray for this city and this nation".
Orando por las familias de los que sufrieron el atentado en la Escuela general Santander. Un acto de cobardía y lleno de oscuridad. Oro que las Luz de Jesús brille en mi país #Colombia #orandoporcolombia

— Alex Campos (@CamposAlex) 17 de gener de 2019
Colombian singer Alex Campos also expressed his sorrow over the terrorist attack. "A coward act full of darkness. I pray that Light of Jesus shines in my country Colombia", the well-known musician published on Twitter.
Published in: Evangelical Focus - world - Evangelicals in Colombia condemn "vile terrrorist attack" that killed 21