Venezuelan evangelicals take a stand as citizens and children of God
"As the Body of Christ, we need to be ready to give an answer to both sides", says a Christian leader in the country. "Every Christian has to do his part".
Evangélico Digital, Global News Alliance · CARACAS · 31 JANUARY 2019 · 18:44 CET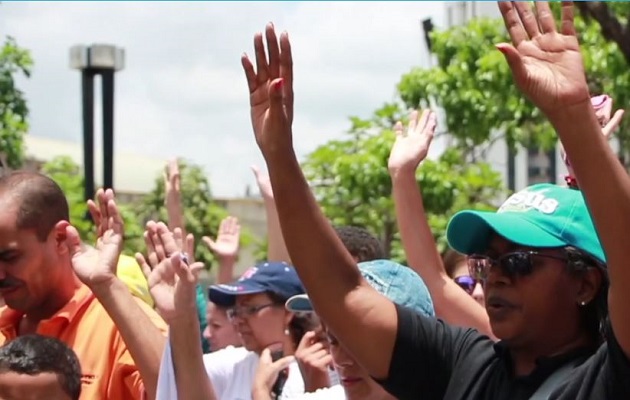 Christians pray on the streets for God's intervention in Venezuela's socio-political conflict. / GNA, Evangélico Digital
Venezuela is entangled in a very complex political scene, because of the two ideologically opposed governments that are claiming authority in the country right now.
The Venezuelan society lives in an uncertain conflict, where the evangelical church and its leaders are taking a stand as citizens and children of God, through prayer, an emphasis on truth and justice, and the dialogue with both sides.
"It is a very difficult situation. We are here because of the opposite positions, which have been so strong, but did not have the capacity to talk and recognise each other", José Rivero, Pastor of the Christian Mission Children of God church, told Global News Alliance.
"WHO IS THE AUTHORITY NOW?"
Nicolas Maduro was re-elected for a second term as the President, in the elections that took place in 2018.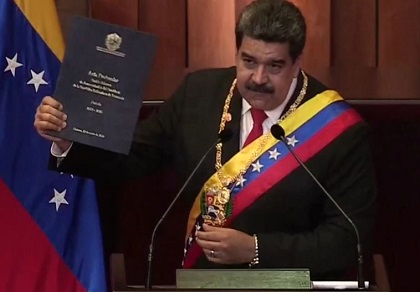 These elections were not recognised by the Venezuelan Parliament and important international organisms, because of the legal irregularities, and therefore the legitimacy of Maduro for a second term is not clear.
"Who is the authority now? That is the confusion", Pastor and member of the Venezuelan Evangelical Council, Jose Piñero, said.
"However, from a legal point of view, it is clear that there is a power vacuum, because, sadly, the government implemented a unconstitutional measure, what they called the communal constituent Assembly, a term that does not exist in the national Constitution or in the Venezuelan legislation so that it does not have legitimacy",
According to Piñero, "that Assembly does not have the right to call for elections, but they, when it was not the right time for it, called for presidential elections".
MADURO AND GUAIDÓ
Despite the legal situation, on January, 10, Nicolas Maduro went to the Supreme Justice Court to take oath to start his mandate.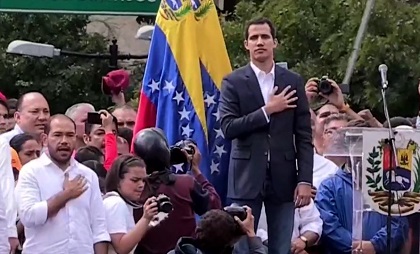 Then, the President of the National Assembly, Juan Guaidó, taking the irregularities as a power vacuum, assumed the competencies as interim President. He said he would lead the transition and call for elections within 30 days, based on the articles 233 and 333 of the Constitution.
"AS A BODY OF CHRIST, WE NEED TO BE READY TO GIVE ANSWERS"
"We, as a Body of Christ, need to be ready to give an answer to both sides. The church needs to take the streets, to intercede, to kneel down. Like in Ukraine and Romania, where it was a painful and bloody process, but it lasted a few days", said Pablo Salcedo, of Youth With a Mission.
"We need to be present, helping people with compassion and mercy, trying to be pragmatic", he added.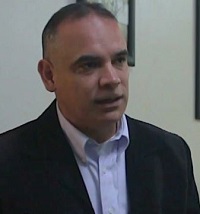 Pastor Piñero added that "Our first agenda is related to the faith and the hope, but it is also a social agenda that must lead us to look for all the possible solidarity mechanisms".
"WE ARE CALLED TO LOOK FOR THE SUPPORT OF THE INTERNATIONAL COMUNITY"
"That solidarity does not only come from us, we are called to share the little we have, but at the same time, to look for the support of the international community, of the evangelical international community, to help Venezuela", the pastor said.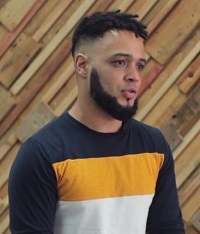 José Rivero stressed that "we definitively need to pray that the Will of God will come true. There are many interests, many things that maybe we do not completely know. We need to
intercede, to look for God will and act according to our calling
, in the different expressions inside the Body of Christ that we have".
"It can be those who are called to politics, our individual responsibility as citizens that we all have, or those with a particular calling to evangelize, to intercede, to mediate. But each one has to do his part", he concluded.
Published in: Evangelical Focus - world - Venezuelan evangelicals take a stand as citizens and children of God