Gospel unites 1,600 former criminals in El Salvador's 'miracle prison'
Newspaper 'El País' witnesses how members of rival gangs worship together in an overcrowded prison. "We feel free, when Christ opens your heart there is no turning back".
El País · SAN SALVADOR · 06 FEBRUARY 2019 · 10:33 CET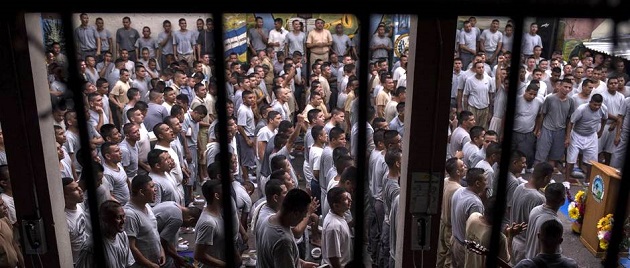 Hundreds come together to worship Christ in San Francisco Gotera prison. / V. Peña, El Faro, El País
El Salvador, a small country in Central America, has seen how faith in Jesus brings reconciliation between enemies.
In the San Francisco Gotera penitentiary, members of the 'maras' gangs MS-13, 18-Surenos and 18-Revolucionarios not only coexist but come together to worship Christ.
A team of journalists of Spanish-speaking newspaper El País has witnessed how hundreds sing songs like: "I will rejoice, I will rejoice, I will rejoice, because the Lord has taken away all my pain and has set me free".
Trumpets, guitars, percussion and a pastor lead the congregation. Most interns have tattoos, many of them in the face, showing their old loyatly to some of the most dangerous criminal organisations in Latin America.
Most have been sentenced for murder, violation or extortion. Now they sit on the floor in lines, holding their Bibles. 1,600 prisoners are confined in a prison that was designed for only 200.
TRANSFORMED LIVES
"In this prison, calm arrived thanks to the Bible and the pastors that have achieved several miracles", reads the El País article. "There is no violence, everything is perfectly clean and in order, the prisoners treat each other with respect. And something that was unthinkable before their conversion has happened: gangs live together in the same place".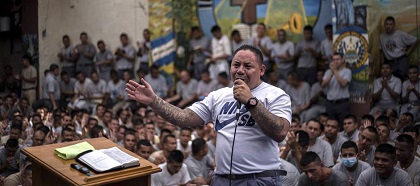 The pastor who addresses the crowded place has the number "18" tattooed on his face, and other signs of his old allegiances are on his neck and arms. He speaks about God with conviction. "I realised that I was killing and defending streets that did not belong to me, but to Jesus", Jorge Stanley says.
Daniel Méndez, a former Salvatrucha gang member, adds: "Although we are imprisoned, we feel free, when Christ opens your heart, there is no turning back".
BIBLE STUDY STARTED THE REVOLUTION
The faith revolution in San Francisco Gotera started three years ago when a small group of prisoners started to read the Bible and pray together. Slowly other prison mates converted to the faith in Jesus, and now the majority of prisoners say they are committed Christians.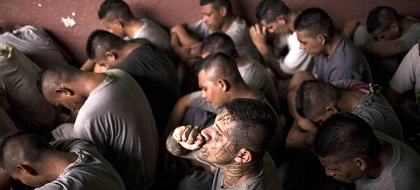 In the centre, there is a strict discipline. Despite the reduced spaces, everything looks tidy - the clothes are folded on every bed.
Outside the prison, 52-year-old pastor of the Eben-Ezer church waits for those who are freed to offer them a Christian community outside the walls. He knows that the integration back into society of former gang members is very difficult, but their new faith in Jesus can make a difference.
Published in: Evangelical Focus - world - Gospel unites 1,600 former criminals in El Salvador's 'miracle prison'