At least 49 dead in New Zealand mosque attacks
The evangelical body New Zealand Christian Network (NZCN) urged people "to pray for all the families affected, and to offer them support in every way possible".
CHRISTCHURCH (NEW ZEALAND) · 15 MARCH 2019 · 13:30 CET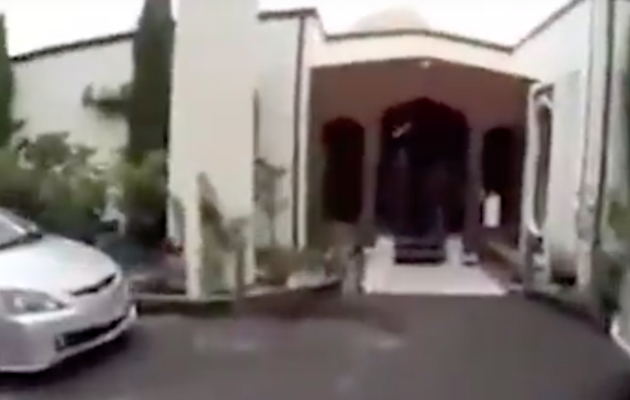 Imahe of the entrance of the Al Noor Mosque, taken from the video of the attack filmed y the suspect.
Forty nine people have been killed and at least 20 wounded in shootings at two mosques in the southern New Zealand city of Christchurch.
According to the police, shots were fired at Al Noor Mosque on Deans Avenue in the center of the city and at Linwood Mosque, about three miles away, said.
Four people, including three men and one woman, were taken into custody. One of them, a man in his late twenties was charged with murder and will appear in court on Saturday morning, Police Commissioner Mike Bush, confirmed.
Police also found multiple explosive devices in a car belonging to one of the detainees. They have added that they are not looking for further suspects.
Of the three others, Bush said that one had nothing to do with the attack and has already been released, while the police are working to determine how the other two might have been involved.
SUSPECT FILMED THE ATTACK
The gunman filmed the attack on social media. Dressed in a military-style, camouflage outfit, and carrying an automatic rifle, he started randomly shooting people in the Al Noor mosque shortly after 1.40pm local time.
He also posted a 74-page manifesto in which he claims to be from a "working class, low income family".
The more than 16,000 words document, rails against migration and cites a list of events from various periods of history which the writer links to his self-acknowledged terrorist attack.
Mike Bush said police had also defused a number of improvised explosive devices found on vehicles after the mosque shootings.
"ONE OF NEW ZEALAND DARKEST DAYS"
The Australian Prime Minister, Scott Morrison, called the massacre a "rightwing extremist attack" and said one suspect was Australian-born, without giving further details.
Meanwhile, New Zealand Prime Minister Jacinda Ardern , said this was "one of New Zealand's darkest days" and "an extraordinary and unprecedented act of violence".
"Many of those who will have been directly affected by this shooting may be migrants to New Zealand, they may even be refugees here. They have chosen to make New Zealand their home, and it is their home. They are us. The person who has perpetuated this violence against us is not", she added
The mayor of Christchurch, Lianne Dalziel in a statement she said: "Our city has changed forever today. It is beyond belief that something like this should happen in our city and in New Zealand,''
New Zealand had been placed on its highest security threat level. Police have asked all mosques across the country to close their doors today.
NZCN: "PRAY FOR THE FAMILIES AND OFFER THEM SUPPORT"
The evangelical body New Zealand Christian Network (NZCN) has expressed horror and great sadness about the violent attacks today on Muslim people and mosques in Christchurch.
"The attacks are utterly appalling and will be deplored by all New Zealand people of all faiths or none", the spokesperson of NZCN, Dr Stuart Lange, said in a statement.
The NZCN urged people "to pray for all the families and communities which will be deeply affected, and to offer them support in every way possible".
Published in: Evangelical Focus - world - At least 49 dead in New Zealand mosque attacks