Guaidó frees opposition leader and calls army to oust Maduro
"The armed forces have taken the correct decision, they can count on the support of the people of Venezuela", Guaidó says. The regime responds: "We are deactivating a small group of traitors". The risk of an armed conflict increases.
CARACAS · 30 APRIL 2019 · 13:32 CET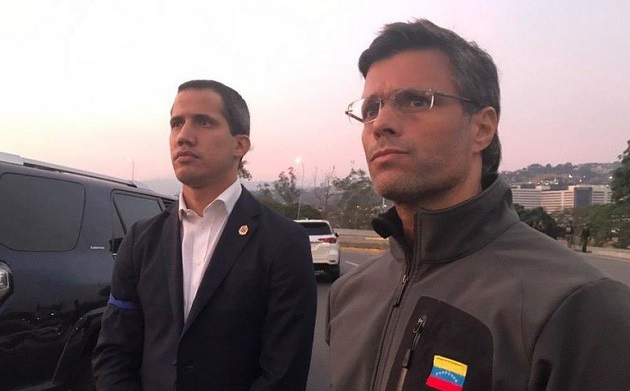 Self-declared Interim President of Venezuela Juan Guaió and freed anti-Chavist leader Leopoldo López, on April, 30. / Twitter Leopoldo López
Juan Guaidó has appeared on a video shared on social media calling to start "the final phase of the Freedom Operation" against the regime of Nicolás Maduro.
Guaidó is the self-proclaimed interim President of Venezuela, supported by the National Assemby and by most Latin American countries.
After his declaration, hundreds of supporters began to flock to the airbase, where troops loyal to Maduro reportedly fired tear-gas from inside, in an attempt to contain the demonstrators.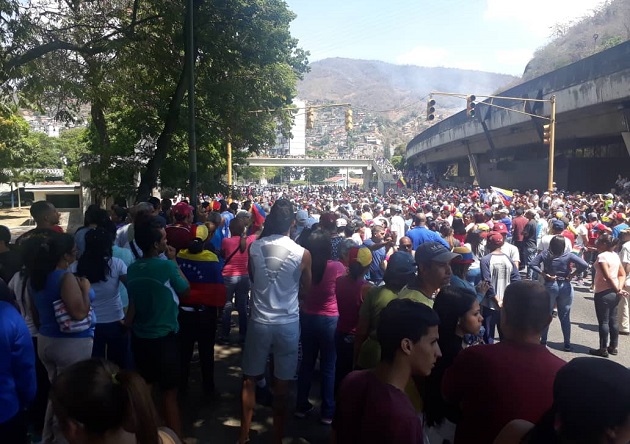 GUAIDÓ: "THE CESSATION OF USURPATION IS IRREVERSILE"
Guaidó then move from La Carlota to Altamira, Caracas, where he has addressed Venezuelans again.
"Today it is clear to us that the Armed Forces are with the people and not with the dictator. We know that all Venezuelans are in favor of change and the Constitution", Guaidó told the crowd.
In a tweet, Guaidó also declared: "The country's 24 states have taken to the road: no turning back. The future belongs to us: the people and Armed Forces united by the cessation of usurpation".
He added: "The streets of Venezuela are full of people We are making history. The cessation of usurpation is irreversible".
¡El momento es ahora!

Los 24 estados del país han asumido el camino: calle sin retorno. El futuro es de nosotros: pueblo y Fuerza Armada unidos por el cese de la usurpación.

¡Juntos somos invencibles! #TodaVenezuelaALaCalle

— Juan Guaidó (@jguaido) 30 de abril de 2019
He also confirmed that "after talking with the international comunity, we have their solid backing inthis irreversile process of change".
Early in the morning, speaking from the La Carlota military base in Caracas, the capital city of Venezuela, Guaidó called to put an end to the regime of Nicolás Maduro. "The time is now (…) We are going to achieve liberty and democracy for Venezuela", Guaidó said.
Standing beside Guaidó was Leopoldo López, one of the main opposition leaders against the Chavist regime, who had just been freed from house arrest by military forces loyal to Guaidó.
"People of Venezuela, it is necessary that we all go out in the streets, to support democracy and recover our liberty. Organised and united, we should move to the main military installations", Guaidó said in a 4 minute long video on Twitter.
En el marco de nuestra constitución. Y por el cese definitivo de la usurpación. https://t.co/3RD2bnQhxt

— Juan Guaidó (@jguaido) 30 d'abril de 2019
"The armed forces have taken the correct decision, they have the support of the people of Venezuela, and the backing of our constitution, they are guaranteed to be on the right side of history", he added, as he emphasised that "peaceful actions" needed to prevail.
THE RESPONSE OF MADURO
This new step of the opposition increases the risk of an armed conflict in Venezuela. The massive demonstrations against Nicolás Maduro contrasts with the strong support of segments of the population.
Maduro made no public appearance yet, but said in twitter that he has "spoken with military commanders who had shown him "total loyalty to the people, to the Constitution and to the Fatherland".
"Nerves of steel! I call for maximum popular mobilization to assure the victory of peace. We will win!", he also pointed out.
¡Nervios de Acero! He conversado con los Comandantes de todas las REDI y ZODI del País, quienes me han manifestado su total lealtad al Pueblo, a la Constitución y a la Patria. Llamo a la máxima movilización popular para asegurar la victoria de la Paz. ¡Venceremos!

— Nicolás Maduro (@NicolasMaduro) 30 de abril de 2019
In the first hour after the announce of Guaidó, the Minister of Communication of the regime of Nicolás Maduro said, "we are deactivating a small group of traitors". He acused the "assassin far-right" of organising a "coup" against the government.
Meanwhile, the head of the Orgainzation of American States (OAS) expressed his support for Guaidó.
WORLD LEADERS REACTIONS
Most of the world leaders have publicly support Guaidó and a democratic transition in Venezuela.
"Today, April, 30, marks a historic moment for the return to democracy and freedom in Venezuela, which the European Parliament has always supported", European Parliament President, Antonio Tajani said in twitter.
Hoy #30abr, marca un momento histórico para el regreso a la democracia y la libertad en Venezuela,que el Parlamento Europeo siempre ha apoyado. La liberación del Premio Sajarov @leopoldolopez por militares a la orden de la Constitución,es una gran noticia. ¡Vamos Venezuela libre!

— Antonio Tajani (@EP_President) 30 de abril de 2019
Meanwhile, United States Secretary of State, Mike Pompeo wrote on Twitter: "The US Government fully supports the Venezuelan people in their quest for freedom and democracy. Democracy cannot be defeated".
"Our focus is on a peaceful resolution to the crisis and the restoration of Venezuelan democracy. Venezuelan people deserve a better future, they have suffered enough and the Maduro regime must end", a spokesman for British Prime Minister Theresa May, said.
"We strongly hope that there will be no bloodshed", Spanish government spokeswoman Isabel Celaa told reporters. She called for "democratic elections" and said Madrid supports a peaceful outcome to the Venezuela crisis.
Colombia's President Ivan Duque called on Twitter for "soldiers and the people of Venezuela to place themselves on the right side of history, rejecting dictatorship and Maduro's usurpation".
Hacemos llamado a militares y al pueblo de #Venezuela para que se ubiquen del lado correcto de la historia, rechazando dictadura y usurpación de Maduro; uniéndose en búsqueda de libertad, democracia y reconstrucción institucional, en cabeza de @AsambleaVE y el Presidente @jguaido

— Iván Duque (@IvanDuque) 30 de abril de 2019
BOLIVIA CUBA AND RUSSIA SUPPORT MADURO
On the other hand, Bolivian and Cuban Presidents have shown their support to Maduro.
Evo Morales "vigorously" condemned the "attempted coup in Venezuela by the right-wing that is beholden to foreign interests. The brave Bolivarian Revolution led by brother Nicolas Maduro will beat this new attack by the empire".
Cuban President, Miguel Diaz-Canel rejects on Twitter "this coup movement that aims to fuel violence in the country".
"The traitors that have put themselves at the head of this subversive movement are using troops and soldiers with heavy weapons in a public area of the city to create panic and terror", he added.
Russian Ministry of Foreign Affairs has also accused the opposition in Venezuela of "returning to violent methods of confrontation".
"Instead of peacefully settling political differences, they have taken a course designed to whip up conflict, and provoke breaches of public order and clashes involving the armed forces", it said.
AN ALARMING SITUATION
The lack of food, medicines and energy has led the country to a situation of emergency. Hundreds of thousands have abandoned the country in the last 2 years, and World Vision alarmed about the situation of many minors.
Evangelical Christians in the country have called to pray for peace, and most churches have expressed their support for the opposition to the regime.
Believers who have abandoned Venezuela expressed their "grief" as they see they closely follow the events happening in their country of origin.
Published in: Evangelical Focus - world - Guaidó frees opposition leader and calls army to oust Maduro