Latin evangelicals outnumber LGBT activists in key OAS gathering
"The solution for Latin America is strengthening the family", Pastor Mercedes Aguayo told the assembly in the 'Dialogues with Civil Society' session. Some evangelical representatives were denied access on the second day of talks in Colombia.
Evangélico Digital · MEDELLÍN · 28 JUNE 2019 · 10:25 CET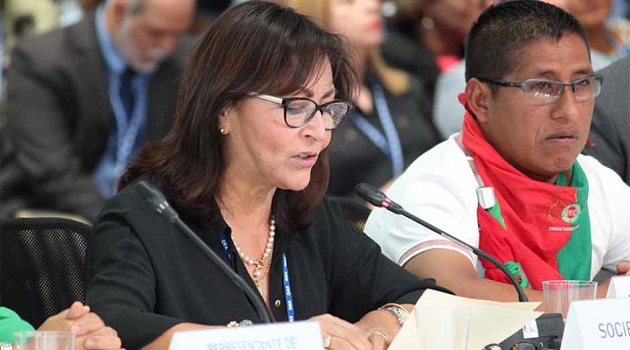 Pastor Milagros Aguayo, an evangelical representative, spoke about the need of strenghtening families in Latin America, during the OAS General Assembly, in Medellín. / ED
A "triumph" and a "historic day". This is how evangelical pro-life and pro-family representatives from across Latin America described the opening session of the 'Dialogues with Society' organised by the Organization of American States (OEA), on June 26.
For the first time, leaders of evangelical civil society platforms outnumbered the strong presence of LGBT and pro-abortion activists, as Latin news website Evangélico Digital reported from Medellín (Colombia).
The General Assembly of the OAS (OEA in Spanish) is a key socio-political gathering in the continent. Created in 1948, it seeks to unite countries in America, take political decisions and promote dialogue on human rights. Its slogan is "more rights for more people".
This year, the OEA openly backed the pro-LGBT lobby by adding the rainbow flag on their official social media platforms.
FOTOS
Encuentre todas las fotos de la 49 # AsambleaOEA en Colombia acá https://t.co/8tdpxSKmkh pic.twitter.com/Pr8dgNDySK

— OEA (@OEA_oficial) 28 de juny de 2019
EVANGELICAL SPEAKERS
Three evangelical experts in family and life (three women and one man) spoke in the Wednesday session, in front of the Secretary General of the OEA, national political leaders, and representatives of all other interest groups.
Brought together by the Ibero-American Congress for Life and Family, a newly created international evangelical platform that has managed to unite politicians, pastors, experts and civil society leaders who share the Christian faith
"The OEA should work for the natural family, because the solution for Latin America is strengthening the family", said Pastor Milagros Aguayo in her address. Aguayo leads the Centre For Development of the Family in Peru. She has also been instrumental in the creation of the Latin movement "Do Not Mess With My Chidlren", which has brought tens of thousands to the streets to confront gender ideology in schools.
"RIGHT TO LIFE IS A MOTOR OF CHANGE"
"The right to life is the first and most fundamental of all rights", said Pastor Clara Vega de Rocha, from Mexico, as she addressed the assembly. "The right to be born should become a plural and universal social demand, a motor of change, of democratic deepening", she added.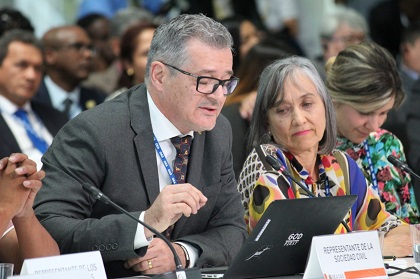 In the third speech, Marcos Aurélio de Camargo (Brazil), underlined that "we, Latin American evangelicals are aware of our numerical growth in the last years. This advance has led to social changes in our countries, and analysts consider that our participation in society has become a crucial element in relevant political changes in our continent".
Camargo closed his statement by blessing the OEA leaders: "We ask that through the Holy Spirit and the power that comes from Jesus Christ's glorious riches, you are strengthened in your inner being, and Christ dwells in your hearts".
Witnesses said that the speeches of Christians were at several moments answered with shouting and booing of LGBT and pro-abortion activists present in the hall.
ACCESS DENIED ON DAY TWO
On the following day, June 27, several evangelical representatives denounced they had not been granted access to the building where the OAS holds the Assembly, despite having been granted an official accreditation.
Security personnel deployed in the entrances denied the access to several representatives of evangelicals organisations, witnesses told Evangélico Digital. The reason given was that there was not enough space left for observers. But participants inside the OAS assembly shared images showing plenty of free seats available.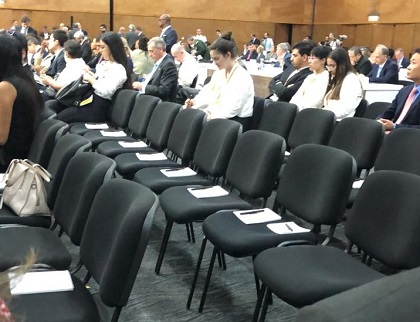 This "censorship", as several participants described it, was denounced on social media. In a video outside the OAS gathering building, an evangelical representative says no credible justification was given. "If I'm only allowed to watch the sessions from outside on the screens, I could have stayed at home and watched it streamed online".
"A lady just was just allowed to go in, in front of us", another witness said. "There were no issues for her, she is of Amnesty International, but we are of the pro-life and family movement, so they hindered our access".
Published in: Evangelical Focus - world - Latin evangelicals outnumber LGBT activists in key OAS gathering