Bolivia: 12 volunteers of Christian medical organisation die in bus crash
The team of medical doctors were taking part in a humanitarian trip with the NGO MedFund. "Pray for every family member and survivor".
Protestante Digital · LA PAZ · 07 AUGUST 2019 · 11:00 CET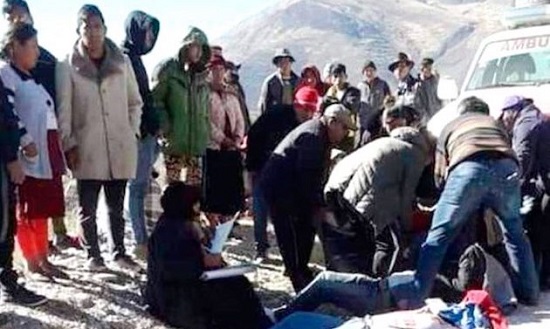 Images of the first rescue works after the accident in Bolivia on August 4. / Eldiario.net
A bus travelling between the cities of La Paz and Apolo, in Bolivia, suffered a tragic accident on August 4.
15 people were killed after the bus left the road and went down a steep ravine. Other 21 people were injured and brought to hospitals.
Authorities in the city of El Alto said the police was investigating the grave incident. According to some reports of local newspapers, the bus driver is suspected to have exceeded the speed limits.
Among the passengers was a delegation of 22 medical doctors who were taking part in a humanitarian trip organised by the Christian organisation MedFund. 12 of these volunteers died in the crash, and all of them were Bolivians. Three other passengers of the bus also lost their lives.
The MedFund team planned to start a free health campaign in the towns of Siphia, Azarinas, Curiza and Piedra Blanca.
The Bolivian Minister of Health, Gabriela Montaño expressed her condolences to the relatives. "This traffic accident is terrible, 15 people have died, among which 12 have been identified as physicians of a foundation. Rescue teams are working in the area. We hope we do not have to lament the death of any further persons", she said.
"PRAY FOR EVERY FAMILY MEMBER AND SURVIVOR"
MedFund belongs to the Christian ministry Cup of Cold Water. The volunteers involved in the crash travelled "to share the gospel of Jesus Christ through proclamation and demonstration of God's Word to the poor and disadvantaged by bringing medical services", said Dan Hennenfent, Executive Director of the organization.
Ten of the volunteers are now recovering in medical centres of capital city La Paz. Some of these are "gravely injured and will have long and difficult recoveries". Members of MedFund in Bolivia arrived to the site hours after the accident and helped in the rescue works.
Hennefent asked to pray "for every family member and survivor" as well as for "every support person and ministry partner, and every MedFund volunteer who was not on this particular trip, but who has lost friends and co-laborers to this terrible tragedy".
"For now, we mourn with those who mourn. Thanks be to God! He gives us the victory through our Lord Jesus Christ", he added, quoting 1 Corinthians 15:55.
The entity announced ways to contribute to the medical care of the injured. The Facebook page of MedFund Bolivia gives details for those who would like to offer financial help.
Published in: Evangelical Focus - world - Bolivia: 12 volunteers of Christian medical organisation die in bus crash