"Liberal theology will kill the churches in Europe, it is a spiritual suicide"
Public debate confronted views on penal substation and atonenement. Revd. David Robertson tells Evangelical Focus he thinks Church of Scotland will "prevent such a debate happening again."
Evangelical Focus, FreeChurch.org · EDINBURGH · 02 OCTOBER 2015 · 14:27 CET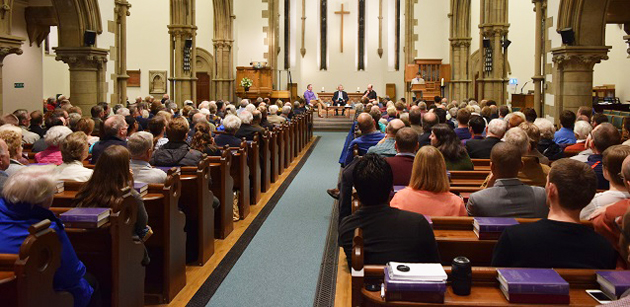 General view of the Mayfield Salisbury church during the debate. / FreeChurch
More than 200 attended a public debate in Edinburgh (Scotland) on Wendesday 30 October. "Two types of Christianity" were discussed, in a event in which Free Church Moderator Revd. David Robertson defended doctrines like penal substitution and atonement in a discussion with Church of Scotland's minister Revd. Scott McKenna.
The debate happened in McKenna's church, Mayfield Salisbury. The minister, who has the potential to become the Church of Scotland Moderator, had claimed in a sermon that it is "ghastly theology" to believe that Christ died for sinners.
Revd David Robertson responded by writing a blog post on the subject, saying such preaching was profoundly anti-Christian. Later, both met to discuss their views and agreed to celebrate the public debate.
On Wednesday, both theologians defended their opposite doctrinal views. According to FreeChurch.org, David Robertson, argued that there was unanimous agreement from the early Church fathers on the inspiration of the Old and New Testaments and also the full authority of God's Word.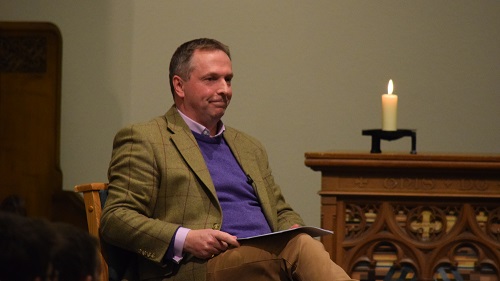 McKenna said that it was "barbaric" to present God "as a vengeful God who needs a sacrifice" before going on to present a variety of views on atonement.
A SERMON LEAD TO A DEBATE
How did the idea of the debate become a reality? "I wrote a piece on my blog concerning Scott's youtube clip of a sermon in which he denied that Jesus died for our sins", David Robertson told Evangelical Focus after the debate.
"He met with me, we got on well and agreed to have our conversation in public."
Robertson thinks these type of debates are useful for believers. But he adds: "I think this will present a challenge but my view is that the establishment of the church will do all they can to prevent such a debate happening again."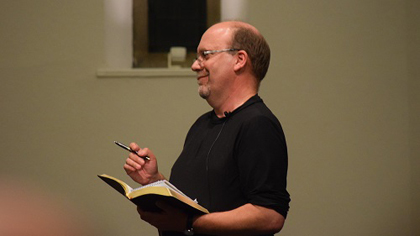 Robertson thinks it is "modernism" that has brought a shift in biblical and evangelical theology. The biggest problem is that some Protestant churches are "turning away from the view that the Bible is the Word of God."
"Liberal theology will kill the churches in Europe. It is a spiritual suicide", Robertson concludes.
Published in: Evangelical Focus - cities - "Liberal theology will kill the churches in Europe, it is a spiritual suicide"