Mayoress: "Madrid needs to know more about the Reformation"
In her visit to the 8th Evangelical Congress, Manuela Carmena lamented the lack of knowledge of the Protestant Reformation in Spain.
Protestante Digital · MADRID · 14 JULY 2017 · 18:06 CET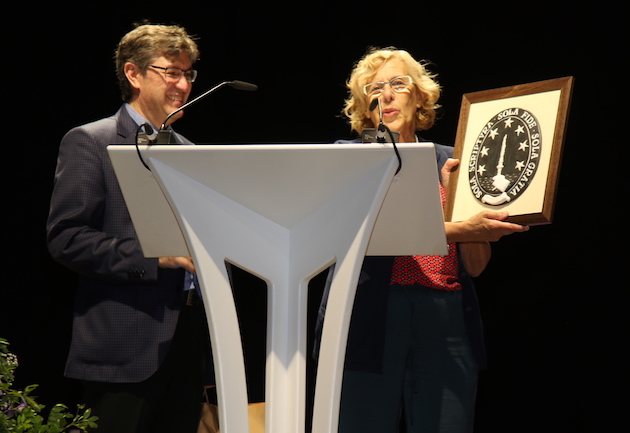 Evangelical representative Mariano Blázquez gave a gift to Manuela Carmena. / MGala
The Mayoress of Madrid, Manuela Carmena, visited the Evangelical Congress that has been held in the Spanish capital this week (12-14 July).
Manuela Carmena said she was "very happy" to welcome the 1,000 evangelical leaders who participated in the Congress.
"I love that you gather in Madrid, the city of the embrace (...) the synthesis of the essence of Madrid", she said.
Addressing the participants, the mayoress, added: "You are determined to make the world a better place. Looking for a better, fairer, more solidary, more humane world is a transcendent vocation, so I am glad you are here. I give you my greatest affection and welcome."
LACK OF FREEDOM AND KNOWLEDGE
"There was a time in this city when there was no freedom of belief or religion, now we can say that we are the essence of freedom and tolerance", Carmena pointed out.
"Because of that lack of freedoms in the past, there is now a great ignorance of the whole process of the Reformation in Madrid and Spain."
The highest authority in the capital city added: "It is good that you have the oportunity to share this story that is being commemorated this year."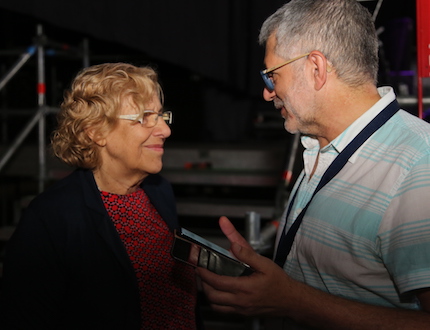 "MADRID NEEDS TO KNOW MORE ABOUT THE REFORMATION"
"We have to accept that it is a shame to know so little, and it is so important to know more", she said.
The Congress, the Mayoress said, is significant. "Do count not only with my welcome, but also with my interest. I would like Madrid to know more about what you are doing here, about the story that is now being commemorated. Madrid needs to know more about the history that was left out."
At the end of her speech, the Secretary General of the Federation of Evangelical Religious Entities of Spain (FEREDE in Spanish), Mariano Blázquez, gave a gift to Manuela Carmena. "We want to contribute, we want to build a better and fairer society for all", Blázquez said.
SUPPORT FOR REFORMATION DAY
After her speech, Manuela Carmena answered questions of Evangelical Focus, commenting on the support of the City Council to the Reformation commemorative events, in October.
The Mayoress emphasised her willingness to receive the representatives of the regional Evangelical Council of Madrid soon, to draw up strategies of collaboration in the preparations for the Reformation day on October 31.
Published in: Evangelical Focus - cities - Mayoress: "Madrid needs to know more about the Reformation"