The UN congratulates the evangelical work with migrants in the Canary Islands
UNHCR representative, Sophie Muller, visited the evangelical church Modern Christian Mission in Fuerteventura. "You are doing an incredible and admirable work".
Protestante Digital · FUERTEVENTURA (SPAIN) · 28 JULY 2020 · 17:00 CET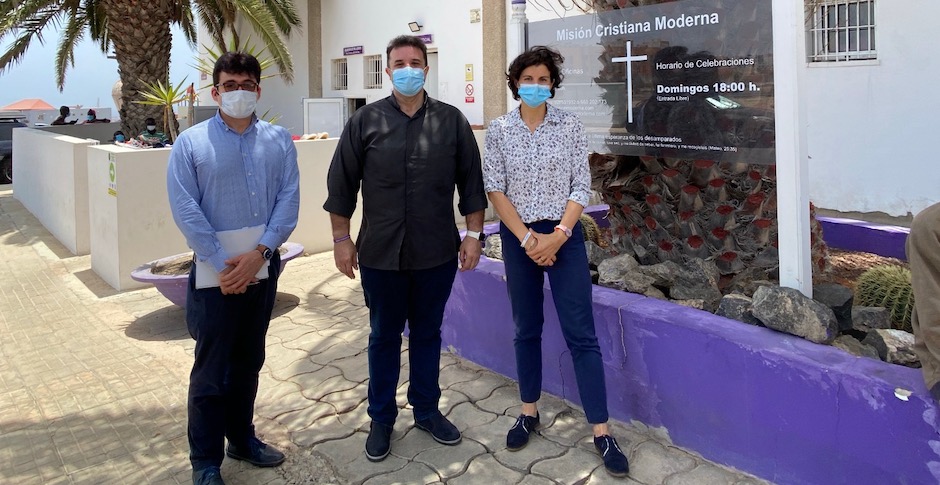 UNHCR representative in Spain, Sophie Muller, visited the evangelical church Modern Christian Mission in Fuerteventura. / MCM.
The United Nations Refugee Agency (UNHCR) recently announced that they will reinforce their presence in the Canary Islands, with a specialist team that will assess who, among the migrants who manage to arrive in the island, might be eligible for protection or asylum.
The UNHCR representative in Spain, Sophie Muller made a four-day visit to the Canary Islands this month, to gather first-hand information, and communicate recommendations in the context of international protection, taking into account the increase of arrivals by sea over recent months.
During her first visit to the islands since she took office in October, Muller held meetings with several local authorities, as well as institutions and NGOs, to analyse the situation of those who arrive by sea from West Africa.
She offered "to make our experience in managing these mixed flows available to the authorities at the main points of entry throughout southern Spain and our support and collaboration in order to approach the current challenge from an international protection perspective".
"Incredible and admirable work" of evangelicals in Fuerteventura
The evangelical church Modern Christian Mission, was among the institutions that the UNHCR representative in Spain visited in the island of Fuerteventura.
"We are very happy for the visit, because she could see the reality of what we are experiencing, a situation of extreme need and how with hardly any resources, just with the solidarity of companies, hotels and friends, we have food today, tomorrow we do not know", the pastor of the church, Ángel Manuel Hernández, told Protestante Digital.
He explained that Muller "offers us her help for anything we need. She said to the work team and to our volunteers, that she was surprised for the incredible and admirable work that we do".
"Our social worker told her that the work of those who assist migrants is insufficient and deficient, because they need attention beyond a place to stay and food. She told us that she comes precisely to give voice to those needs", Hernández added.

The Modern Christian Mission has stood out in recent months for its work in welcoming migrants arriving on boats to the island.
Published in: Evangelical Focus - cities - The UN congratulates the evangelical work with migrants in the Canary Islands