French Assembly passes controversial law to "reinforce the respect of republican principles"
The so-called "anti-separatism law" is a response to radical Islamism, but evangelicals denounce it restricts freedom of worship and increases surveillance on all faith groups.
PARIS · 19 FEBRUARY 2021 · 12:14 CET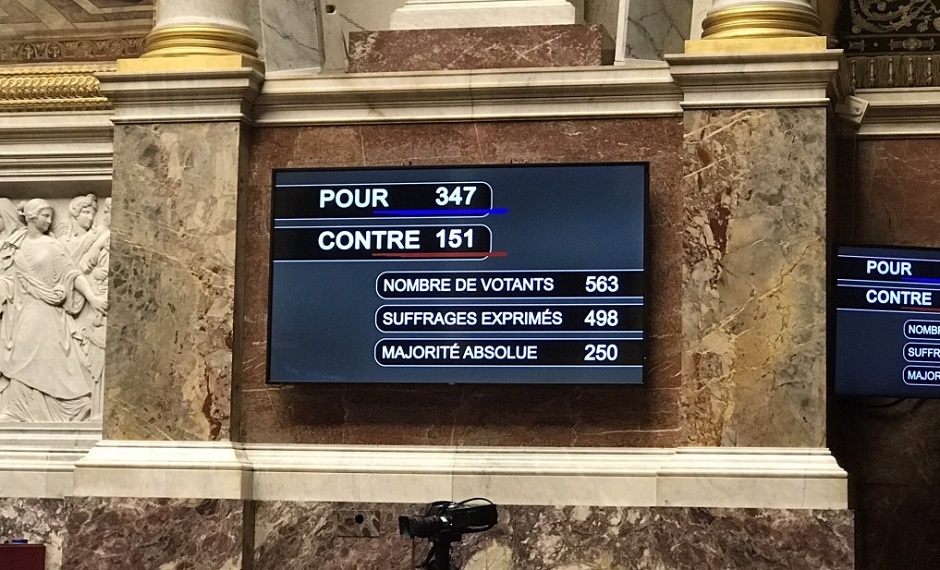 The end result of the vote of the so-called anti-separatism law in the French Assembly on 16 February 2021. / Image via Facebook CNEF
The National Assembly of France passed the "Law to reinforce the respect of republican principles" on 16 February with a large majority.
347 parliamentarians voted in favour of the also known as "anti-separatism law" while 151 voted against.
The law is designed to fight radical Islamism by controlling the contents taught in mosques and other contexts, among other measures. But the rule, announced in autumn by Emmanuel Macron after the terrorist attack against a secondary school teacher, has not only been criticised by Muslim groups.
Evangelicals have warned about the restriction of freedom of worship that comes with the law.
They also protested after political leaders of several parties and even government ministers equated radical Islam and evangelical Christianity. The French Minister of the Interior had to apologise after he said that "evangelicals are a very important problem" without giving evidence to support his claim.
Other political leaders mentioned Bible verses about marriage or the example of baptism of minors to argue that anti-Republican principles were found in Christianity.
French magazine Aleteia summarised some of these controversial statements in the following video:
It is not the first time that Christians in France express their concern about unfair attacks against the evangelical communities during heated debates originally focused on Islamic terrorism.
After the law was passed by the Assembly, the National Council of Evangelicals in France (CNEF) noted the "determination of the presidential majority to go to the end of a bill to the detriment of freedom of worship. The adopted amendments did not soften the measures criticised by the CNEF, on the contrary".
The body representing the majority of free evangelical churches in France analised the law in detail and gave recommendations to churches.
Evangelicals worried about more control of the authorities
Speaking to French radio Phare FM, spokesman of the CNEF, Romain Choisnet, said the law will lead to "more control, more surveillance" of the State while adding "suspicion on religious structures".
Protestant historian Sebastian Fath has also said that "rather than strengthening freedom of conscience and guaranteeing freedom of worship, this project strengthens control over faith groups".
"Pray that the bill will be relaxed when it passes the Senate in March or April 2021", the CNEF said on social media. "Pray that this law does not limit our freedom of worship nor the preaching of the Gospel in France".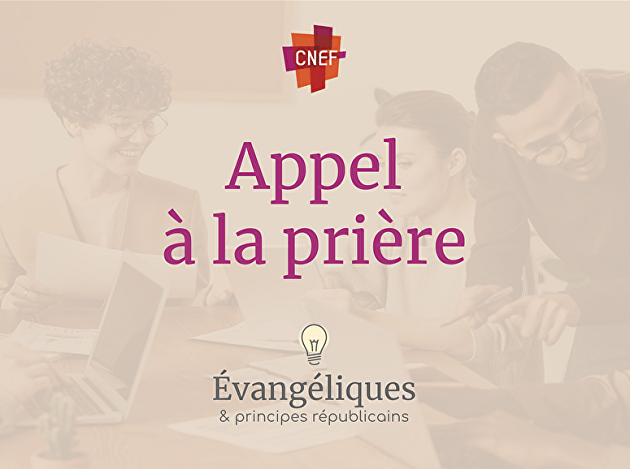 The National Council of Evangelicals of France appealed to prayer.
Published in: Evangelical Focus - europe - French Assembly passes controversial law to "reinforce the respect of republican principles"