"A misunderstanding about child protection in Norway", says embassy
"Whenever it is possible, the authorities work for minors to have good living conditions", Minister-Counsellor in Spain says. Demonstrations arranged worldwide to support the Bodnariu family, many in Europe.
Protestante Digital · MADRID · 11 JANUARY 2016 · 20:28 CET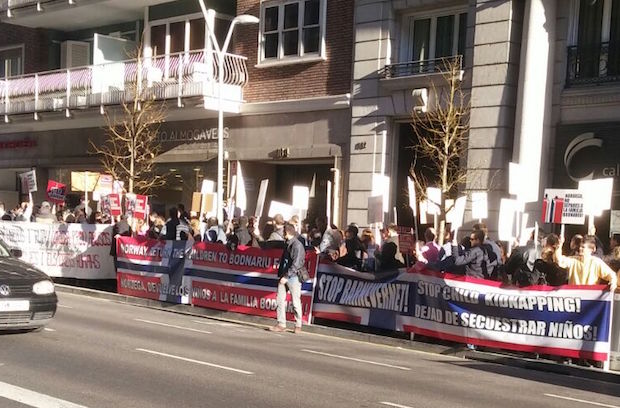 Demonstration supporting the Bodnariu family in Barcelona, on January 8 2016. / Protestante Digital
The Bodnariu family, who temporarily lost custody of their 5 children by Barnevernet (a municipal public service to protect children in all Norwegian municipalities) last November, received much support worldwide this weekend.
Eighteen demonstrations have been arranged with hundreds of people outside the embassies of Norway in several countries during this month. This weekend, many protested in Romania, Norway, Spain, Italy and other countries.

INTERVIEW WITH NORWEGIAN EMBASSY
Spanish media Protestante Digital talked to Lars Andersen, Minister-Counsellor of the Norwegian embassy in Spain. He admitted that the Government is "aware that those measures which make parents lose their children's custody temporarily are very difficult for the families involved and raise strong feelings."
However, "there have been many imprecisions and wrong assumptions about child protection in Norway", Andersen stated.
According to the Norwegian minister, "the child protection law compels us to preserve confidentiality, in order to guarantee the right to privacy of parents and children."
Therefore, the Norwegian authorities, Andersen said, "can only talk about the way they protect minors in general, and about child protection laws," even when "some families decide to share information with the media and the public opinion."
The Norwegian embassy in Spain defends Barnevenet´s work: "Whenever possible, the authorities work for minors to have good living conditions, through less invasive measures, if they are accepted, the parents should not lose their children´s custody", Andersen explained.
"Parents who lose custody have the right to receive free legal advice. They can appeal the sentence, and their case has to be reviewed every year", Andersen added.
"ONLY BECAUSE OF SEVERE NEGLIGENCE"
The Norwegian authorities will only take custody of a minor against his will when "there is severe negligence, like violence and abuse, or when the child´s health is in danger because the parents cannot take good care of him", Andersen continued.
He pointed out that the decision about Bodnariu´s family does not depend on the central government, but on the local council.
"The local government is in charge of giving assistance to all the children that need it. The information about each case is only available for the authorities who directly deal with it", the minister explained.
In Norway, the law of minors applies to every child who lives there, no matter their nationality and origin.
"A MISUNDERSTANDING"
"Demonstrations are a legal way to protest in Norway and Spain, but it seems that these ones have their origin in a misunderstanding about the way Norway deals with child protection", Andersen told Protestante Digital.
DEMONSTRATIONS THROUGHOUT JANUARY
Last Friday, January 8, around 150 people gathered in a demonstration in Barcelona, claiming justice for the Bodnariu family with slogans like "We are all Bodnariu", or "the children belong to their family."
About 1,000 protested in Rome, according to Buona Notizia.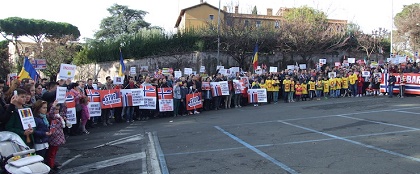 There were other demonstrations that same day in Dublin (600 people), London (over 1,000) and Washington. Last weekend there were others in Madrid, Prague, Hague, or Ottawa, among others. More demonstrations are planned worldwide throughout January. These initiatives have mostly been organised through social media.
A CONTROVERSIAL CASE
Last November, the Barnevernet took away the custody of Ruth and Marius Bodnariu´s 5 children. The principal of the Middle School their two oldest daughters attend cited concerns about the children's religious upbringing and how the parents were teaching their kids that God punishes sin.
According to the family, the adoption process started on December 20. The children, these sources say (including a nursing infant son), have been placed in three separate foster homes.
DAGEN: "THIS IS NOT THE SOVIET UNION"
Despite the support the family is receiving from many Christian churches, organisations and individuals, Christian Norwegian newspaper Dagen gave a different perspective.
"Vital information about the reasons for the resolution by Barnevernet has been omitted in the written articles. Hence the picture presented of the alleged Christian persecution becomes unjust."
The Christian newspaper argued that "the situation for Norwegian Christians is not on a catacomb level. Even if millions of Christians are now given that impression."
Published in: Evangelical Focus - europe - "A misunderstanding about child protection in Norway", says embassy