Päivi Räsänen cleared of all charges: Christian politician acted within the limits of law, rules Helsinki District Court
The Christian politician, after the ruling is made public: "Why was there so much international interest? Because people understand that if questioning freedom of expression can happen in reputable Finland why not in any other country".
Uusi Tie · HELSINKI · 30 MARCH 2022 · 13:57 CET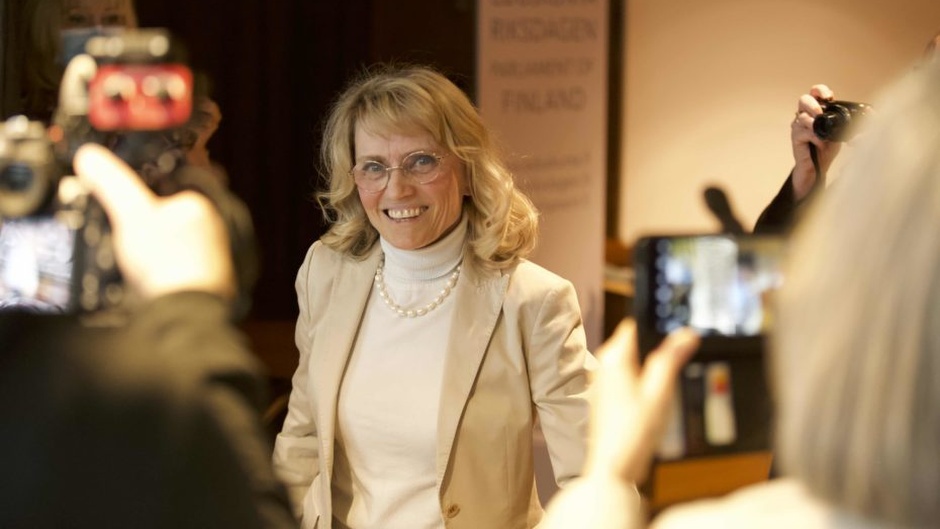 Päivi Räsänen, after the ruling of the Helsinki Court is made public on 30 March 2022. / Photo: Matti Korhonen, Uusi Tie.
(UPDATED) The District Court of Helsinki in Finland has dismissed all charges against Member of Parliament Päivi Räsänen and Lutheran bishop and editor Juhana Pohjola. It was an unanimous decision of the judges.
Räsänen and Pohjola were accused of incitement against an ethnic group. The charges concerned Päivi Räsänen's tweet quoting Romans 1, her pamphlet on marriage (distributed by the publishing house led by Pohjola) and her statements on Ruben Stiller's radio show on the issue of homosexuality and the Christian faith.
Words may have offended homosexuals but did not incite hatred
According to the district court, some of Räsänen's statements were offensive to homosexuals. This included, among other things, the idea expressed by Räsänen on the radio programme that God did not originally create man as a homosexual but as a heterosexual.
However, according to the district court, the Christian politician did not exceed the limits of freedom of expression or insult homosexuals as a group on the basis of sexual orientation within the meaning of Chapter 11, Section 10 of the Finnish Criminal Code. Räsänen's words were not considered to be capable of arousing contempt, intolerance or hatred towards homosexuals. The district court also found that she did not intend to degrade or insult.
The District Court ordered the Finnish State to pay Juhana Pohjola and Päivi Räsänen 11,998 and 49,984 euros respectively in legal costs, and 496 euros in costs to the Luther Foundation of Finland (the organisation lead by Pohjola).
The sentence is not final and can be appealed to the Court of Appeal or the Supreme Court by means of a preliminary appeal.
Räsänen: "The decision I expected"
Räsänen held a press conference shortly after the decision, where she said she was relieved, happy and grateful to God and all the people who had supported her.
"I am relieved, happy and grateful to God and to all the people that have supported me. The ruling was what I expected. I very much appreciate that the decision recognises the importance of freedom of expression and freedom of religion. I am pleased that the decision appears to be very thorough and inclusive. It draws heavily on the European Court of Human Rights' principles of freedom of expression and also carefully goes through what I have said", Räsänen said.
The court's decision came at 13:00h on 30 March. Among other things, the ruling said that "it is not for the district court to interpret biblical concepts". Räsänen had been informed about the verdict moments earlier. The press conference started at 13:15h. By then she had not yet had time to read the decision in full.
International following of the case
Räsänen said the case had been followed by many in other countries but added that no one in Finland had actively promoted this level of international interest in the case.
"Why was there so much international interest?", she asked. "Because they understand that if questioning freedom of expression can happen in reputable Finland, which has been ranked third in the international freedom of expression rankings, why not in any other country".
Although the process has taken three years and had been difficult for her in many ways, Räsänen said she was also delighted with the opportunities the case has given her to present the teachings of the Bible and the Gospel. "This applies not only to Christians, but also to the right of everyone to express their beliefs".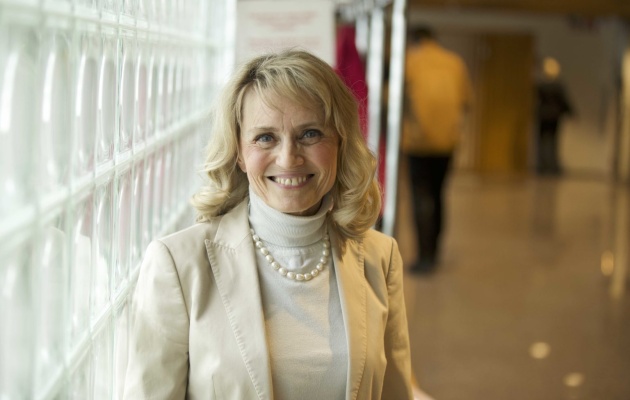 Päivi Räsänen, at the District Court of Helsinki, in 30 March 2022. / Photo: M. Korhonen, Uusi Tie.
Efforts to promote self-censorship in the expression of religious views
The parliamentary leader of the Christian Democrats and committed believer also pointed out that there were several allegations in the General Prosecutor's summons that she had not said. This, she said, was also taken into account by the judges.
"What has worried me is that this process, which has lasted almost three years, has tended to narrow religious freedom and cause self-censorship".
The prosecutor, Anu Mantila, had said at the hearing that Räsänen is free to think as she likes, but expressing certain ideas can be a criminal offence.
"I was reminded of a similar situation when, as Minister for Religious Affairs, I was told that freedom of religion works in China too: you can think freely there too", commented Räsänen.
"Under the Act on the Freedom of Religion, everyone is free to express their beliefs in private and in public. I hope that the prosecutor will be satisfied with this decision. I am, of course, prepared to defend freedom of speech and religion in all courts, even before the European Court of Human Rights. But I hope that this will stop there".
"I stand by my words"
Media representatives asked Päivi Räsänen whether she would in future think more carefully about the words she used when talking about homosexuality.
"I have gone through my speeches carefully, I have listened to them many times. I still stand by my words. I will express my views in exactly the same way. My own views have not changed", Räsänen replied.
Although the district court's decision was acquittal, it states that certain passages in Räsänen's booklet on marriage can be considered offensive to homosexuals. "I understand that when freedom of speech is exercised and people disagree on issues, feelings of offence can arise. Yes, I myself have also found many of the views expressed in public offensive", the parliamentarian said.
Freedom of speech and disagreeing over the Bible
Räsänen continued: "I know homosexual people. I respect them, they are just as worthy people as I am. I want to respect them in every way I can. But I think that the Bible's teaching on sin offends all of us sinners".
"I think it is part of freedom of expression that we disagree and things can be perceived as offensive. On the other hand, the judgment states that I did not intend to offend. It is obvious that I did not say anything with the intention of insulting".
Räsänen was also asked if there is a line where offensiveness crosses the boundaries of what is permissible. "The court found that what I said was not unlawful. But of course anything can be misused. For example, one could take something from the Bible to threaten others".
Uusi Tie asked State Prosecutor Anu Mantila for an interview, but she refused, citing her intention of studying the verdict carefully. Mantila commented to Finnish national broadcaster Yle that "in all likelihood, a further hearing will be sought from the Court of Appeal".
Published in: Evangelical Focus - europe - Päivi Räsänen cleared of all charges: Christian politician acted within the limits of law, rules Helsinki District Court