Pastor Brunson, 1 year in prison
President Erdogan suggests he would be open to a prisoner exchange with the US. The pastor's wife shares a song he has written in prison: "My tears and pain I lift up as an offering".
Middle East Concern, Christian Solidarity Worldwide · ANKARA · 10 OCTOBER 2017 · 18:05 CET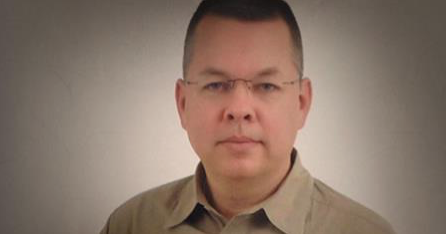 Andrew Brunson, a Protestant pastor accused of attempting to "overthrow" the Turkish government, has been in prison for more than a year now.
Many platforms are demanding the liberation of the Christian worker, who has been serving in a church in the city of Izmir and living in Turkey for more than 20 years.
Brunson was detained on October 7, 2016, with his wife, who was later released. Accused of espionage and of taking part in the failed coup against Recep Tayyip Erdogan's government months before, Brunson was held in a high security prison.
During this time, new secret allegations have been presented against him. Accused of espionage and links to the government's public enemy, Fethullah Gulen, it has been known that he could face a life sentence.
ERDOGAN SUGGESTS PRISONER EXCHANGE
Meanwhile, President Erdogan publicly suggested on September 28 that his government would be interested in negotiating the release of pastor Brunson with the American government in exchange for the extradition of Turkish-American Muslim Scholar Fethullah Gulen. Christian Solidarity Wordwide described this political move by the Erdogan as "disturbing and unacceptable".
Brunson has clearly denied all charges against him. He has never had links with the anti-Erdogan movement, he said. "I started a church; I am a man of religion who did this with the state's knowledge. My aim is to tell about Jesus Christ. I didn't do espionage. I demand an explanation as to when, where and how I conducted espionage".
Thousands of activists, teachers, intellectuals, journalists, lawyers, have been detained in the last 16 months, as the Turkish government has accused them of being "traitors and collaborators against national interests".
Other foreign Protestant Christian workers have been expelled from Turkey in the last months.
A SONG WRITTEN IN PRISON
The family of Andrew Brunson has recently shared a song the pastor has written during his time in prison. "You are worthy, worthy of my all / My tears and pain I lift up as an offering / Teach me to share in the fellowship of your suffering / Lamb of God you are worthy of my all", says one of its verses.
The song also says: "I want to be found worthy to stand before you on that day / With no regrets from cowardice, things left undone / To hear you say, 'Well done, my faithful friend, now enter your reward' Jesus, my Joy, you are the prize I'm running for".
Read more about Andrew Brunson's case.
Published in: Evangelical Focus - europe - Pastor Brunson, 1 year in prison