Euroscepticism and populism on the rise in Italy
Talks to form a government are expected to be long and difficult. Anti-establishment Five Star Movement and far-right Lega are the big winners of the general election.
ROME · 05 MARCH 2018 · 11:52 CET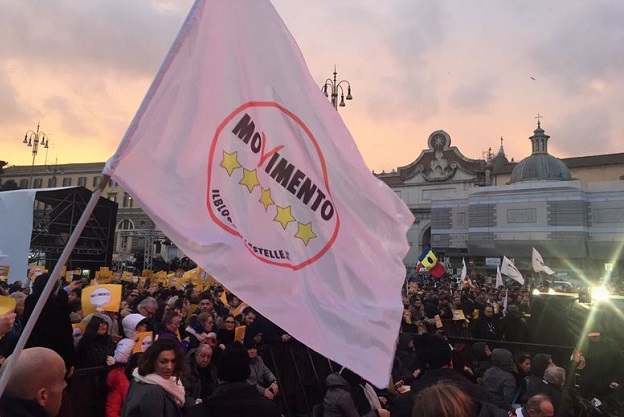 The Five Stars Movement has won the election in Italy. / Twitter M5s
Italy faces yet another long negotiation to form a new government, as no party or coalition won a majority.
As many times before, Italians voted on March 4 for a fragmented parliament. The turnout was of 73%.
The anti-establishment and Europsceptic party Five Stars Movement (M5s) received 32.2% of the votes, followed by centre-left PD of former Prime Minister Matteo Renzi, with a very low 18.9%.

Right-wing parties and potential partners Lega (17.7%) and Forza Italia (14%, led by Silvio Berlusconi) could try to find more supports to become the largest coalition in the parliament. The centre-right could be in the best position to name a new Prime Minister.
Analyists have said the surge of the M5s and Lega reflects the growth of anti-immigration feelings in a country that has received hundreds of thousands of asylum seekers in the last three years.
The results also show growing feelings of Euroscepticism and populism. Italy used to be one of the most pro European Union countries in the bloc.
EVANGELICALS VOTED ACROSS THE SPECTRUM
Evangelical Christians in Italy expressed their concern over the future of Italy prior to the election, as the candidates offered populistic promises in the areas of migration and taxes.
Christians voted across the political spectrum, Vice President of the Italian Evangelical Alliance Leonardo De Chirico told Evangelical Focus, but "churches in general find it difficult to elaborate Christian thought and values politically". A priority, he said, is to "form an evangelical culture of public engagement, that is capable of being a creative minority for the good of the country as a whole".
Published in: Evangelical Focus - europe - Euroscepticism and populism on the rise in Italy