'Unity in Diversity': Hope for Europe week starts in Tallinn
Around 370 people from 37 countries gather in Estonia. "We need a revolution of hope", one of the messages of the first night.
TALLINN · 08 OCTOBER 2018 · 21:29 CET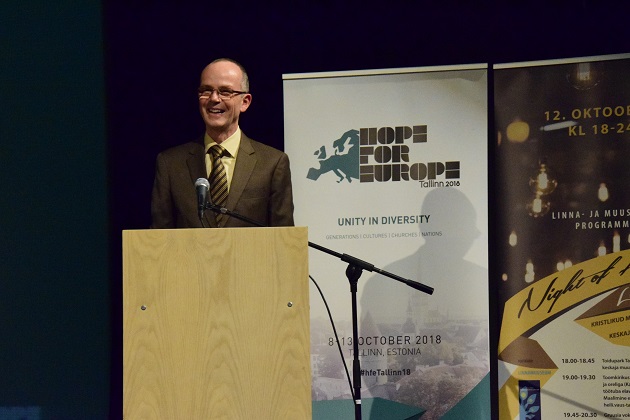 Thomas Bucher, Secretary General of the European Evangelical Alliance, during the opening celebration of Hope for Europe 2018 in Tallin, Estonia. / Herman Spaargaren
Estonia's capital, Tallinn, is hosting the Hope for Europe conference, a special gathering organised by the European Evangelical Alliance (EEA) to bring together evangelical initiatives that make an impact in the continent.
Dinner at the Salme Cultural Centre opened five days of networking and collaboration under the motto 'Unity in Diversity'. "We hope this week helps to start new connections", EEA's Operations Manager Hester Zoutman said as she introduced the first plenary session of this "working conference".
The third edition of Hope for Europe is brining together around 370 people and 37 countries are represented.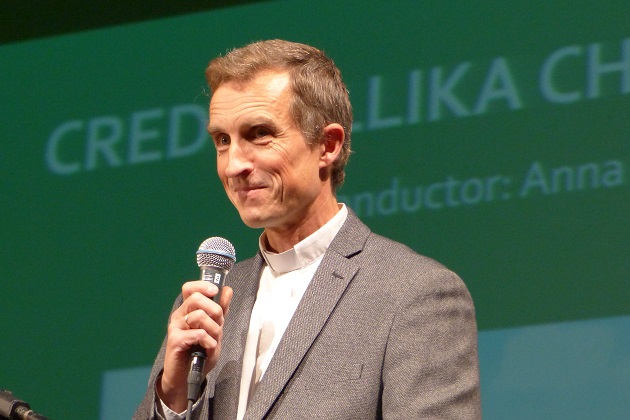 The Vice President of the Estonian Evangelical Alliance, Hollman Taavi, enthusiastically welcomed everyone to the small Nordic country – 1.3 million people -, "one of the most secularised in the world".
Estonia, (where only 6 in 10 speak its national language), regained independence in 1991, after a "singing revolution", Taavi explained. The difficulties in the past, he said quoting Philippians 1:12, have opened doors to new opportunities for the Good News. "We need a revolution of hope", also in the rest of Europe. "May God advance His gospel".
"A DANCING FLOOR"
Thomas Bucher, Secretary General of the EEA said the church has the challenge to be open to God's lead in getting the gospel message across to today's Europe. "Habits and traditions" inside the churches may need to be "questioned" at times, in this process.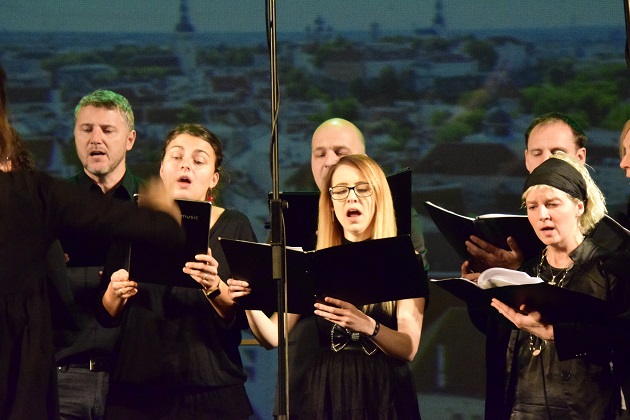 In a continent "largely saturated with 'me' and the 'I', we can we offer a caring community", Bucher said. Evangelicals need to be able to "share the story of the Bible where it gets lost" and become examples of integrity and character in areas in which these are lacking.
He called everyone to use the "dancefloor" of the conference, "bring something and take other things home". "Let's start dancing together this week, and bring hope to Europe".
A SECULARISED EUROPE
Frank Hinkelmann, President of the EEA, referred to a recent Pew Research report about the spiritual landscape in Western Europe (only 17% attend church at least once a month) to call Christians to "share the good news with a continent in which many of the citizens don't have a knowledge and relationship with Jesus Christ".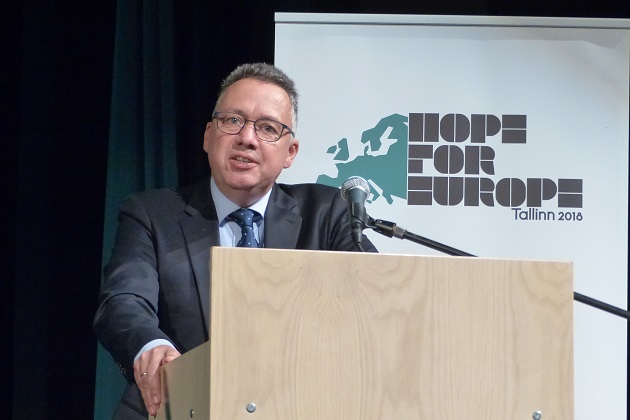 "What unites us as evangelicals is that we believe in Jesus as the only way to salvation. But where are diverse in many aspects", also from a cultural point of view. "These days I pray that we celebrate our unity in Christ, but let's also celebrate our diversity".
HOPE AWARD FOR ESTONIAN EVANGELICALS
During the evening, the Estonian Evangelical Alliance, which has developed as many as 16 thematic networks in the country, was awarded the Hope Award 2018, which is given annually by the EEA to an "organisation doing something outstanding in its field".
The Credo Allika Chamber Choir sang Estonian songs and well-known gospel songs in more than one occasion during the evening.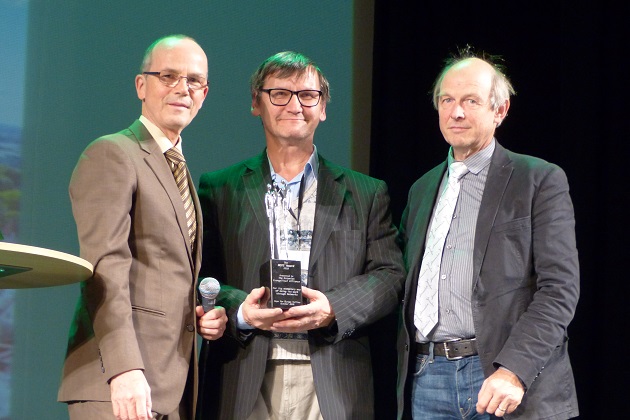 NETWORKS AND EVENTS
Evangelism in a New Age, Prayer, Christian Educators, Arts+, Refugee Ministries, Roma people, are some of the 17 networks that will be working on common initiatives and sharing resources in Tallin this week.
A Night of Hope in the city in collaboration with local Estonian churches will close the conference on Thursday.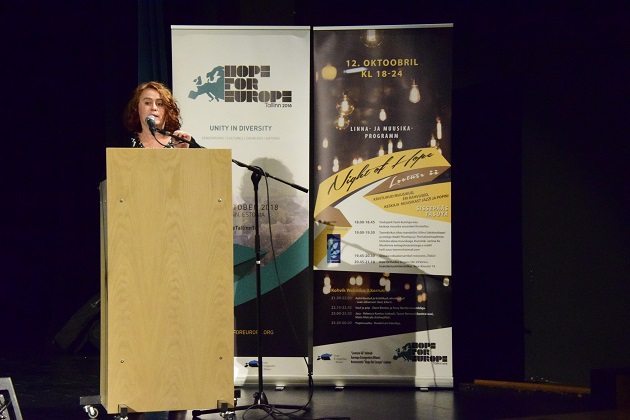 Follow updates of the Hope for Europe conference 2018 on EEA's Facebook page.
Published in: Evangelical Focus - europe - 'Unity in Diversity': Hope for Europe week starts in Tallinn