Poland will have second round in presidential election
President Komorowski lost much support in the first round, and will need a second round against Andrzej Duda, who came first.
EurActiv · WARSAW · 11 MAY 2015 · 10:51 CET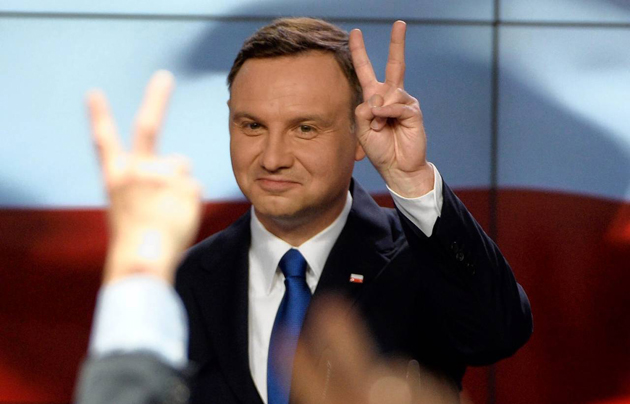 Duda, after the win. / EPA
Andrzej Duda, won the first round in Poland's presidential election on Sunday, opening the way for a runoff in two weeks. The conservative opposition candidate, who is not a fan of the EU, is now favourite to become the next leader of the country.
Despite opinion polls predicted the ruling president Bronislaw Komorowski would get a 10% lead, Duda from the Law and Justice (PiS) won the most votes in the first round of the poll. He is to get 34.8% of the votes, a better result than Komorowski's 33.1%, according to the Ipsos poll published by the private TVN24 and the state-run PAP news agency.
Among the 11 running candidates, Komorowski's Civic Platform (PO) electorate showed lower levels of engagement and determination, contrary to the disciplined voters of his major opponents – Andrzej Duda and Pawe? Kukiz .
"The result of the exit poll is a serious warning for the entire team in power," he said. "We should listen to the voters, because it's evidently necessary to mobilise all rational forces in Poland."
On Sunday, he appealed for energy and cooperation with the "large group of voters evidently disillusioned and waiting for fast, much faster change and modernisation".
Despite Komorowski enjoying extraordinary levels of public trust – over 67% after 5 years in office - he was trumped by the lively campaigns of most of his opponents.
DUDA, CHOSEN BY KACZYNSKI
Duda additionally benefited from a determined and loyal electorate of the major conservative opposition Law and Justice (PiS) party. The PiS candidate was anointed by the party's leader Jaros?aw Kaczy?ski, twin-brother of Lech Kaczy?ski who died in the Smole?sk plane crash while in power. Komorowski, then serving as the Speaker of the Sejm (lower chamber of Polish Parliament), took over the acting presidency, and in the subsequent elections won in the second round with Kaczy?ski.
Duda appealed to voters for more support in the presidential runoff. "We want to have a dignified life in a safe Poland, which needs to be mended in many areas," he said. "Today this primarily means a change at the presidential office. We will win."
AN INPEPENDENT, SINGER, THIRD
The real dark horse of the Poland's elections was Pawe? Kukiz, who individually – without any political backing – attracted voters tired of the Polish political establishment, offering a fresh breeze of novelty and change. His result of 20.5% was higher than predicted by opinion polls. Kukiz is a singer, songwriter, mostly known as a leader to the band Piersi.
Published in: Evangelical Focus - europe - Poland will have second round in presidential election