Sidney McLaughlin, gold and World Record: "I'm a child of God"
The 21-year-old US athlete wins the Tokyo 2020 400m hurdles final with an extraordinary mark. "Iron sharpens iron", she said referring to her colleague Dalilah Muhammad, who won the silver medal.
TOKYO · 04 AUGUST 2021 · 13:10 CET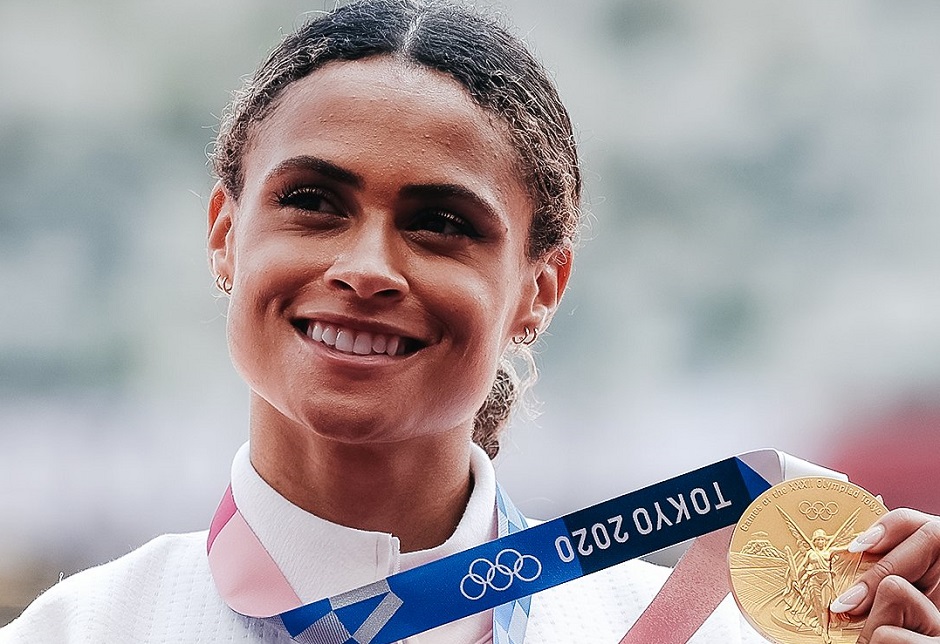 Sidney McLaughlin and her gold medal during the awards ceremony in Tokyo 2020. / Photo: Twitter Team USA
Sidney McLaughlin, a committed Christian, became the fastest 400m hurdles runner in history as she won the Tokyo 2020 gold medal in the best race seen so far in the category.
The 21-year-old athlete from the United States set a new World Record with time 51,46 seconds. Already in June, she had become the first woman to run under 52 seconds, during the US Olympic trials.
In the Tokyo final, McLaughlin won the duel against her team colleague, Dalilah Muhammad (also from the US and reigning world champion), who fought until the end and ran under the previous World Record as well. "Iron sharpens iron", had said McLaughlin, speaking of how the friendly rivalry between the two runners helped both improve their marks. The phrase she used comes from the Bible verse: "As iron sharpens iron, so one person sharpens another" (Proverbs 27:17)
McLaughlin is a Christian who publicly speaks about her faith. On her Twitter account, the runner describes herself as a "Child of God" and shows cover picture with the sentence: "Saved by grace".
On Instagram, her bio description reads: "Jesus saved me".
"By grace, through faith, Jesus has given me everything"
Back in June, when she first beat the World Record, she wrote: "I no longer run for self-recognition, but to reflect His perfect will that is already set in stone. I don't deserve anything. But by grace, through faith, Jesus has given me everything. Records come and go. The glory of God is eternal. Thank you, Father".
The athlete finds "true stability in Jesus"
Earlier in spring, she posted: "Especially in a world full of inconsistency, it's such a breath of fresh air to find true stability in Jesus. As humans, we are constantly shifting our efforts toward one another based off emotions and circumstances".
"The peace of knowing I will always have a friend, always have His support, and always have His LOVE; makes even the loneliest of moments feel full. My soul finds rest in knowing He is not like us. He doesn't change, and He will never leave me. Giving the ability to be completely content, no matter the situation. Simply because, I don't have to face it alone. That. Is. Love", she added.
Published in: Evangelical Focus - life & tech - Sidney McLaughlin, gold and World Record: "I'm a child of God"
Since you are here…
Evangelical Focus is a news and opinion platform that brings together Christians from across Europe and other parts of the world. We need the support of our readers to make this media project sustainable in the long term. You can support our work! Read about Evangelical Focus's sustainability here.
Would you like to support the work of Evangelical Focus?
Use one of these methods. You can also transfer your donation to "Areópago Protestante / Evangelical Focus" IBAN: ES8521000853530200278394 (Swift / BIC: CAIXESBBXXX). Subject: "Donation Evangelical Focus"
Thank you very much!