World's largest civilian hospital ship completes its equipment in Tenerife
The Global Mercy will spend several weeks on the Spanish island, before leaving for its first humanitarian mission in Africa.
Protestante Digital · TENERIFE · 24 MARCH 2022 · 16:45 CET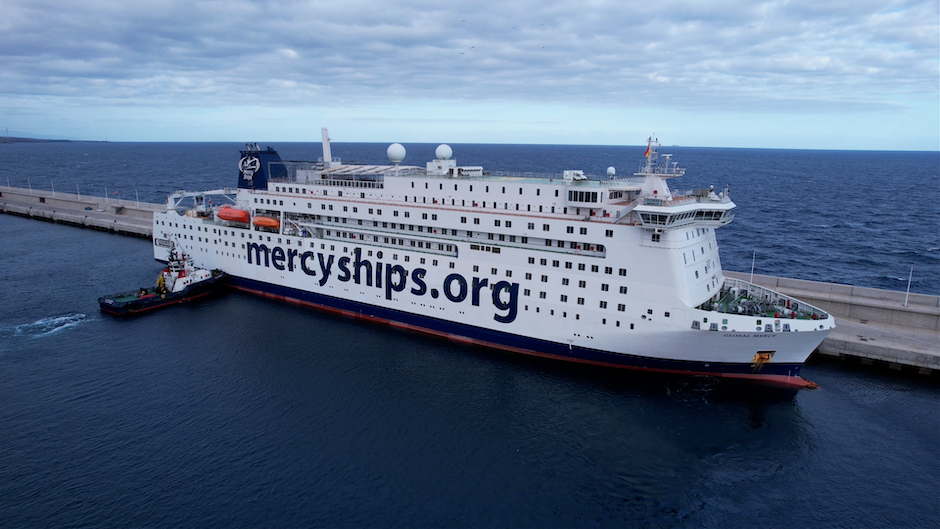 The Global Mercy already in the port of Tenerife. / Mercy Ships
Global Mercy, the world's largest civilian hospital ship, will be anchored in the Spanish island of Tenerife for the next few weeks to complete its equipment and preparation before leaving for its first humanitarian mission to Senegal.
The ship of the Christian NGO Mercy Ships, has been specifically designed to operate as a sailing hospital.
With 200 patient beds, six surgery rooms, and a team of over 600 health professionals, sailors and volunteers, the Global Mercy expects to perform thousands of surgeries, dental treatments and training for local professionals each year.
The ship has arrived directly from Rotterdam (Netherlands), where for two weeks the NGO invited thousands of people to visit the ship and meet its crew to learn more about their plans for the future.
Since 1978, the organisation has developed a unique model of medical care, which will now be greatly enhanced by the new ship.
Senegal, first destination
The first visit to Africa is planned for the end of May, in Dakar, Senegal, where the Global Mercy will join the other hospital ship of Mercy Ships, the Africa Mercy, which has been operating there since last February.
Several events are being planned once the Global Mercy hospital ship arrives in Dakar, among them one called Celebration of Africa.
Doubling the impact in Africa
The Global Mercy is the latest addition to the fleet and joins the current hospital ship, the Africa Mercy. With this new ship, Mercy Ships hopes to double its impact, both with life-transforming surgeries and with the training and education of local health workers in Africa.
When both ships will be fully active, Mercy Ships expects to perform over 5,000 surgeries, more than 28,000 dental treatments, and train over 2,800 medical workers each year.
The largest civilian hospital ship in the world
The Global Mercy is a unique passenger-class ship: 174 metres long, 28.6 metres wide and with a gross tonnage of 37,000 tonnes. It has a laboratory, general outpatient clinics and ophthalmological and dental clinics.
The total area of the hospital department is 7,000 m². It can hold 641 crew members, who come from more than 50 nations from all over the world.
Founded in 1978 by Don and Deyon Stephens, it has worked in over 55 developing countries, providing over 1.5 billion euros worth of services and directly benefiting more than 2.8 million people.
The boats are crewed by volunteers from more than 60 countries, with an average of over 1,200 volunteers each year. Professionals such as surgeons, dentists, nurses, health care trainers, teachers, cooks, sailors, engineers and farmers donate their time and skills.
Published in: Evangelical Focus - life & tech - World's largest civilian hospital ship completes its equipment in Tenerife