'Global Mercy': the largest civilian hospital ship is ready to sail
The new ship of Mercy Ships will be able to host 800 volunteers to give free surgical care to 5,800 people every year in Africa and elsewhere.
MADRID · 08 OCTOBER 2020 · 10:54 CET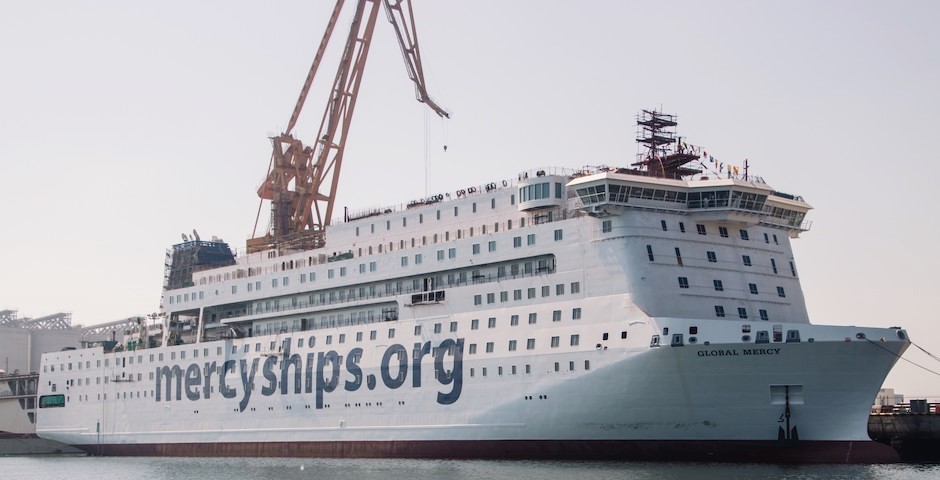 The 'Global Mercy', in its final stage of construction. / Photo: Mercy Ships
The Christian healthcare organisation Mercy Ships has announced their new ship has entered the final phase of construction.
The 'Global Mercy' will be able to host 800 volunteer professionals (from medical doctors to teachers) to bring free healthcare to thousands in Africa and elsewhere.
More than 40 years after its foundation, Mercy Ships will have its first ship fully built from the beginning as a floating hospital. The new vessel will be able to offer surgical care to 5,800 people every year, more than twice as much as the 'Africa Mercy', the iconic ship they have used in the last four decades.
The "174-meter, 37,000-ton ship is outfitted with state-of-the-art technology and instrumentation, 6 operating theaters and 199 hospital beds", the organisation said. "Because medical training is a critical part of our in-country engagement program, the 'Global Mercy' is equipped with a training center that includes a simulation lab, virtual reality stations".
As many as 950 people will be able to be on board when the ship is docked.
A huge need in Africa
Over 93% of the population of the Sub-Saharan population has no access to safe and timely surgery. According to The Lancet Commission on Global Surgery, each year, almost 17 million people die due to lack of access to surgical care.
Volunteers that will invest their time in the new ship will include "surgeons, nurses, maritime crew, cooks, teachers, electricians", and many others. The "small city" in the sea will have a school, a library, as well as a gym, swimming pool, and a coffee shop.
Volunteers serving with Mercy Ships raise support to pay their own expenses.
"Access to surgery means finding hope again"
As it announced the 'Global Mercy', the organisation underlined its vision. "While our patients experience physical healing through the surgeries they receive, they often find much more".
"Children are able to go to school. Mothers and fathers are able to work and provide for their families. Community relationships are restored. For so many of our patients, access to surgery means finding hope again", they said.
Loving and serving
Gerardo Vangioni, President of Mercy Ships Spain, spoke about the new ship in an interview with Areópago Protestante, saying the new vessel, just as it happened with the 'Africa Mercy' in the 1980s, is a "dream come true".
"Our aim, just as Jesus Christ, is to love and to serve the people who need it, and we do it for free", Vangioni said.
Beyond the financial support, which has been key as "thousands of people, churches and companies have given to make these projects sustainable", he believes "prayer is the key: nothing happens without prayer".
Vangioni also shared about how volunteers often give their weeks of holidays (14 days is the minimum stance required) or a work leave to join one of the ships. Due to the rich variety of national backgrounds of the crew, the ability to speak and understand English is needed for anyone who would like to start the application process.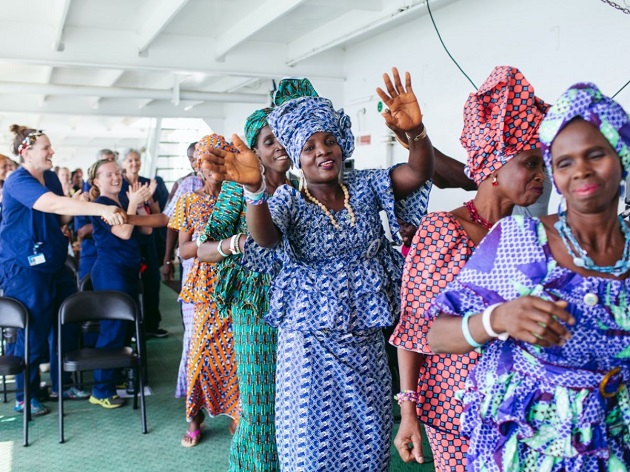 The impact of Covid-19
The healthcare charity is also working in its reaction to the effects of the pandemic in Africa. "As Covid-19 threatens the stability of already fragile healthcare systems globally, the need to provide basic life-saving care is greater than ever, especially in low-to-middle income countries", they stressed.
Published in: Evangelical Focus - life & tech - 'Global Mercy': the largest civilian hospital ship is ready to sail