Christian swimmer Caeleb Dressel matches Phelps record with 7 gold medals
He is the first swimmer to win three golds in one night. "I learn to trust what God is doing[...] God gave me the talent", he said.
Evangelical Focus, CBSSports · BUDAPEST · 01 AUGUST 2017 · 19:20 CET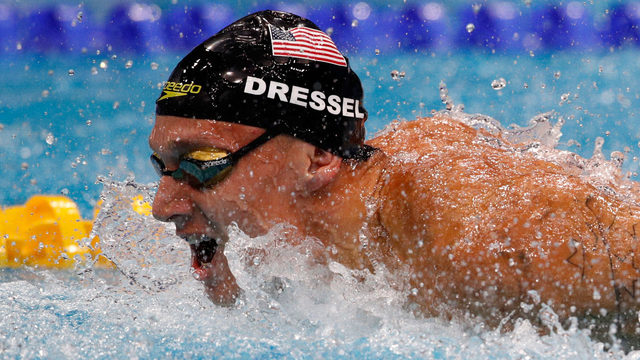 Caeleb Dressel made history at the 2017 world championships in Budapest ... twice.
Just one day after setting a record by becoming the first swimmer to win three golds in one night at a major international meet, on Sunday, Dressel added his seventh medal in the 4x100m medley relay.
In total, the 20-year-old University of Florida student won three individual golds and was part of four winning relay teams.

TIED WITH PHELPS
He tied Phelps as the only swimmers to win seven golds at a world championships. Phelps did it in Melbourne in 2007 as a prelude to his record eight golds the following year at the Beijing Olympics.
"I'm pretty tired, but, you know, it's been a good season, a good year, and to put together a seven-day meet, it's a really nice feeling. There's a lot more that goes into this than just the seven days that people see, so I'm very happy to be done", he said after his final medal.
When asked about the inevitable comparison with Phelps, he told the Washington Post: "I don't know if I welcome them."But I know they're going to come. I don't think it puts any pressure on me. I just want to keep doing my thing at this meet and for the future."
Phelps offered his congratulations, posting on Instagram: "This kid is on fire!!"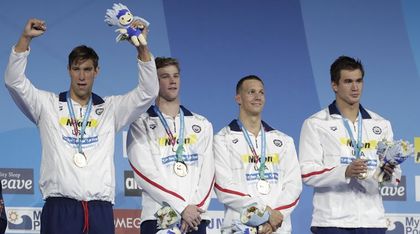 INSPIRATION FROM ISAIAH 40:31
Caeleb Dressel made his Olympic debut last year In Rio, winning a gold medal as part of the U.S. men's 4x100-meter freestyle relay team, alongside Michael Phelps.
Dressel usually has a Scripture reference written across his face. The reference changes , but a favourite one for him is Isaiah 40:31: "but those who trust in the Lord will renew their strength; they will soar on wings like eagles...."
That verse was the inspiration for the large eagle tattoo on Dressel's left shoulder.
"It's the reason I'm in the sport, not just to go fast times, but to inspire people and show them where I find my happiness with what God's given me", Dressel said in an interview last year after U.S. Nationals.
"I PUT ALL MY TRUST IN GOD"
He was out of the pool for a while, and Dressel admitted that he wrestled with some "mental demons" during that period and struggled in his walk with the Lord. But eventually he returned, both to the pool and to his commitment to Christ.
"Coming out of that, I started swimming again and really just put all my trust in God and knowing that He's going to take care of everything for me, good or bad", Dressel told Baptist Press in Rio.
The American swimmer recalled that he "really learned a lot, and I really learned to see the light at the end of the tunnel and trust what God is doing, whether it be a rough point in your life or a top pinnacle in your life. You've just got to take pauses and really trust what He's doing."
"Swimming is my life and I wouldn't want it any other way. This is what I'm supposed to be doing, and God gave me the talent and I'm going to do that for Him, myself and my family and all my friends", he added.
Dressel was raised in a Christian home and trains at the University of Florida, where he attends church at Campus Church of Christ in Gainesville.
Published in: Evangelical Focus - life & tech - Christian swimmer Caeleb Dressel matches Phelps record with 7 gold medals