Speaking about Jesus in Mallorca's beaches
German Christian ministry Gospel Tribe reaches out to young tourists through worship services, prayer and personal testimonies. "Jesus would have been here, He cared about people".
Bibel TV, Gospel Tribe, Idea · 17 AUGUST 2017 · 13:00 CET
One of the worship session on the beach in Mallorca. / Gospel Tribe Facebook
About 50 German young Christians flied to Mallorca to serve tourists in July and August. Their aim was to talk to some of the thousands who make the Spanish island one of the most popular beach and sun destinations in Europe.
Music, a short message and personal testimonies are the way to connect with passers-by who are on their way to restaurants, pubs and discos.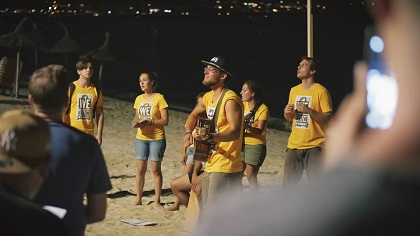 More than 200 people usually stop and listen to these daily services, which usually started at around 9:30pm. "Many stay with us for the whole meeting, although they had other plans for the night", one of the organisers said.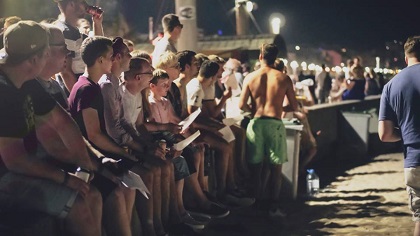 Relationships, sex, drinking, partying and fun are some of the topics on which the speakers talk to those who stop to listen. "We try to communicate that Jesus would have been here in this beach, because he always cared about people."
Watch a video about this summer's outreach (German):
This mission trips to Mallorcs have been organised for several years, but 2017 has been the year in which there has been most positive reactions so far. "We talk to people who end up sharing with us deep things about their own lives", explained one of the team members.
Through these personal conversations some have decided to follow Jesus. This year, one girl was even baptised in the sea during the outreach.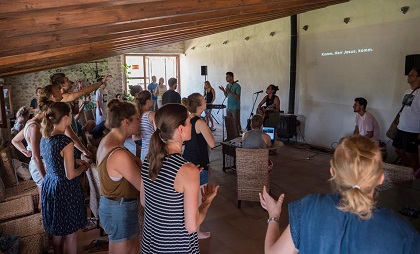 In the mornings, the group prays, studies the Bible and gets training to get ready to share the Gospel. Participants said this weeks of outreach have strenghtened their faith in God and" changed their priorities in life".
Published in: Evangelical Focus - life & tech - Speaking about Jesus in Mallorca's beaches