Archaeologists discover 7,000-year-old settlement in Jerusalem
Authorities in Israel called it the oldest discovery of its kind in the area. The historic site was found while authorities were doing roadwork.
Deutsche Welle · JERUSALEM · 19 FEBRUARY 2016 · 09:55 CET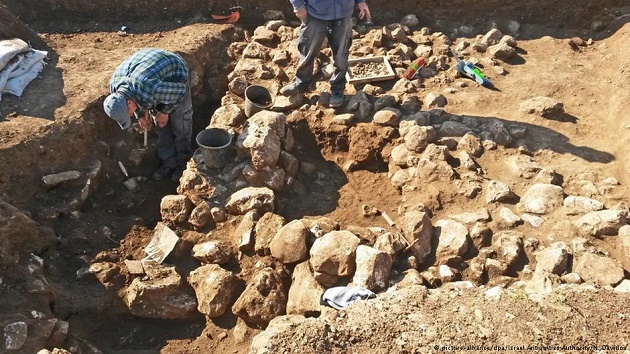 Archaeologists in Jerusalem have uncovered an ancient settlement which dates back as far as 7,000 years, they announced on Wednesday. They are calling it the oldest discovery of its kind in the area.
"This is the first time we found architecture of this kind in Jerusalem itself," said Ronit Lupu, director of excavations for Israel's Antiquities Authority. "We are talking about an established society, very well organized, with settlement, with cemeteries."
The excavation exposed two houses with well-preserved remains and floors containing pottery vessels, flint tools and a basalt bowl. Lupu said these items are representative of the early Chalcolithic period, which began around 5,000 BC.
In the Chalcolithic period, humans were "still using stone tools, but began to create high-level ceramics and for the first time, copper tools as well," said Lupu.
Small settlements from the period have been discovered in parts of Israel and Jordan, but only a few remnants had previously been unearthed in Jerusalem.
"Now in the new dig we found remnants of a village, an established village," said Amnon Barzilai, the head of the authority's prehistory branch.
"Now we can know that even in the periods prior to the First and Second Temples, even in the Chalcolithic period, it was an inhabited area," he said.
The Chalcolithic period is considered by some to be a bridge between the Stone Age and the Bronze Age. A lack of archaeological evidence of this period in Jerusalem had long puzzled many researchers.
For Lupu, the discovery is closure to a long quest for this type of settlement in Jerusalem. "For years in Jerusalem we had a feeling - we knew it was there somewhere but never found it. But here we found it," she said.
The site was discovered while authorities were doing roadwork in the east Jerusalem neighborhood of Shuafat, and there are no current plans to expand the 50 square meter dig site.
Published in: Evangelical Focus - science - Archaeologists discover 7,000-year-old settlement in Jerusalem