Memphis Depay and Cody Gapko, spiritual leaders of Netherlands: "We read the Bible together"
In Qatar, the two stars of the Dutch football team lead a Bible study for their teammates. Depay explains his celebrations after scoring: "I live my life in Jesus' word".
Evangélico Digital, Yahoo News, Volkskrant · DOHA · 08 DECEMBER 2022 · 14:19 CET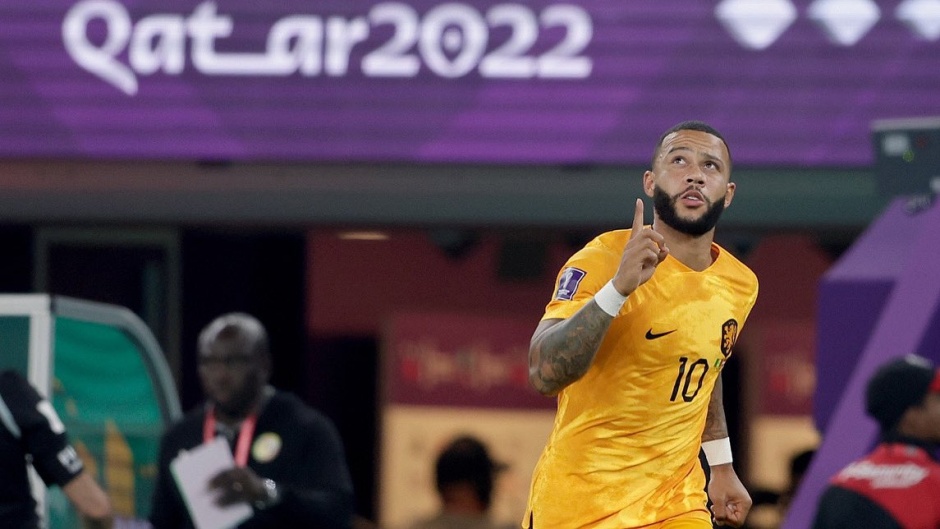 Memphis Depay, player of Netherlands in the Watar 2022 FIFA World Cup, points to heaven to thank God. / Photo: Twiter Memphis Depay
Netherlands qualified for the quarter finals of the Qatar FIFA World Cup 2022. They are facing Argentina on 9 December to seek a place in the semi finals.
Among the most experienced is striker Memphis Depay, who is described by coach Louis Van Gaal as "an extraordinary player" and "so important for this group, not only as footballer but also as a human". Depay scored one of the three goals that sent the United States home in the previous round.
But Memphis' leadership for the Netherlands football team is also in the area of faith. Depay is a committed Christian who converted in 2016, as he told Dutch newspaper Volkskrant. "I changed for good, God had been always on my side, it was me who hadn't been there for Him before".
God I know you be watching!
Thankful for each moment #Goddid pic.twitter.com/hTLCEkQ66X

— Memphis Depay (@Memphis) December 4, 2022
In Qatar, Depay explained in a press conference, he celebrates his goals covering his ears. "I indicate that I isolate myself from everything and I point to heaven. This shows that I read the Bible and continue to live in the word of Jesus. To what the outside world says, I have become deaf and blind".
The young Cody Gapko imitated the gesture on the pitch, which is no surprise. He is also a Christian. "I try to read the Bible every day, I pray every day, I like to go to church and I read many books about the faith", he said. He often shares Bible verses on his Instagram profile, like this passage on 1 Thessalonians 5:6-18.
Reading the Bible with teammates
Both Depay and Gapko lead a Bible study for the Netherlands players in Doha, according to Yahoo News. Approximately 15 players atend the Christian gathering to share Bible verses and apply them to their situation and take time to pray for their struggles and pressures as they progress in the football World Cup.
Speaking about these discipline, Cody explains: "We often speak to each other about our faith. How we understand passages of the Bible which describe situations in life. This creates a bond among us teammates even if some of us do not know each other much yet".
Van Gaal, Dumfries, Weghorst
Coach Van Gaal is not thought to be participating in the meetings. Some time ago, he told the TV programme Hoge Bomen the loss of his first wife made him ask himself: "When your wife does everything to survive, and is such a good woman… Where is God in this then?"
But others in the team have approached Christianity recently. It is the case of Denzel Dumfries, who also scored in the match against United States. Speaking to Volkskrant, he said: "Cody Gapko is a very religious person, in the last few days we have prayed a lot with him, he has shared his faith with us. How he finds himself in it. The [worship] sessions were very special, that gave me a lot of strength and I'm very grateful".
Wout Weghorst, another striker, discovered the Christian faith as he walked through his hometown Borne. "There was a small chapel. I went to look into it and I liked it. I'm glad that there is someone up there".
Other World Cup players expressing their faith
Other football players in the Qatar World Cup have been vocal about their Christian faith. Several are part of the Ecuador team, which organised Bible studies in their hotel rooms.
England's star Bukayo Saka has also explained how reading the Bible has been key to keep him focused in the midst of the pressure to win.
Published in: Evangelical Focus - life & tech - Memphis Depay and Cody Gapko, spiritual leaders of Netherlands: "We read the Bible together"
Since you are here…
Evangelical Focus is a news and opinion platform that brings together Christians from across Europe and other parts of the world. We need the support of our readers to make this media project sustainable in the long term. You can support our work! Read about Evangelical Focus's sustainability here.
Would you like to support the work of Evangelical Focus?
Use one of these methods. You can also transfer your donation to "Areópago Protestante / Evangelical Focus" IBAN: ES8521000853530200278394 (Swift / BIC: CAIXESBBXXX). Subject: "Donation Evangelical Focus"
Thank you very much!