Memphis Depay finds "inner peace" through Bible reading and prayer
The new FC Barcelona striker talks openly about his faith in interviews and on social media. "Always count on God, He's done miracles on me", he said after Sunday's game.
Protestante Digital · BARCELONA · 31 AUGUST 2021 · 15:23 CET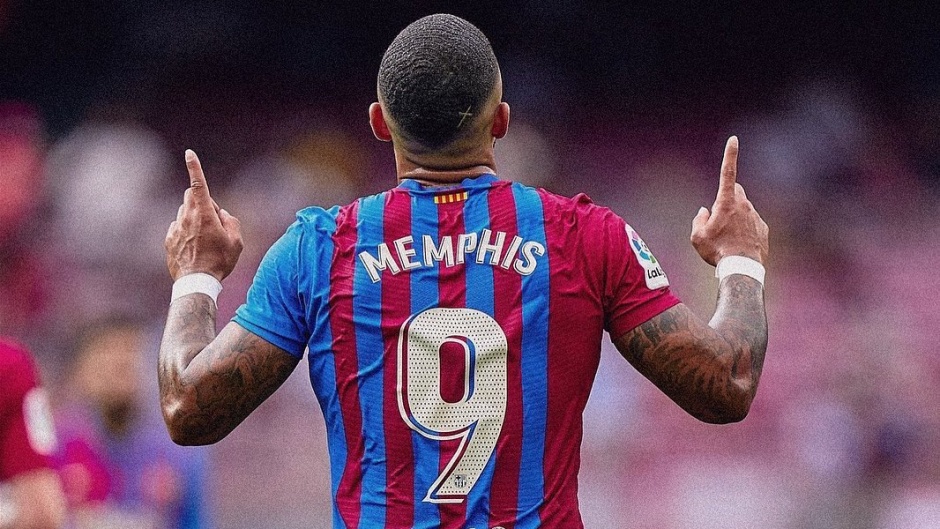 In his celebrations, FC Barcelona striker Memphis Depay often points to the sky. / Twitter Depay
Spanish football team FC Barcelona has found in striker Memphis Depay a new leader for their attacking play.
The Dutch striker has scored two goals and assisted one in the first three games of the season, being decisive for the team's progress in the league. 'Barça', as the club is known, is facing its first season without Argentinian star Lionel Messi in 17 years.
Memphis comes from Olympique Lyon (France), and is not only attracting attention for his great performances, but also for his messages about the importance of the Christian faith in his personal life.
After Sunday's game, Depay wrote on Twitter: "Always count on God, He's done miracles on me".
Back again, I used my back against the wall
Never called on y'all, never count on y'all
Always count on God

He's done miracles on me ?￰゚マᄑ pic.twitter.com/va52f1n521

— Memphis Depay (@Memphis) August 29, 2021
A faith forged in childhood
Depay grew up with his mother and grandparents after his father's abandonment, a difficult experience for him. He says that he used to go to church with his family in Moordrecht as a child.
"Before I went to sleep, my mother read to me from the Bible. Then I also read the Bible myself. But when you are young, you have a lot of other things on your mind. Now I read the Bible because it gives me peace", pointed out Depay in an interview during his time as a player in the French Ligue 1.
It was in Lyon that his football career really took off. Although he admits that at the beginning "it was difficult" in a first season where he played very few minutes, he later was able to overcome the obstacles and fight for a place in the starting eleven.
As he has just explained in an extensive interview with Spanish newspaper El Periódico, Memphis demonstrated his ability to adapt by scoring 22 goals and providing several assists.
"I became mentally stronger, I knew what I had to do even if the odds were against me. From then on it's easier for me to calm down when things don't go my way, or if we lose a match, or I play badly. I know what I have to do mentally to get back to my best. I feel mature because I have experience in life beyond football".
Inner peace
Speaking to the journalists in Barcelona, the Dutch footballer stressed that faith plays an important role in his life because "faith gives me inner peace, I can rely on my faith, on God, on my prayers, that's how I live my life. I don't worry too much about things, because I want to have fun, because the talent God gave me is to have fun and to entertain others".
Depay has also shown his involvement with those in need, creating a foundation in Ghana that focuses on helping deaf and blind children.
"I hadn't been back to Ghana since I was a little boy. I came back and felt an immediate connection with the people. Now I live it as a celebration of my ancestors. And I tried to help them. I feel I have to give something back", said the striker. That's why one of the gestures he makes when he scores is to cover his ears.
In his celebrations he often points to the sky, and after the victory, he also usually expresses in social media that "all the glory to God " .
Published in: Evangelical Focus - life & tech - Memphis Depay finds "inner peace" through Bible reading and prayer