Explosions in the centre of Jakarta
Seven explosions in the central disctrict of the Indonesion capital. Two civilians died, one of them is Dutch. "The situation is under control", the police said. Daesh claimed responsibility of the attack.
Channel News Asia, El País, RTE · JAKARTA · 14 JANUARY 2016 · 10:32 CET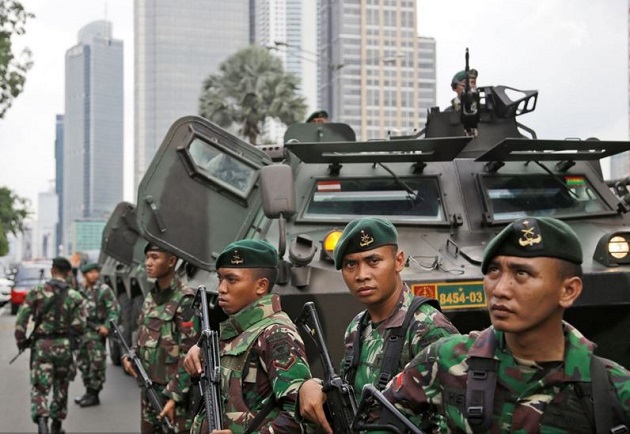 Indonesian soldiers have secured the area in Jakarta. / AP
A series of explosions occurred in central Jakarta (capital of Indonesia) killing 2 civilians, an Indonesian citizen and a Dutch citizen.
"Five terrorists are dead", the security minister told reporters at the scene.
Earlier, police said at least two suicide bombers were among the attackers and at least two others were killed in a shootout with police.
Other 20 people could be wounded.
The attacks have been called "an act of terror" by Indonesian president, Joko Widodo. "Our nation and our people should not be afraid, we will not be defeated by these acts of terror, I hope the public stay calm", he said in a television interview.
DAESH CLAIMS RESPONSIBILITY
Daesh reportedly claimed responsibility for the attack in a statement released through one of its allied propaganda agencies.
The police in Indonesia previously informed they had received threats from Daesh in December. But authorities said "there are no evidences that point to Daesh yet."
"SITUATION IS UNDER CONTROL"
"At the moment the situation is under control", Jakarta police spokesman Muhammad Iqbal said.
The attacks started on 11 am (local times), and the situation is now under control, the authorities said.
One blast took place near a Starbucks coffee shop at the Sarinah shopping mall, and security forces were seen entering the store. The windows of the store was "blown out", according to a Reuters photographer. In a statement, the company said it is closing all of its Jakarta branches "until further notice."
Meanwhile, other buildings in the area went on lockdown, and those in offices were told to stay indoors for their own safety.
On Twitter, United Nations Regional Representative Jeremy Douglas said that the police had told those in his office building to stay away from windows and to retreat from lobbies.
MANY JIHADIST ATTACKS IN THE PAST
Indonesia is the world's most populous Muslim-majority country.
It suffered several major bomb attacks by Islamic radicals between 2000 and 2009, including a strike on the resort island of Bali in 2002 that killed 202 people.
Published in: Evangelical Focus - world - Explosions in the centre of Jakarta