Seven mission workers among 29 killed in Burkina Faso attacks
An American missionary and six Canadian mission workers lost their lives after Al-Qaida in the Islamic Maghreb (AQIM) gunmen attacked hotel and coffe shop in Ouagadougou. Australian Christian doctor and his wife were kidnapped the same day.
World Watch Monitor, Perth Herald, Christian Today · BURKINA FASO · 19 JANUARY 2016 · 18:01 CET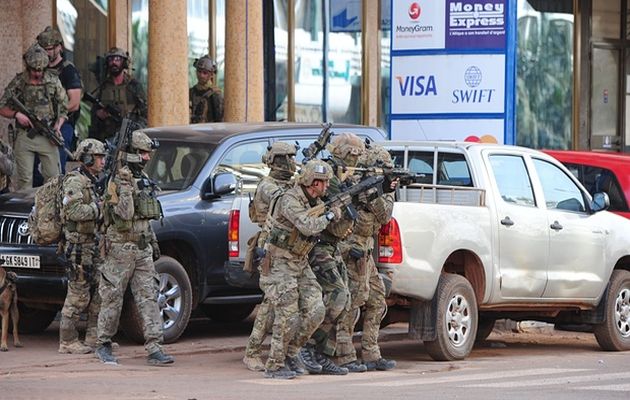 French forces outside the hotel, after the attack. / EPA
At least 29 people were killed in an attack by al-Qaida-linked militants on a hotel and a Italian cafe last Friday in Ouagadougou, the capital of Burkina Faso.
Three jihadists, including an Arab and two black Africans, were killed in the assault on the Splendid hotel and the nearby Cappuccino cafe in Ouagadougou, officials said. A fourth extremist was killed at the Yibi hotel, which was searched by troops as part of a later raid on nearby buildings.
There are victims from 18 different countries, included the wife and young daughter of the Italian cafe owner, two Amnesty International workers, two French citizens, two Swiss citizens, five Burkinabe citizens, six Canadians mission workers, and an American missionary.
The Burkina Faso government declared three days of national mourning.
AN AMERICAN CHRISTIAN MISSIONARY KILLED
A "well-loved and respected" American missionary was among the 29 people killed in the attack on a hotel and cafe Ouagadougou.
Michael Riddering, 45, from Florida, died in the Cappuccino cafe. According to his missionary organisation Sheltering Wings, he had travelled the 70 miles to the capital with a pastor, to collect a team of missionaries from the USA.
His wife, Amy Boyle-Riddering, received a call from the pastor, saying that they were at the cafe and there was gunfire, but then the line went dead.
Several hours later, Amy was told that the pastor had been rescued but there was no news of her husband. Another Sheltering Wings missionary began searching for Riddering and found his body in a morgue.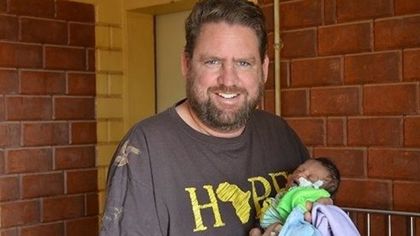 "HE LOST HIS LIFE DOING THE WORK OF JESUS"
In a moving memorial, Amy wrote on Facebook: "Heaven has gained a warrior! I know God has a purpose in all things but sometimes it is a complete mystery to me."
"Mike was an example in the way he lived and loved. God be glorified! [...] You left quite a legacy here. I can only imagine the adventures you are having now", she added.
Pastor Brian Burkholder of Riddering's Hollywood Community Church in Florida told his congregation: "I feel that Mike lost his life doing the work of Jesus, doing what he thought God had called him to do, and we will greatly miss him."
"He really felt that he'd heard the Lord say: 'Go dig wells in Africa'. He said, 'Well, Lord, I might not be good enough to do anything else, but I can dig wells.' When he got there, not only did he dig wells; he did everything else" , his brother told 7News.
Riddering moved to the town of Yako to run the Les Ailes de Refuge orphanage in 2011. Besides the orphanage, he adopted two children and started a women's crisis centre.
The missionaries he was meeting were diverted to Niger and have returned to the States.
SIX CANADIAN MISSION WORKERS ALSO DIED
Later it was also known that four members of the same family, who had come from Canada over their Christmas break to do aid work in schools and orphanages, were also among the dead.
Yves Carrier, his wife Gladys Chamberland and their two children, Charles-Élie, 19, and Maude, 37, and two family friends, Suzanne Bernier and Louis Chabot, left Quebec just before Christmas for a a three-week visit, to stay in several remote villages in Burkina Faso.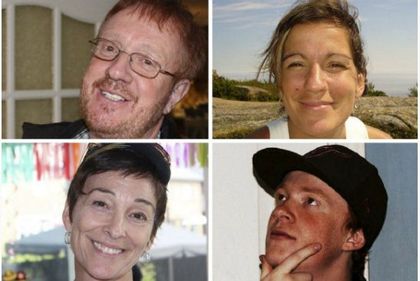 The group was in Ouagadougou during the attack. Charles-Elie and Maude had been due to fly home that evening, and the group had gone out for a last meal in the capital before the two packed to go to the airport.
They were supporting the Congregation of the Sisters of Our Lady of Perpetual Help; Gladys Chamberland had already had a short trip to Africa in 2013.
"I still can't understand how people who had such a love of life, who were always ready to help, always smiling and loved by so many people, can be taken away in such a horrendous way. They did good only to be killed by evil", Chamberland's sister, Marie-Claude Blais, wrote on Facebook.
The 2 schools in the Quebec City area where those killed in the attack were currently or previously employed, cancelled classes on Monday and had psychologists available for students and staff who may need counselling.
CHRISTIAN DOCTOR AND HIS WIFE KIDNAPPED
The Burkina Faso security ministry also confirmed on Saturday that an Australian doctor and his wife were kidnapped on Friday night by extremists in the north of the country, near the border with Mali.
Ken and Jocelyn Elliott, who are in their 80s, have run the Friends of Burkina Faso medical clinic in Djibo, near the Malian border since 1972.
He is the only surgeon for hundreds of kilometres and he performs up to 150 surgeries a month on people who have no access to alternative care.
"Our ultimate aim is to show the love of God and the goodness and power of Him through medicine," said Elliott on a previous occasion.
Locals in Djibo have started a social media campaign asking for their release. The "Djibo supports Dr Ken Elliott" Facebook page has several thousand likes with many messages of support being posted from around the world.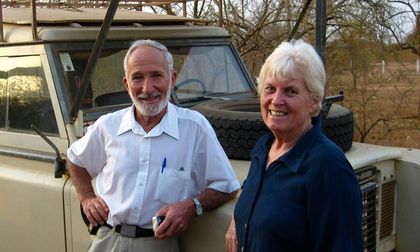 "Numerous patients are waiting for him", or "Elliott is all for us and we need him like a baby needs his mother", are some of the messages found on the page.
A spokesman for the family said the Elliot's children in Western Australia have been heartened by the messages of encouragement and support they have received from around Australia and the world.
RELATED TO THE TERRORIST ATTACK?
"The Australian couple were being held by jihadists from the Emirate of the Sahara, a branch of Al-Qaida in the Islamic Maghreb (AQIM) operating in northern Mali", a spokesman for Malian militant group Ansar Dine, said in a brief phone message. However, no group has claimed responsibility for the abduction.
The AQIM also claimed responsibility for the attacks in Ouagadougou last Friday. Diplomats are expecting a ransom request to be made.
Burkina Faso has been seized by growing political turmoil since president Blaise Compaoré was ousted in a popular uprising in late 2014. President Roch Marc Kaboré is the country's first new leader since 1987.
The African country is an important ally of France and the US in the fight against Islamic militants in west Africa, and hosts French special forces.
Published in: Evangelical Focus - world - Seven mission workers among 29 killed in Burkina Faso attacks