Toddler dies after church attack in Indonesia
All of the victims of the attack are members of a Protestant Batak Church, three other children are injured. In recent demonstrations, radical Muslims protested against the influence of Christians.
Agencies, Jakarta Post, Christian Today · INDONESIA · 15 NOVEMBER 2016 · 09:56 CET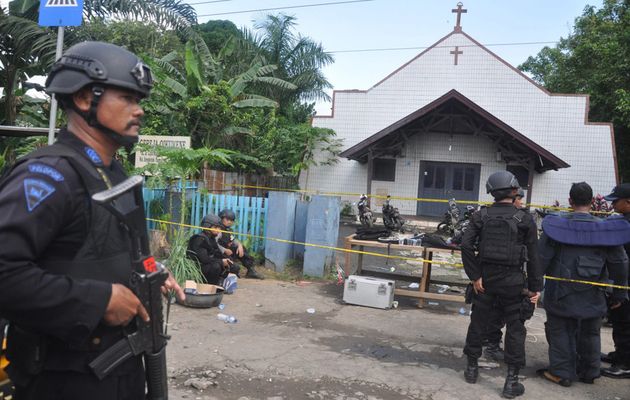 Police stand outside the church after the attack. / Reuters
A man formerly convicted of terrorist offenses has been arrested for allegedly throwing a Molotov cocktail at a Protestant church in Samarinda, in Indonesia's East Kalimantan province, on Sunday morning, killing a toddler and wounding three other children.
Children were playing in the front yard of the Oikumene Church when the suspect, threw the bomb, Kompas daily reported.
He is said to have worn a black T-shirt that read "Jihad Way of Life" during the attack.
The two-year-old girl died from complications on Monday after suffering burns to over three quarters of her body, East Kalimantan police spokesman Fajar Setiawan said.
The other children, aged from 2 to 4 years, suffered less serious injuries and were still being treated in hospital. "We hope they can come home soon", Setiawan added.
INCREASING VIOLENCE AGAINST CHRISTIANS
After the massive demonstration against Basuki "Ahok" Thahaja Purnama, the Governor of Jakarta, who is a Christian, and Indonesian of Chinese descent, where the hard-line Islamist group "Islamic Defenders Front" (FPI) accused him of "blasphemy" against the Quran, Indonesian Christians fear intolerance against Christians would escalate in the country.
Those fears were not unfounded, because all of those wounded in the attack belong to the Batak ethnic group, members of the Protestant Batak Church.
The Synod of Protestant Churches in Indonesia (PGI) has released a document describing the terrorist attack "as a human tragedy". Violent acts, the statement said, "can never be the best solution to solve the problems: We ask the police to deal with this emergency as soon as possible. Intolerance can not be tolerated in any form, including the hate speech that led to the protests of recent weeks."
REPEAT OFFENDER
National police spokesman Maj. Gen. Boy Rafli Amar, said the suspect had been imprisoned on terrorism charges in 2011 and was released in July 2014, but he was arrested again in September 2014, after he was found with an Daesh flag.
Sunday's attack is the second explosion at a church in Indonesia this year after a would-be suicide bomber failed to detonate a bomb during a Catholic church service in Medan, the provincial capital of North Sumatra, in August.
Police said they are investigating possible links to Daesh. Four other people have also been arrested in connection with the attack.
"This case has opened our eyes that [the counter-terrorism agency] BNPT needs to improve its de-radicalization programme," legislator Eva Sundari said in a statement on Sunday.
President Joko Widodo added that "the bomb case in Samarinda has to be investigated thoroughly."
Published in: Evangelical Focus - world - Toddler dies after church attack in Indonesia