Syria: Daesh abducts 90 in Christian towns
Assyrian Christian minority was the target, says Syrian Human Rights group based in London. "I feel so helpless. Cannot do anything for them but pray," say relatives.
AP, BBC · TAL TAMR · 24 FEBRUARY 2015 · 16:50 CET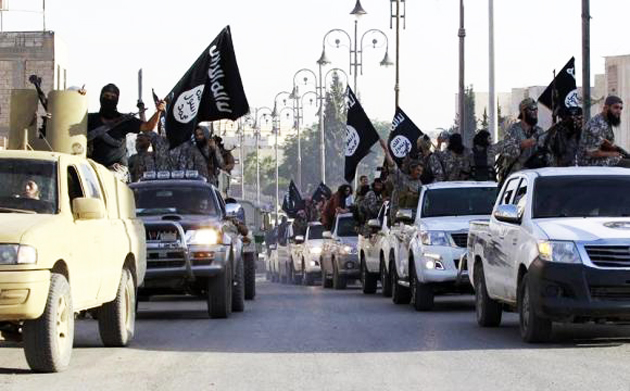 Militant Islamist fighters of ISIS in Raqqa, last year. / Reuters.
The Syrian Observatory for Human Rights, a UK-based group that monitors the four-year conflict in Syria, said at least 90 Assyrians had been taken captive, most of them from the village of Tal Shamran, about 45km (28 miles) from Hassakeh.
Information was also confirmed by the head of the group A Demand For Action, which focuses on religious minorities in the Middle East, reported that men, women and children were seized in a series of dawn raids near the town of Tal Tamr. Some Assyrians managed to escape and made their way east to the largely Kurdish-controlled city of Hassakeh.
Activists reported that IS fighters swept through a string of villages along the banks of the Khabur river around dawn on Monday.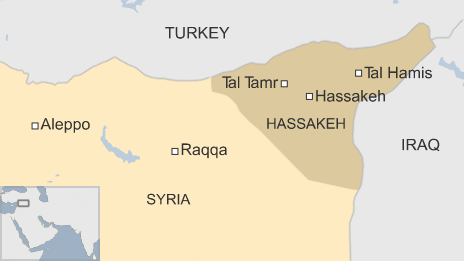 Continue reading the main story
TESTIMONIES
Islamic State's online radio station, al-Bayan, reported on Tuesday that its members had seized "tens of Crusaders".
Osama Edward of the Sweden-based Assyrian Human Rights Network, who has relatives in the area, told the BBC that his wife's elderly aunt and her cousin were among the hostages.
"My wife tried to call her cousin's house and there was somebody who picked up the phone and said: 'This is not Akram's house. This is the Islamic State's house'."
An Assyrian woman from Tal Shamran who lives in Beirut told AP that she had been unable to make contact with members of her family. "Landlines have been cut, their mobiles are closed," she said. "Have they been slaughtered? Are they still alive? We're searching for any news.
"My family visited me last month and returned to Syria. There were clashes but it was normal, nothing exceptional.
"I feel so helpless. I cannot do anything for them but pray."
FIGHTS NEAR THE TURKEY BORDER
The Syrian Observatory also said Tal Tamr had seen heavy clashes between IS and the Kurdish Popular Protection Units (YPG) militia. On Monday, the group and Kurdish officials said IS militants had been forced back to within 5km (3 miles) of the town of Tal Hamis, to the east.
Christians are believed to have constituted about 10% of Syria's 22 million people before the uprising against President Bashar al-Assad began almost four years ago.
Assyrians, of whom there were about 40,000 in Syria, are Nestorian Christians and speak Syriac, a form of Aramaic, the language of Christ.
Many Assyrians have fled Syria not only to escape the conflict in the country but also violent attacks by extremist groups like IS, which has forced Christians living in the territory it controls to either convert to Islam, pay a religious levy or face death.
Published in: Evangelical Focus - world - Syria: Daesh abducts 90 in Christian towns