Nicaragua: "There is panic, terror"
Evangelicals in Nicaragua keep denouncing the lack of security. The Nicaraguan Evangelical Alliance has asked the international organizations to act "with greater belligerence to stop the repression and death of the people".
Evangélico Digital · MANAGUA · 19 JULY 2018 · 10:00 CET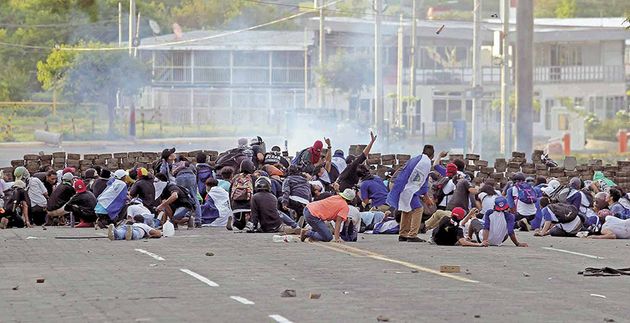 Protester with weaing Nicaraguan flags duringademonstration. / El Nuevo Diario.
Both evangelical pastors and Catholic priests and bishops have been targeted by the Nicaraguan authorities in recent days.
A pastor of the Nicaraguan Evangelical Alliance was arrested arbitrarily, just over a week ago, while last Sunday, the bishop of Estelí, Juan Abelardo Mata, survived a gunshot attack.
NICARAGUAN EVANGELICAL ALLIANCE STATEMENT
The Nicaraguan Evangelical Alliance released a statement on July 10, denouncing the scarce security for citizens, asking the government to comply with the law and demanded "respect for the scourge of intolerance and injustice that they are living daily for denouncing with a prophetic voice the abuses that Nicaragua is experiencing today".
In the letter, signed by its president Mauricio Fonseca, the evangelical representatives asked the United Nations, the OAS and the European Community to act "with greater belligerence so that the State of Nicaragua through its government, will respect human rights and stop the repression and death of the people".
"EVERYTHING RELATED TO CHRISTIANITY IS PERSECUTED"
The Latin American news website Evangelico Digital has had exclusive access via telephone to reliable sources in Nicaragua, who are aware of the reality that the country is living, and close to the reality of the evangelical churches.
These sources have preferred to remain anonymous for their own safety.
"Everything related to Christianity is persecuted here. the paramilitaries have expressed that they are going to take both pastors and priests by force. They consider that pastors and priests are doing harm", one of the sources told Evangelico Digital.
CHRISTIANS AT RISK
Everyday there are situations that put many people's lives at risk: "The priest called me and asked me to go to his Catholic church. When I arrived he was not there, but there was a commotion very close", a pastor explained. "The people in church urged me to go there. I went, and when I got there I saw that some hooded people are brutally beating a young man. I threw myself at the young man because my role is to avoid violence, not matter from where it comes from".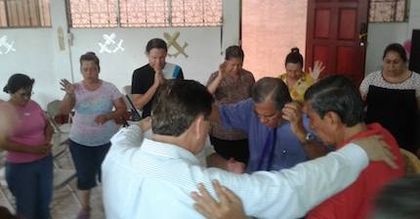 Then, "the priest and I took the young man to the priest house in the church. He had a friend who is a doctor and cured him. The young man thanked us saying: 'If it had not been for you, they would have killed me' ".
But he replied: 'Our duty is to protect the rights of any person regardless of colors, religions or ethnic groups. Here we are to help people, not harm them physically or verbally'".
LIVES THREATENED
The pastor has also experienced difficult times with his own family: "I went to leave my wife to the house of a relative. When we arrived, we saw many paramilitaries and hooded policemen. I went into the house and told my wife: 'I'm not going to eat, give me the food to take with me because I'm seeing many dangerous things here, there's a lot of paramilitaries'".
Already outside his house, "when I was walking about 30 meters away, they have four M16 rifles, some facing my face and the others behind me. They asked me if I was who they thought I wasand I said yes. Then they insulted me with vulgar, rude words".
Later, "they put me in a car, they aimed an M16 at me and when they were about to shoot, I said: 'wait a moment, I'm going to pray'. I gave my spirit to the Lord, and then I said: 'Now, do what you have to do'. They replied: 'we are going to take you to the police station'".
And there, "they beat me and they locked me up", he concluded.
"THERE IS PANIC, THERE IS TERROR"
"I seek protection. My son is practically imprisoned, he cannot leave the house. The situation here is very difficult. There is panic, there is terror. I do not know what to say, I do not know what to do. We are praying, asking the Lord to protect us because here life is absolutely worth nothing at this time", he explained.
According to him, the situation in Nicaragua "cannot be solved in a peaceful way. The leaders will not solve it peacefully".
"They will not take away the current government just with marches. They will never remove it like this. They have expressed it publicly that they came to power through weapons, and nobody will take them away".
Published in: Evangelical Focus - world - Nicaragua: "There is panic, terror"