Christians in Colombia face growing persecution
A CSW reports shows that Colombian Christians are suffering "restrictions on religious activity, threats, extortion, assassination and forced displacement".
CSW · BOGOTÁ · 07 DECEMBER 2018 · 13:30 CET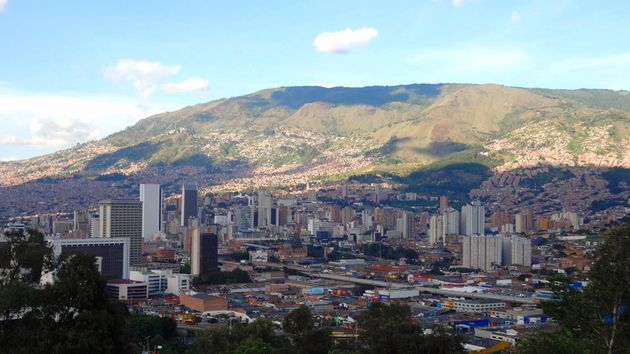 Antioquia, Colombia./ Wikimedia Commons.
Christian Solidarity Worldwide (CSW) has published a report, denouncing violations of freedom of religion or belief in Colombia.
Violations documented include prohibition of or severe restrictions on religious activity, threats, extortion, assassination and forced displacement of church leaders.
"The fact that human rights violations have continued and even worsened in some parts of Colombia, despite the signing of the peace agreement two years ago, is of grave concern, and indicates the need for the agreement to be fully implemented as soon as possible, Mervyn Thomas, CSW's Chief Executive, said.
13% OF RELIGIOUS LEADERS HAVE RECEIVED DEATH THREATS
CSW called on "the Colombian government to take steps to ensure that freedom of religion is protected for all Colombians, and that those responsible for threats against and attacks on church leaders are held to account for their actions".
Attacks on religious leaders across the country are widespread. A recent study by the Bogotá mayor's office found that over the past three years 12.6% of religious leaders in Bogotá have received death threats, 4.1% have faced extortion and 3.9% have been threatened with kidnapping.
The pastor of Nueva Filadelfia Church was assassinated on September 16 outside his home in Antioquia, forcing his wife and five adult children to flee the village in fear. The families of religious leaders have also been targeted.
INDIGENOUS COMMUNITIES
Although most Colombians are Christians and don't face religious freedom issues, the same does not hold true for indigenous communities.
"Indigenous people who convert to Christianity are often forcibly displaced from their indigenous communities or excluded from receiving certain benefits by traditional authorities", the report explained.
Additionally, the religious freedom of indigenous communities has been "severely curbed by the courts that have ruled in favour of traditional authorities, seeking to impose religious uniformity in their communities".
CSW also showed its concerns over some unilateral changes being made to the peace agreement by the government, which local civil society leaders fear could lead to some ex-members of the FARC-EP taking up arms once again.
COLOMBIA, AMONG THE WORST 50 COUNTRIES FOR CHRISTIANS
Open Doors ranks Colombia as the 49th worst country in the world, when it comes to Christian persecution.
The South American nation and Mexico were the only two countries outside the Middle East, Asia and Africa to make the top 50 list, with the attacks against Christians coming in the form of organized crime and corruption.
Published in: Evangelical Focus - world - Christians in Colombia face growing persecution