Hong Kong Christian students and church leaders "pray and worship together"
Another massive demonstration is expected for Friday. "We seek God's justice and mercy to fill our land", says Fellowship of Evangelical Students representative.
Protestante Digital · HONG KONG · 20 JUNE 2019 · 15:07 CET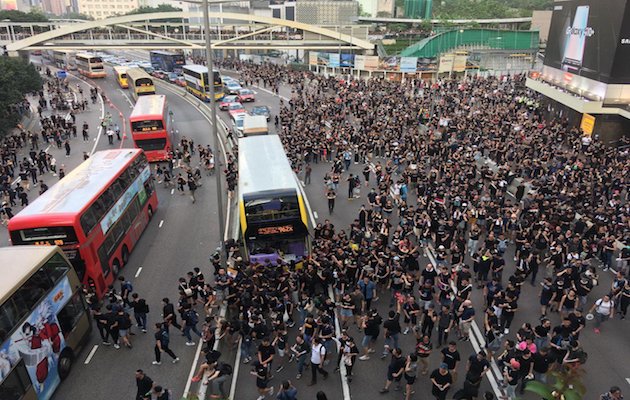 Hundreds of thousands have marched through Hong Kong in the last 10 days. / Twitter @HongKongFP
Hundreds of thousands are expected to join another huge demonstration in Hong Kong on Friday 21 June.
Students, workers, human rights groups and individuals will protest again in the government district in the centre of the city, asking Chief Executive Carrie Lam to resign.
Demonstrations in the last weeks have paralysed the city with millions of protesters - almost two million on Sunday 16 only, sources said. The government reacted suspending the bill that would have allowed extraditions to China mainland.
Lam also apologised publicly for the "controversies, disputes and anxieties" the draft law had caused.
CHRISTIAN STUDENTS AND CHURCHES SUPPORT PROTESTS
These days, Christian churches and organisations have voiced their opposition to legal changes that would restrict freedoms.
Among those marching for democracy were church members of all ages, but "especially young Christians", a representative of the Fellowship of Evangelical Students (FES) in Hong Kong told Protestante Digital.
"Many church pastors came to the 'occupy' zone praying and worshipping together with the Christian protestors, and tried to protect them with their bodies", said Barry Cheung. Social media videos showed how the Christian hymn "Sing Hallelujah To The Lord" had become a sort of unofficial anthem.
"The people and church in Hong Kong awakened and have more political awareness after the movement in 2014". According to Cheung, Christians joined the marches as they "suspected that the government was no longer to serve the people but the China central government only".
Cheung finished by saying: "The church stands firm with the mass of people, asking the governor to dialogue (...). We seek God's justice and mercy to fill our land".
Published in: Evangelical Focus - world - Hong Kong Christian students and church leaders "pray and worship together"