Mexican town forbids entrance to evangelicals, ejects one family
No evangelical Christians are allowed to enter La Chachalacan. They even have signs announcing it.
Protestante Digital · OAXACA · 10 SEPTEMBER 2015 · 18:12 CET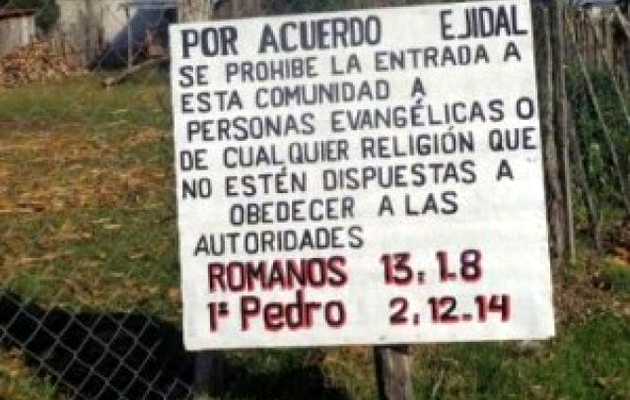 One of the signs announcing the prohibition. / ADN Sureste
Last July, a citizen told the Human Rights Defense Office of Oaxaca, that the authorities had forbidden him to attend evangelical meetings, and he even had been in prison for 48 hours in La Chachalaca (township of Camotlán, Villa Alta), which is in the northeast part of Oaxaca state, 1,612 kilometers far from the capital.
The man, LNP, explained that the police who detained him, asked him to sign a statement rennouncing his faith. If he did not sign it, the people would take "drastic decisions."
After the events, the Human Rights Office asked Camotlán authorities to write a report and send it, with a copy for the La Chachalaca authorities, and issued a cautionary measure, letting LNP to attend evangelical activities.
The Office opened a file about the case on 9 July, when the victim told his story.
La Chachalaca forbids the entrance in the city to any evangelical Christian, or anyone who professes a faith different from Catholicism, they even have signs announcing it.
A SON EXPELLED FROM SCHOOL
But on 20 August the association Evangelical Ministry of Christ Ambassadors, denounced that the La Chachalaca police commanded Primary School Director of the community, not to register the children of LNP in school this year.
Because of that, the Office opened a new file, asked for a new report, and issued a new cautionary measure for the State Institute of Public Education of Oaxaca (IEEPO, in Spanish), and also for the authorities of Santiago Camotlán and La Chachalaca Office.
FORCED TO LEAVE HOME
Finally, last 1 September, LNP was arrested again in La Chachalaca because, according to the police: "He left the city and came back so late at night, which is something forbidden for the inhabitants of that community."
Although LNP was set free the night of 3 September, the citizens general assembly determined that he should sign a statement, commiting to leave the city.
Published in: Evangelical Focus - world - Mexican town forbids entrance to evangelicals, ejects one family