UK court upholds Franklin Graham in Blackpool bus advertising case
The local transport company removed Festival of Hope ads from its buses in 2018. A court has now ruled that it was "a wholesale disregard for the right to freedom of expression".
Premier Christian News · BLACKPOOL (UK) · 07 APRIL 2021 · 14:35 CET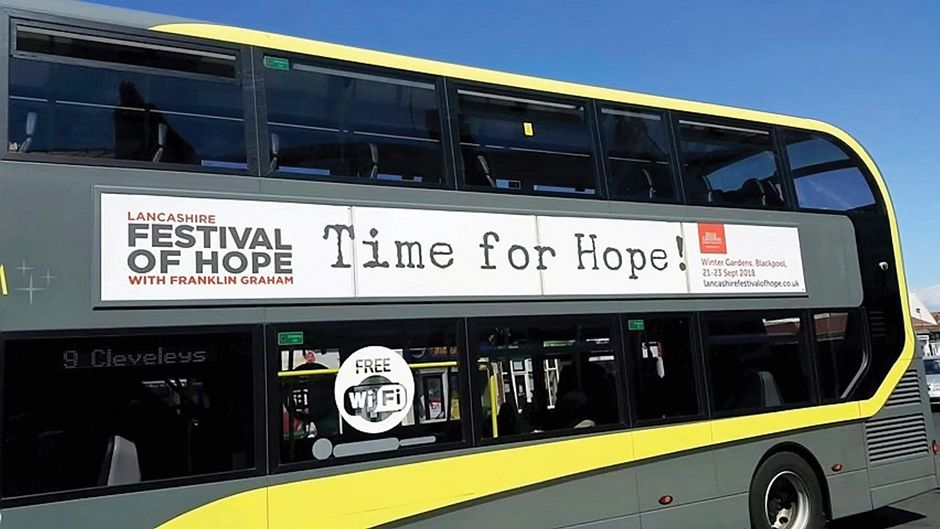 The BGEA put adverts of the festival on local public buses. / Blackpool
Manchester County Court Judge Claire Evans ruled in favor of Franklin Graham and the Billy Graham Evangelistic Association (BGEA) in the Lancashire Festival of Hope advertising campaign case.
In 2018, the English city of Blackpool hosted the evangelistic event, which was attended by 9,000 people. To promote the event, the BGEA put adverts of the festival on local public buses.
However, just one day after the campaign began, the posters were removed by Blackpool Council and the local transport company, "as a result of us listening and acting on customer and public feedback which we aim to do at all times", said Jane Cole, Managing Director at Blackpool Transport.
"Blackpool Transport is a proud ongoing supporter of the Pride and LGBT communities and in no way did we intend to cause any distress or upset. All buses carrying the advert will remain off the road until they have been removed", she added.
Furthermore, days before the removal of the ads, many people had protested on social media and signed an online petition calling on the government to ban Graham's entry to the UK, because his views about Islam and homosexuality were "likely to promote prejudice and hatred".
Labour MP Gordon Marsden point out in an interview with local television BBC Lancashired that some of his previous comments were "incompatible with what Jesus said in the Bible".
"A wholesale disregard for the right to freedom of expression"
The organisers of the event decided to take legal action and Franklin Graham assured that he went to Blackpool "to preach about a Saviour, Jesus Christ who can make a difference in our lives if we put our faith and trust in Him […] We're not here to preach against anyone, we're here to talk about God".
Now, the Manchester County Court has published a a 35-page document, in which the judge Claire Evans ruled that Blackpool "had a wholesale disregard for the right to freedom of expression. It gave a preference to the rights and opinions of one part of the community without having any regard for the rights of the organisers and of those who shared its religious beliefs".
The judge also pointed out that Blackpool has also violated the Equality Act 2010, which makes it unlawful to discriminate against someone because of religion or belief. "This is the antithesis of the manner in which a public authority should behave in a democratic society".
Reactions
Franklin Graham told newspaper The Charlotte Observer that he thanks God for the sentence because "it is a win for every Christian in the UK".
James Barrett, Chairman of the board of directors for the BGEA UK underlined that "it is a significant day for religious liberty and freedom of speech".
"The Court clearly affirmed that Christians and other people of faith who publicly express traditional religious views about marriage and human sexuality are protected by law", he added.
In a joint statement, the council and Blackpool's local transport company said that "in light of the judgment, we will undertake a further review to determine whether any further changes need to be made".
They also "reiterate that we remain committed to promoting equality and diversity, increasing respect, tolerance and understanding".
The courts will now have to determine how much financial damage was caused to the festival organisers.
Published in: Evangelical Focus - cities - UK court upholds Franklin Graham in Blackpool bus advertising case