A new version of 'In Christ alone' far from home
A Ukrainian refugee family shares how a biblical faith and worldview has been essential to deal with the reception process in the other corner of Europe.
Protestante Digital · CASTELLDEFELS (BARCELONA) · 16 SEPTEMBER 2022 · 10:42 CET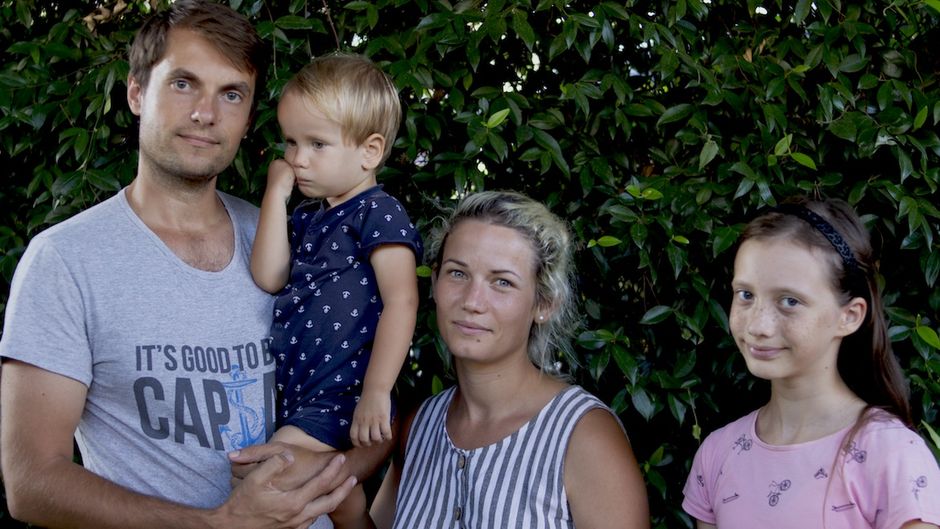 Bobby with son Liev in his arms, wife Tanya, Tanya's younger sister, Veronika. / Jonatán Soriano.
Under the early September sun, Volodymyr (Bobby) arrives in the garden of the Evangelical Church of Castelldefels, energetically pushing the carriage of his son Liev, barely two years old.
His presence defies any image usually associated with the concept of what a refugee is. But Bobby is really one of the 5.6 million Ukrainian refugees living in other parts of Europe since the war began.
In fact, he is in fact many more things than a refugee. Bobby is an electrical engineer from Odessa with experience working in ports and on ships. He is also a father. And a citizen of Ukraine, a country to which he has been unable to return yet.
After a few minutes Tetiana (Tanya), his wife, arrives too. "It's so hot", she says, smiling. And, again, any ideas one might have about the concept of a refugee crumble before this cheerful, expressive young mother.
"We don't have a history of having lost someone in our families. We are safe and no one in our family has died in this horrible situation, as in other cases and places in Ukraine", explains Tanya.
However, theirs is a story of a hurried fleeing and seeking asylum in a strange country, with all its hardships. It is a story in which biblical faith and worldview are key. "In all of this we have seen the hand of God in all our situations and along our journey", they say.
The birds flew differently
Bobby and Tanya followed different paths to Spain. For her and her son Liev, the journey began on the morning of 24 February.
Tanya explains that she "woke up and immediately realised that something was happening [...] I looked out of the window and saw a flock of birds flying, it was strange, they were flying differently. I realised there was something wrong".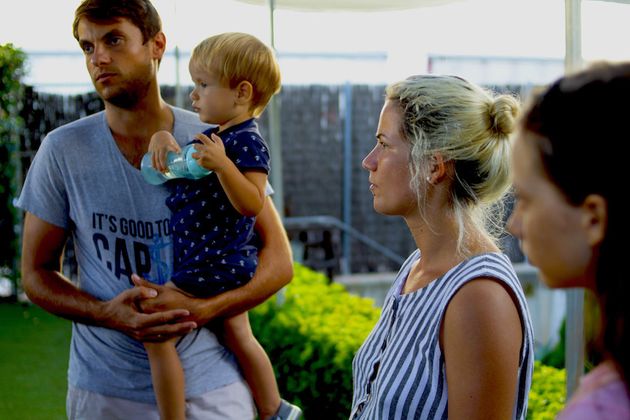 Tanya arrived in Castelldefels near Barcleona in mid-March, and was reunited with Bobby in May, as he was coming from the United Arab Emirates. / Jonatan Soriano
"I heard explosions and saw smoke in the distance. I was scared. I started calling my mother and my friends. I didn't know if it was a bomb or something that had gone wrong. We all expected something [because of the tension before the Russian invasion began], but not this. I didn't expect war", she adds.
Tanya points out that "most of us understood that the war had started, but also thought maybe it could be like Crimea, just a few days. We didn't know what would happen next, so we decided to leave".
"I was alone in our flat with our baby. Liev had left his toys. He didn't speak, but he seemed to understand what was going on. I went to pack my suitcase and saw that he had put some toys inside".
"I was abroad", explains Bobby, between the United Arab Emirates and Oman, where he had arrived in January to work.
"I didn't want to go abroad again to work, but the salaries in Ukraine are not very high. We talked about it and decided that this would be the last time I would go abroad to work. It's as if someone had put that idea in our minds", says the engineer.
Caravan
While Bobby was following his family's situation from the Middle East with "great stress" as best he could, Tanya and her baby joined Anna, her mother, and her younger sister, Veronika, to leave Ukraine, along with a caravan of people from the church where the parents were meeting (the 'Life that brings Victory' church).
"Last autumn we had visited the church where I grew up, and they welcomed us very warmly. We also felt that we received a message from God to start a church in Spain, specifically in Alicante. So we started praying even though we imagined it would take years", explains Tanya.
Bobby adds that they already "had plans to come to Spain. I became friends with the pastor and the people in that church, and I received assignment to do more than just serving in our church's worship".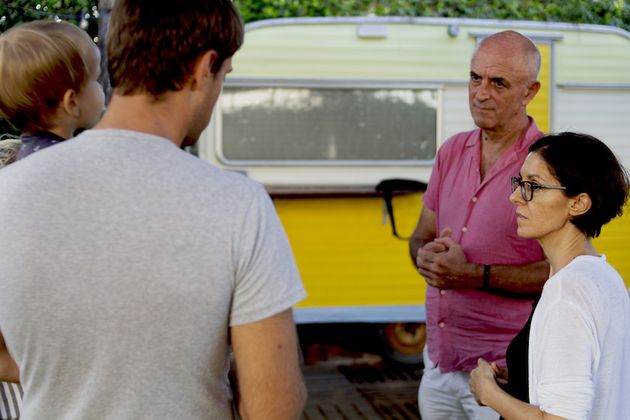 Several Ukrainian refugees have arrived at the Evangelical Church of Castelldefels. The community has been involved in the process of welcoming them. / J. Soriano
But Tanya and her family were far from a conventional mission trip. "We thought God was telling us that if we didn't get out of Ukraine at that time, we wouldn't get out of Ukraine at any other time", she says.
"So we started our trip. We didn't know where we would go, whether to Spain or somewhere else. My mother took only one bag for herself and one for my sister. They thought we would go away for a week at the most. Now we realise that our whole life can fit into one suitcase", she adds.
First, they and the other people from the church they were travelling with arrived at the border with Moldova.
"They were very nice. They told us that maybe tomorrow they would be in the same situation as us [invaded by Russia], and that they would also like someone to help them". It was their first mission point, as there they met another mother with her daughter and shared the gospel with them, later joining their caravan. 'Caravan' was actually the name members of her church in Ukraine used for the Whatsapp group they opened to stay in touch.
The problems came at the border with Romania (EU territory). The whole group was able to pass the checkpoint except Tanya, her son, mother and sister. Veronika had no passport but only a birth certificate.
"We did not have internet. We didn't know where to go or what to do [...] We were told that we couldn't be there and that we could go to the embassy and do the papers, but it would have taken a long time. We were already in our car, crying, when some border control workers called us. They rechecked all our documents and just let us go through. We don't understand what happened there. We started looking for the rest of our group and eventually found them in a temporary resting place for refugees", explains Tanya.
"It was a work of God", underlines Bobby, who was following the trip from the Middle East. "At some point I felt like God was telling me not to worry because my family was in his hands. It's a miracle. Tanya's sister was able to leave without a passport".
The journey continued to Spain. "The way God does his work is wonderful. You can't expect in any way how He will help you, or through whom He will help you", adds Tanya.
Reception: A further phase
Tanya (since mid-March) and Bobby (since May) reunited in Spain, after he went to Belgium to help his mother get to his sister's house in Brussels. Here, the two of them have already begun the reception phase, which does not come without its difficulties.
When they arrived on the peninsula, along with the rest of the people from the church, they were accommodated by the Red Cross in different hotels in Castelldefels and other municipalities in the Barcelona metropolitan area.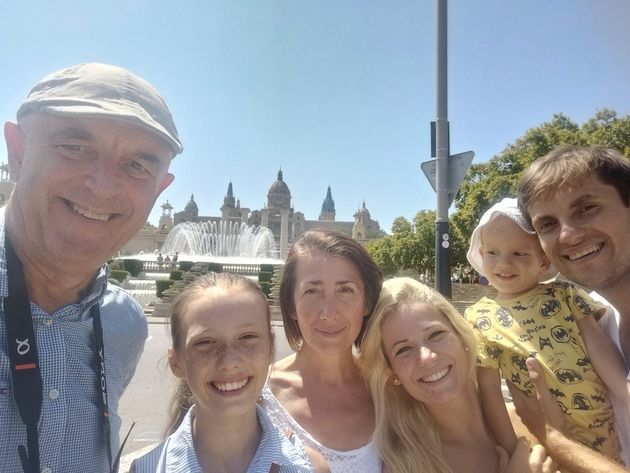 Anna, Tanya and Veronika's mother, in the centre of the picture, with the rest of the family, and Roger Marshall (far left) / Courtesy.
Many of them started visiting the evangelical church in Castelldefels, including Tanya and Bobby's former pastor in Ukraine. "The church is also another great story", says Tanya.
But in the process, Bobby and the rest of the family were relocated by the Red Cross to Ejea de los Caballeros in Zaragoza. Something they remember with some emotion, because the rest of the group they had arrived with remained in the Castelldefels area: some had found temporary jobs and were getting involved in the local church community.
So they decided to return to Castelldefels on their own, where they have found some job opportunities. Anna, Tanya's mother, has been able to give some Russian classes, and Bobby has done occasional work on a boat. Moreover, they have been able to stay in several homes thanks to the help of the local church.
"The involvement to help them has come from initiatives of individual members, and the church has supported them. It's not that there was a definite plan, it's just been a natural process", explains Dorcas González, a member of the board of the Evangelical Church of Castelldefels.
One of those first contacts with the church was through Roger Marshall, a member of the community who organises conversation groups to learn to speak English. "The church immediately jumped on board. But if it hadn't been clear to me that the church would love the idea of inviting them, I wouldn't have done it. I knew the response would be welcoming, with open arms. Nor would I have been able to continue without knowing that there was a community that was willing to help in any way possible", Roger adds.
Tanya, laughing, adds that "angels not only have wings, but they also wear glasses and have no hair".
Eyes above the mask
Contact with the church began when they arrived in Castelldefels, because the mission of the local church is deeply rooted in the town. "The church began to help us, not in its facilities, but as soon as we arrived. In the city we have met people who have helped us in many ways", says Bobby.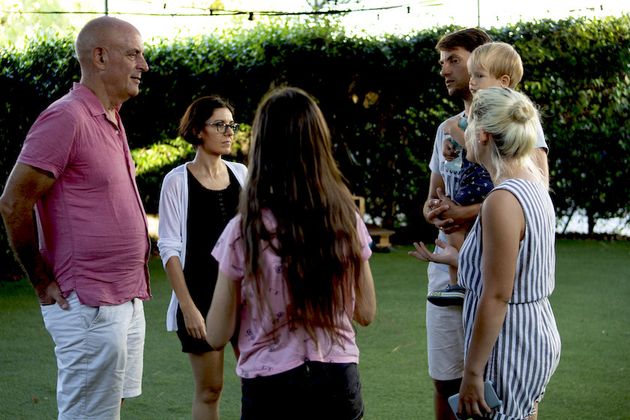 The family travelled in a caravan with other members of a Ukrainian church. / J. Soriano.
His mother-in-law Anna was given the opportunity to undergo a dental operation free of charge. For this primary school teacher, the eyes of the person who treated her were striking. "I could only see his eyes because he was wearing a mask, but I could see that he was smiling". One Sunday, while she was in church, someone touched her hand to offer to take part in the Lord's Supper. "Then I identified those eyes", she recalls with a smile.
Evangelical churches have become key spaces in the process of welcoming refugees from Ukraine, with the capacity not only to provide assistance for the most urgent needs, but also common elements of Christian identity that help people settle in.
"The first time we came to visit the church I heard a hymn we know from our community in Ukraine, In Christ alone", points out Bobby.
The situation in Ukraine
Since the war began, around 5,700 civilians have been killed in Ukraine, according to the United Nations. Both Bobby and Tanya have their father in Ukraine, as well as other loved ones and friends.
"Now Odessa is not under siege and is not bombed. The situation is better, but there are still many ships waiting to leave the port. I think it is related to the 'grain corridor' controversy. That's why they are not attacking the city much", explains Bobby.
"But in the Odessa region there has often been heavy shelling. In Ukraine, you don't know where in the country you can be safe", Tanya points out. "All the people who stay there don't accept that war is a reality. They are living in another reality", she adds.
If Bobby had returned to Ukraine, he would probably have had to fight with the army. In fact, because of previous military training he had done in the past, he would have done so with sergeant's stripes.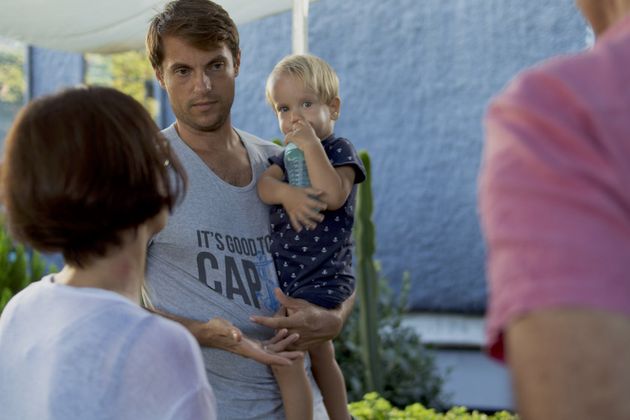 The need to find a job and ministerial possibilities shape the short-term future of this family. / J. Soriano
"I think it's God's work", Bobby reflects. "I feel that God tells me at all times that I have to take care of my family first. In our whole condition here in Spain, I see how God has taken care of us. I don't have mixed feelings about choosing between the army or my family. God has been guiding things this way. All I need to do is trust God. If I started thinking about every detail, I could spend the rest of my life like that", he confesses.
The family is also aware of the work that the churches that have remained in Ukraine are doing. "The ministry in our church has continued as well", says Anna.
"The people who have remained in the country are members but not leaders. They are very active in ministry. Now they have become leaders and pastors. They are organising aid to the people most in need because of the war. They are preparing food parcels. In our case, the church is growing. They have formed an alliance with other churches to have a wider impact".
A future shaped by faith
For this family, the war remains utterly meaningless in the present. "We can't understand what is happening because every family in Ukraine has at least one family member in Russia, and so do Russians".
In the near future, Bobby says, they are focused on "looking for a job" and developing their ministry in the city that hosts them. "We want to organise a church for Russian-speaking people in Castelldefels. We want to take care of them because there are many here".
"In Ukraine we have a saying: 'if something terrible happens, everyone turns to God'. But it is true. Now, many Ukrainians don't know what will happen and we all need help. We, as Christians, are in a better position. We have our heavenly Father, who takes care of us. And God also takes care of our nation, even without our nation knowing it", stresses Tanya.
For Bobby, "trust is not enough for those who don't believe in God. We know many Ukrainians who were here in Spain and have returned because they couldn't trust anyone. They just saw another language and another culture".
"This is a hard thing for most of them, even though they are educated people and they had their jobs. If you don't believe in God, in the face of difficulties you are going to go back to Ukraine", concludes Bobby.
Published in: Evangelical Focus - cities - A new version of 'In Christ alone' far from home