"There is destruction, but Christ is building something new"
Matias Radziwiluk, director of a Bible Institute in Ukraine, explains the key role of the church in responding to the humanitarian and spiritual challenge.
Protestante Digital · 08 APRIL 2022 · 15:00 CET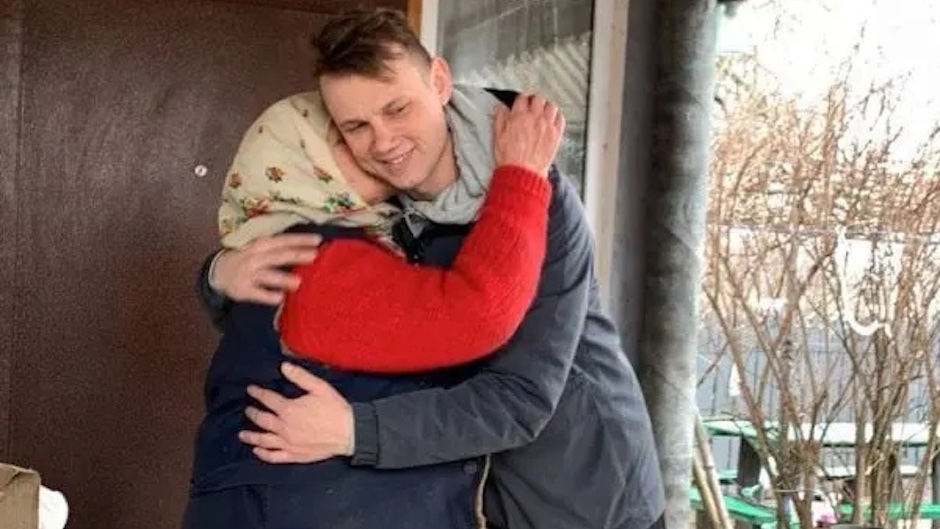 A woman hugs one of the missionaries of Word of Life in Ukraine after receiving humanitarian help. / WOL
After over 40 days since the beginning of the Russian invasion of Ukraine, millions of people have been displaced and the situation is critical in many villages and cities across the country.
Matias Radziwiluk, director of Bible Institute of the Word of Life ministry in Ukraine, located on the outskirts of the capital, Kyiv, could leave the country and he is now in Hungary.
However, part of the Word of Life team remains in Ukraine, working to bring humanitarian aid, food, and spiritual accompaniment to anyone in need, especially in cities that are being recaptured by the Ukrainian army.
Word of Life arrived in Ukraine in 1992. The Radziwiluk family, Matias' parents and two other siblings, travelled from Argentina to start a ministry focused on youth, gospel proclamation and preparation for mission.
In 2001, Word of Life founded the Bible institute near Kyiv, where they run a two-year biblical and spiritual training programme, among other activities.
It has now become a supply and distribution point for humanitarian resources, which are delivered daily to different parts of Ukraine.
Question. How is the work of the Bible Institute on a daily basis?
Answer. Ukraine is the country with the largest alliance of evangelical churches in the region, so that all ministries seek to support the local church and share the gospel, with camps and other activities.
The Bible Institute offers a two-year programme focusing on three areas: Bible training, Christian living and ministry. The special thing about this Bible college is that we receive students from countries of the former Soviet Union, since all the students know the Russian language. We have students not only from Ukraine, but also from Russia and several Central Asian countries.
The most important training we give is to pass on biblical truths to our students so that they can be applied in their lives and influence them. We have an average of 35-40 students in the two courses.
I think the most important thing is that we can give a firm Christian foundation to the young people, so that they can then go on, whether God calls them to a professional career, to ministry in their local churches or to mission in another country.
Q. You are currently in Hungary, how have the last few weeks been for you?
A. On the midnight of 24 February, God gave us the wisdom to evacuate the women and children. We had taken a two-week beak at the Bible institute, suspecting that something might happen. However, we did not imagine that something like this could happen in 21st century Europe. We were able to do a pre-evacuation, and then when the Russian invasion started, the rest of us had to leave.
Basically, we were able to evacuate all our collaborators and some friends and colleagues as well. I am now in Hungary, but the team is split between Romania, the Czech Republic and Hungary, where we are working with Ukrainian refugees.
Many of the men in the team were not able to leave because of the war situation. I was able to leave because I am an Argentinian citizen, but the rest stayed there and they have been working these forty days, serving the Lord from the Word of Life property in Kyiv.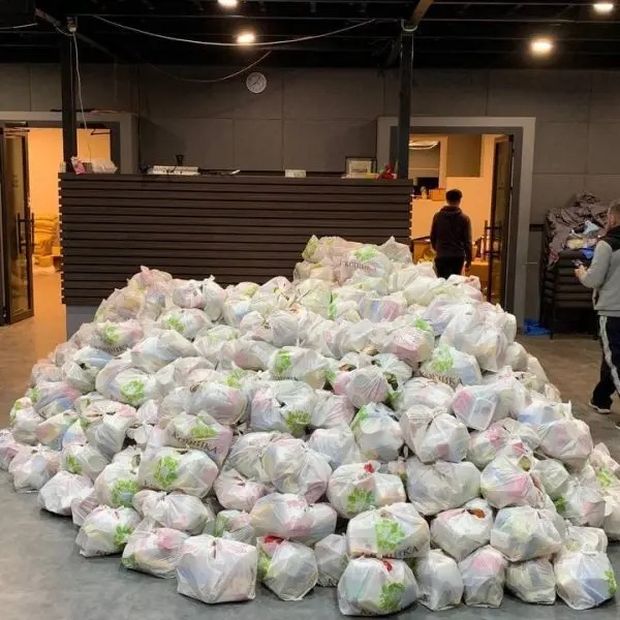 Packages prepared at the Word of Life Bible Institute in Kyiv to be delivered. / WOL.
Q. What are those who stayed in Ukraine doing in the midst of such a complex situation?
A. The men returned to the Institute in Kyiv without a concrete plan, because everything was developing according to the circumstances. It was not very clear what we could do, but it was clear that all the stereotypes about the mission we had been carrying out until then had been broken.
In February we had planned three youth camps and the Institute classes... all that collapsed. But God is guiding us step by step. Sometimes we would like to plan, to have a clear vision for the year, but God has shown us that we must go day by day. And we have had opportunities and doors have opened to serve.
For the first two weeks, the team was doing evacuations. We had contact with people in Chernígiv, a city in the north that was in a very dramatic situation: no water, no food, no electricity. The team was helping to evacuate people from there, getting about 2,500 people out of the city to a safer place.
It was a very risky operation, along a road that used to take two hours and turned into five or six hours of travel. God took care of them and were able to do this service, until the city was definitively blocked by the Russian army. Then God opened doors in other towns and cities.
Little by little we see that towns and cities have been liberated, which is good news, but at the same time there is bad news, because when you enter those villages and cities you see the terror, the destruction caused by Russian oppression.
Many people have not been able to leave their homes, some have been stuck in their basements with very little food for thirty days... so that the team has been bringing food, humanitarian aid, for all these villages coming out of such a difficult situation.
Right now, part of the team is in Kyiv doing the logistical work of receiving the trucks and vans with the humanitarian aid coming from different churches in Europe. Food parcels are being prepared, loaded at night and another group is leaving for different places.
The Russians have left the north, and they have left total destruction. We are one of the first groups to come in, which is good because we are witnessing as a church of Jesus Christ. We are often guided by the army because there are still dangers.
But we are bringing some hope to people, giving them food, praying with them, giving them a word of encouragement and copies of the New Testament, and telling them that God is our hope and the only one who can make something good out of all this.
Q. What is the situation of those of you who have left the country?
A. We are always connected to the work being done in countries bordering Ukraine.
There is a group of 70 Ukrainians, families and acquaintances from the ministry, in the camp we have in Romania. We have another group in the Czech Republic, where there are over 50 families.
We are working closely with the government, giving accommodation and also sharing the gospel. Those in the Czech Republic are people sent by the government, so we do not know them, many of them are not Christians and we have the opportunity to share the gospel with them, showing the love of Christ. We also have a small group in Poland.
Ultimately, we try to give shelter to those people, although it is difficult because they are very disoriented. A a study that says that 78% of Ukrainians want to go back.
They are not yet ready to start a new life, but just a temporary shelter. That is why it is very difficult for them to decide. Another important factor is that most of them are women and children. Many families find it difficult to know what to do without the leadership of the father or husband who can guide those decisions into the future,.
With everything that the country is going through, we are obviously emotionally destroyed, heartbroken, with a very strong pain in our souls. We also have to think about our children, our school, our health, our financial situation... it is a very difficult situation, so that we try to help as much as we can, not only by receiving them, but by making contacts as well.
Recently, an acquaintance we helped to get out of Kharkov wrote me. She is still in Ukraine, despite two weeks under bombs, she managed to get out and survive. She was writing to us because her mother is running out of insulin. This happens often, we meet a lot of people in difficult situations.
We are already trying to get insulin for her. God is teaching me that we can do many things. Sometimes we are very quick to say "it's too difficult", "I couldn't do something like that", but God is showing me how we can serve, being the hands and feet of Christ here on earth.
Q. How do you see the future?
A. We would like to have an idea, to be able to make a plan. We have the advantage that we are missionaries and we are sure about our calling. I understand that a situation like this can break you and change your perspective completely, but I pray to God and what I see is that this situation has deepened my calling, and that of the missionaries on our team.
The way we do ministry has changed, because we cannot do camps and conferences, but the need is there, and the mission field is more open than ever.
We are with the uncertainty of not being in our homes, that families are separated. I have the privilege of being with my wife and children, but the missionaries who are with us here have their husbands in Ukraine, over 40 days without seeing them.
There is uncertainty but we trust that God did not make a mistake, He was here before all this happened, and we cling to Him.
We take one step at a time. There are many challenges, but we cannot plan too much, we are facing the situation day by day and seeing how we can fulfil our calling.
We have a great desire to return to Ukraine, to be with our beloved people and to serve them. It is not so much the desire to go home, but to be able to present Christ to so many people who are going through this painful situation. To show them the hope that keeps us strong and healthy in the midst of the situation we are going through. We have much to do and we follow God, seeking to make plans whenever possible.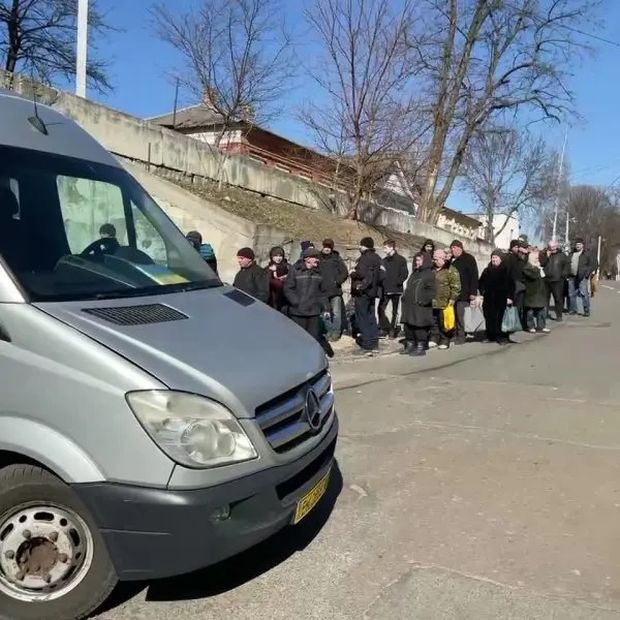 Delivering supplies to the city of Chernihiv. / WOL.
Q. How do you assess the political decisions that are being taken, as well as Russian withdrawal from the north?
A. It is premature. It was not so much a withdrawal of Russian troops as the fact that they were unable to take the capital and their efforts were countered. They had no choice but to retreat and the invaded regions in the north have been liberated. According to the information we have received, the troops are moving east for a major offensive there. It is clear that this is not over.
It is difficult to make predictions, but we have a certain amount of hope. But Russia is still firing missiles all over the country, and it is very difficult to defend against it. The danger continues, and they keep to cause destruction.
On 23 February, hours before the attack began, we were still under the illusion that it would not happen. Now, with the lesson learned, it seems impossible that there can be peace, but anything can happen.
We understand that it is a political and geopolitical war, but I believe there is also a spiritual aspect behind this war.
In my opinion, Ukraine was the country most open to the gospel in Europe, with a large structure of evangelical churches. Ukraine is the country that sends most missionaries to the countries of the former Soviet Union. And I understand that one of Satan's goals is to stop this work.
But at the same time I believe that a great work is being done to shine, to raise up the banner of Jesus Christ. The church is more united than never before, and it is being key in serving the people.
We want an end, because one never get used to this horrible death and destruction. We want the suffering to stop, we want Russia to be able to pull back and stop this whole insane situation. But at the same time, we understand that this will not stop our mission, nor the mission of the church. This is something that the church in Ukraine understood.
We would like a peace agreement to stop the fire, but that is not going to stop the work of the church either. I am very proud of how the church has responded to this challenge, and not only in Ukraine, but all over Europe, by welcoming us.
I think this has made the church come alive. God is doing something beautiful. There is destruction, but Christ is building something beautiful through all of this.
Q. How can we help your ministry and the Christians in Ukraine?
A. First you have to pray. That is the most basic answer we give, but I am always amazed at how God is working so many miracles in answer to the prayers of his people.
We need to pray for the end of this war, so that the church can shine more and more, glorifying Christ. May God give strength to the pastors, to those who are working hard. That is something we must do without ceasing. We who live this so personally and so closely, need to pray too.
There is a lot of practical help that can be done. I would recommend to go to their local pastors, to their committees, to see how they can help in practical ways, because I know many churches are making efforts.
All the work we do as a mission is through offerings, but I would say help in your local churches, because that is the best way to help Ukraine.
Published in: Evangelical Focus - europe - "There is destruction, but Christ is building something new"